The Toronto Maple Leafs had a strong finish to the regular season, winning their final game against the New York Rangers 3-2. In their last six games, the team strung together an impressive 5-0-1 record.
The hockey gods were with the Blue and White, and while young goalie Joe Woll played well, two Rangers goals were also called back – one on an off-side and the other for being kicked into the net. The last goal kept the Rangers from heading into overtime.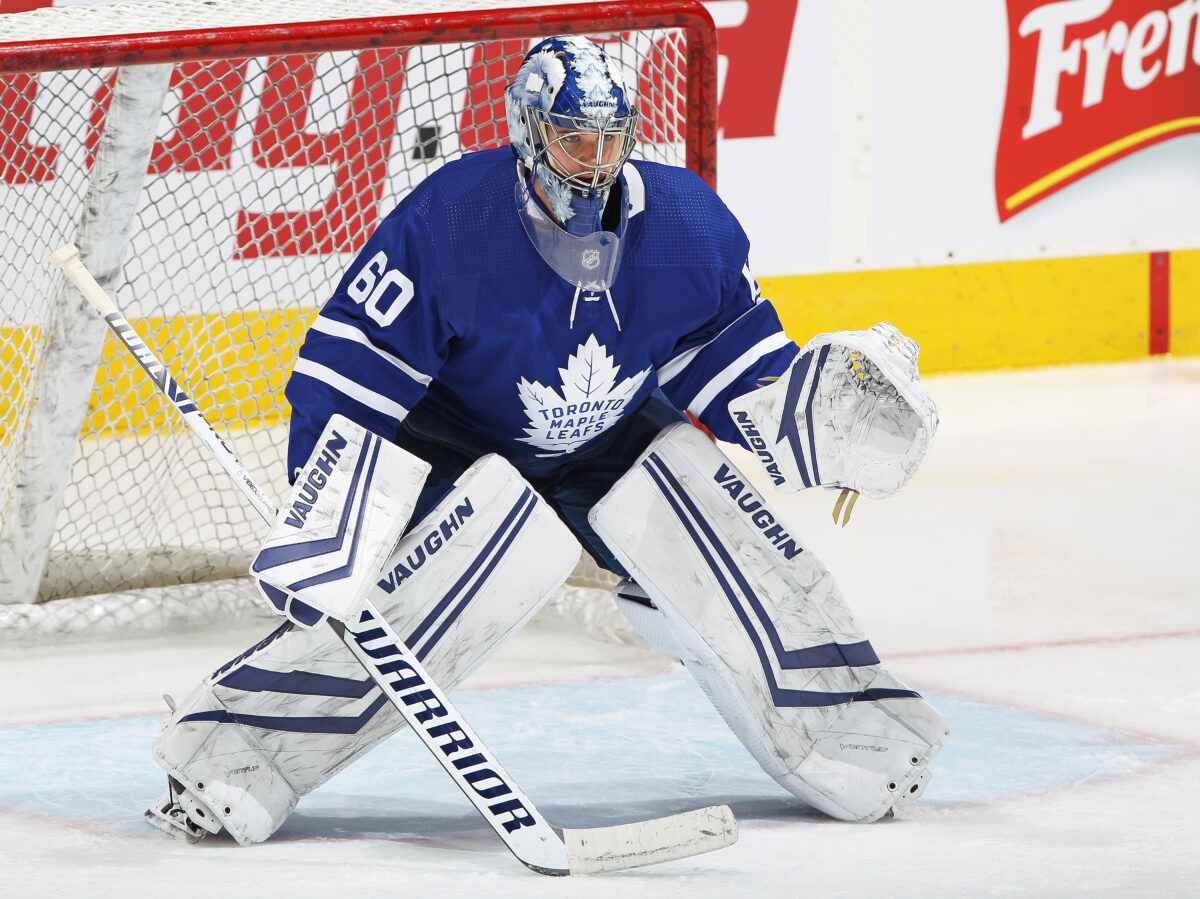 That last referee's decision, with less than two seconds left in the game, was funny. I am sure a lot of Maple Leafs fans hoped the goal would count. Why? To give Mitch Marner one last chance to hit the century mark in overtime.
With the win, the Maple Leafs finished in second place in the Atlantic Division with 111 points. They will make their seventh straight playoff appearance, but the team has struggled in the playoffs in recent years and has not won a playoff series since 2004. 
Related: Jonathan Toews: Beyond the Glory
The hope is that this momentum will carry over and help them break this drought. I saw a simple sign on one of the Maple Leafs' Facebook pages that said in white lettering on blue background, "I'm ready to be hurt again!"
---
Latest News & Highlight
---
That's part of the burden of being a Maple Leafs fan. In this edition of Maple Leafs News & Rumors, I'll take a look at player news from the final game and consider the team's choices ahead of the postseason.
Item One: Joseph Woll Did It Again
Woll continues to look good. On Thursday night, he made 22 saves in a 3-2 win over the Rangers to earn his sixth straight win. Despite giving up early goals to Kaapo Kakko and Artemi Panarin, Woll led his team to victory with strong goaltending and (as I noted earlier) some help from the hockey gods. 
His impressive play could lead to a role in the playoffs as the backup to Ilya Samsonov if Matt Murray is unable to dress – or, maybe, even if he is. Woll's overall record is an impressive 6-1-0 this season, with a goals-against-average of 2.16 and a save percentage of .932. 
Related: Joseph Woll's Return Carries New Maple Leafs' Goalie Issues
Woll already beat the Tampa Bay Lightning impressively just a couple of days ago, so my guess is that the team has more trust in Woll than it does in Murray at this stage.
Item Two: William Nylander Responds to Sheldon Keefe's Push
William Nylander ended 2022-23 with his career-best season, scoring 40 goals and 47 assists (for 87 points). His strong play over the last two games helped carry the team and also likely helped boost his confidence heading into the playoffs. 
When Maple Leafs' head coach Sheldon Keefe rested both Auston Matthews and Mitch Marner against the Lightning on Tuesday, that move pushed Nylander into the spotlight. He carried the added responsibility and delivered. I know there are some Keefe critics, but I thought his move with Nylander was brilliant.
Related: William Nylander's Success Means Unclear Future in Toronto
While Nylander has had past postseason success, getting him to play at this level will only help ensure the team's playoff success.
Item Three: Mitch Marner Just Misses 100 Points
As I noted earlier, Mitch Marner fell one point short of reaching 100 points for the season. His 99 points included 30 goals and 69 assists in 80 games. Although he didn't get a point against the Rangers, it wasn't as if he didn't have a ton of good chances during the game. 
However, while Marner missed the 100-point mark, Noel Acciari hit the 100-point career milestone. He scored the game-winner in his typical manner – he simply scrum(med) it home from right in front of the Rangers' goalie.
Item Four: Timothy Liljegren Finally Scores
Timothy Liljegren scored his first goal in 18 games and his first point in ten games. He threw the puck at the net, which was tipped in off a Rangers' stick. The team needed that goal to tie the game at 1-1 early in the third period. 
It'll be interesting to see how the Maple Leafs' coaching staff plays their defensemen. Liljegren's ice time (TOI) has been up and down over the past few weeks. His highest TOI was 22:52 on March 18, and his lowest was just 10:07 on March 29. 
Related: Ryan Nugent-Hopkins Is an All-Time Great Edmonton Oiler
Liljegren has made great strides this season; however, who can be certain that he'll be included in the Maple Leafs' playoff plans? Perhaps that's a good problem for the team.
Item Five: Quick Notes About Rafferty and Tavares
Sam Lafferty did not dress for his third straight game on Thursday for personal reasons. He has 12 goals and 15 assists in 70 games this season but only two goals and six points in 19 games with the Maple Leafs. He's expected to be back in the lineup for Game 1 against Tampa Bay next week.
John Tavares was a healthy scratch against the Rangers. He had a strong season with 36 goals and 44 assists (for 80 points). He was especially productive with the man advantage, scoring a career-high 18 power-play goals. 
He's been a strong contributor to the team's success this season. After criticisms about his speed and likely lack of production before the season began, Tavares showed up in a big way. For my money, he's outright courageous in front of the opposing goalie.
What's Next for the Maple Leafs?
One of the best endings to the season was the team's relative lack of injuries. They will be heading into the postseason with all of their stars healthy except for Murray.
Perhaps that won't last once the intensity of the postseason begins, but they seem better covered to handle that possibility than in previous seasons.