With 12 selections at this past October's NHL Entry Draft, the Toronto Maple Leafs were certainly hoping to strike gold with some of their mid-to-late round picks. It's obviously still too soon to tell whether any of their dozen prospects will ever make it to the NHL, but the early returns are promising — especially from the Maple Leafs' Russian contingent.
Related: Maple Leafs Draft Skill and Smarts in Amirov With 15th Pick
The star of Toronto's draft, 15th overall Rodion Amirov, has certainly taken steps so far, already tripling last season's production in the Kontinental Hockey League (KHL) with three goals and six points through 19 games. However, we're not here to discuss Amirov's progression. Instead, we turn our attention to the lower profile (though highly skilled) fifth-round pick Dmitri Ovchinnikov, who is perhaps not garnering the attention he deserves.
Ovchinnikov's MHL Production Puts Him in Elite Company
Unlike a top prospect like Amirov, who's already got a year of professional experience, Ovchinnikov is developing in the Russian's junior system known as the Minor (or Junior) Hockey League (MHL). This league is generally for young players that aren't quite ready to play against men in the KHL or Supreme Hockey League (VHL).
Related: Dmitri Ovchinnikov – 2020 NHL Draft Prospect Profile
Ovchinnikov has actually suited up in five KHL games this season, though he's averaged just three minutes of ice time — including just one shift per game in his last three outings. That's obviously not ideal for his development, which is why he's spent most of his time dominating in the MHL.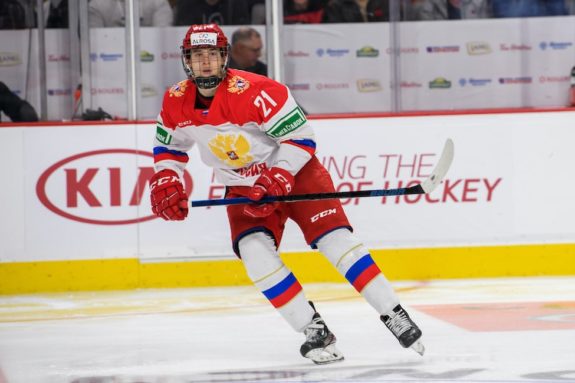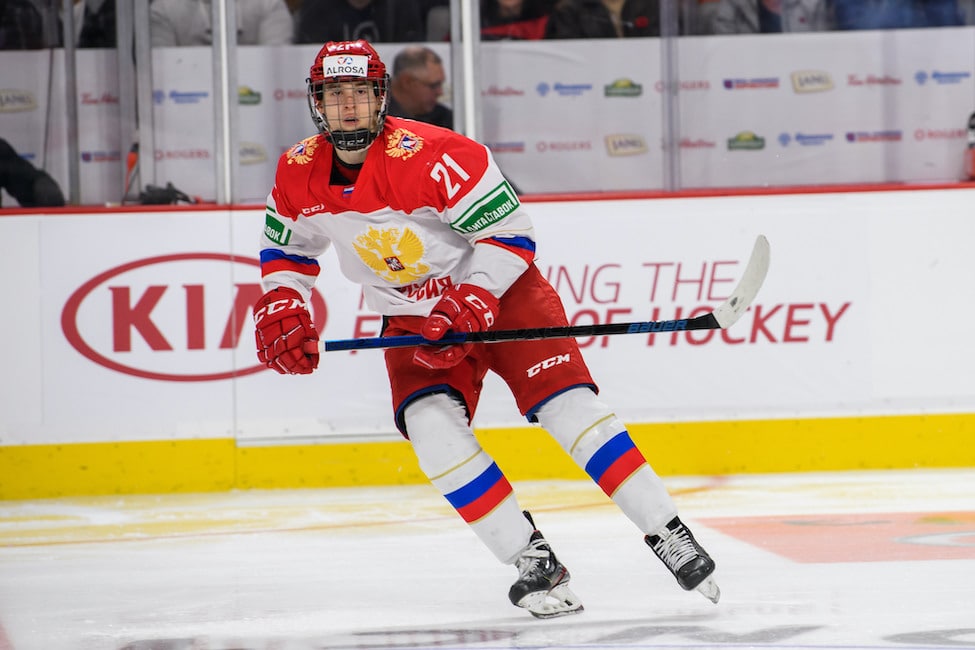 Of course you'd prefer your prospects to be playing in more competitive leagues, but at 5-foot-11 and just 163 pounds, it makes perfect sense that the 18-year-old Ovchinnikov has some seasoning to do before making the jump to pro hockey. And based on recent history, this seems to be a pretty normal path for Russian players. If we look at the MHL production of the NHL's top Russian stars over the last decade, Ovchinnikov's stats put him in pretty good company.

All things considered, Ovchinnikov had a solid — but not outstanding — draft year, putting up just over a point-per-game for Sibirskie Snaipery Novosibirsk of the MHL. His production put him a level or two below NHL stars like Evgeny Kuznetsov and Nikita Kucherov, though he outscored current Maple Leaf Alexander Barabanov by a sizeable margin.

Now in his draft-plus-one season, Ovchinnikov has taken clear steps forward, moving towards the upper echelon of MHL performers. Though it's still early in the season, the skilled forward is currently outpacing big names like Nikita Gusev, Ilya Mikheyev, and even Artemi Panarin.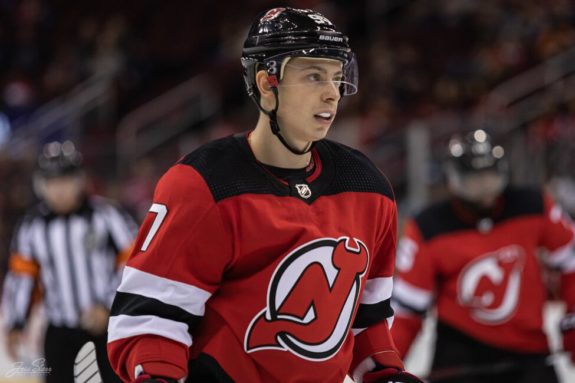 Along with the increased production, we've seen Ovchinnikov make strides in other areas of his game. Overall, he's taken on much more responsibility this season, being named an alternate captain and seeing a significant bump in ice time from 19 minutes per game last season to over 23 this year. And as you'd expect based on his improved production he's also creating more offence, generating five passes to the slot per hour compared to just 2.7 in 2019-20.
Related: Maple Leafs' Prospect Report: Chebykin, Hollowell & Kara's Demotion
It's far too early to jump to any conclusions, but the fact that Ovchinnikov has put himself next to names like Kucherov and Gusev is certainly promising. We know that scoring in junior does not guarantee NHL success, but it's almost always a prerequisite for making the NHL. If Ovchinnikov can continue to develop and put up big numbers, he'll set himself up to play more meaningful minutes in the KHL relatively soon.
Ovchinnikov is a Classic Boom-or-Bust Prospect
Since general manager Kyle Dubas took the reins in 2018, the Maple Leafs' drafting philosophy has been quite simple: select the player with the highest potential. We've seen the organization make the mistake of opting for "safer" choices like Frederik Gauthier (21st overall in 2013) in the past, and that strategy never really worked out for them.
Related: Kyle Dubas Doubles Down on His Vision for the Maple Leafs
We're seeing a whole new approach to drafting under Dubas, and Ovchinnikov is perhaps one of the clearest cases of a boom-or-bust prospect; that is to say, he'll either put everything together and become a highly skilled top-six winger in the NHL, or he won't sniff the big leagues at all.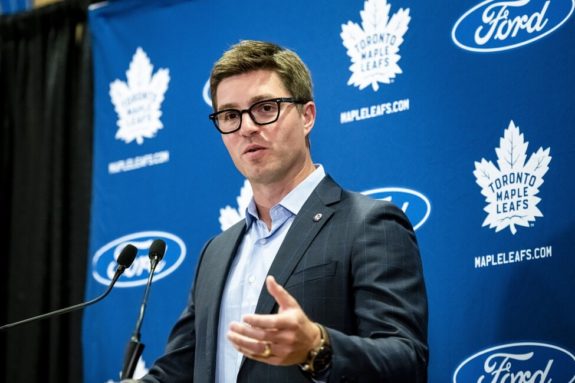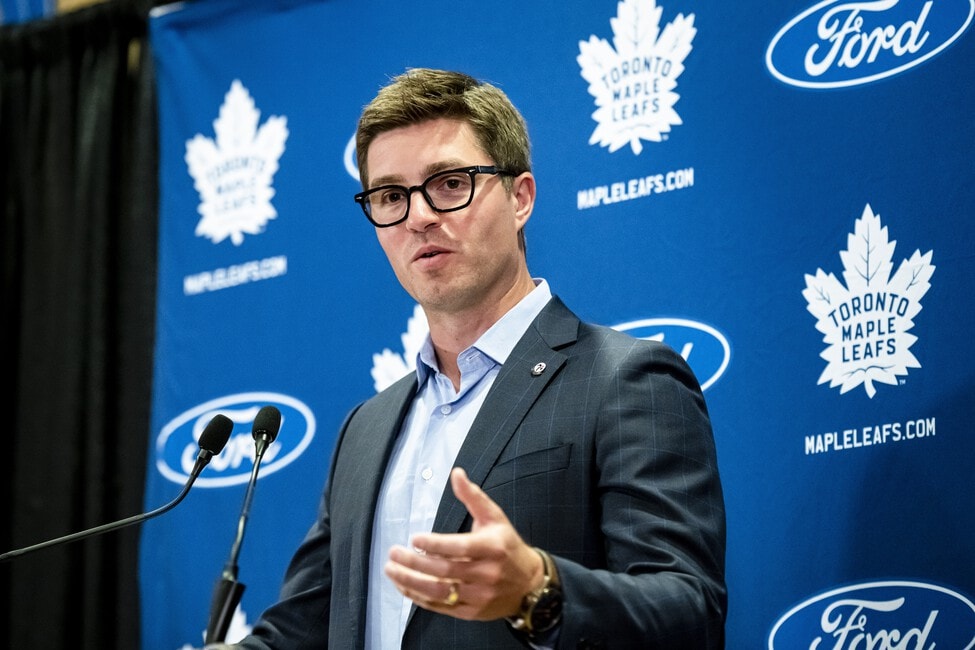 Already an excellent skater, puck handler, and playmaker, the biggest hurdles for Ovchinnikov will be developing his overall strength and adapting his game to play against bigger, better opponents. As mentioned earlier, he has a pretty small frame and will definitely need to pack on a good 15 or 20 pounds of muscle over the next few years. There's also the fact that the level of competition in the MHL is not the best, so the 18-year-old still has to prove himself against more experienced competition. Looking at his shot map, it's obvious that there isn't much in the way of defensive pushback from his current opposition.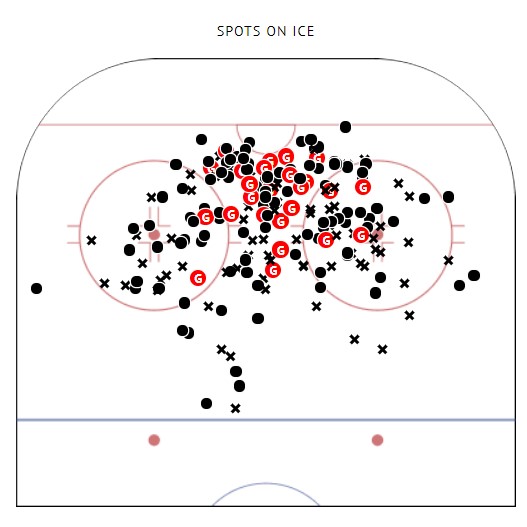 Clearly Ovchinnikov loves getting his shot off close to the net — a sign that he isn't afraid to get to the dirty areas despite his smallish stature. The worry moving forward is that he won't be able to get to those high-danger areas so easily against better defenders. Because he doesn't have a great shot from mid-to-long range, he won't score nearly as many goals.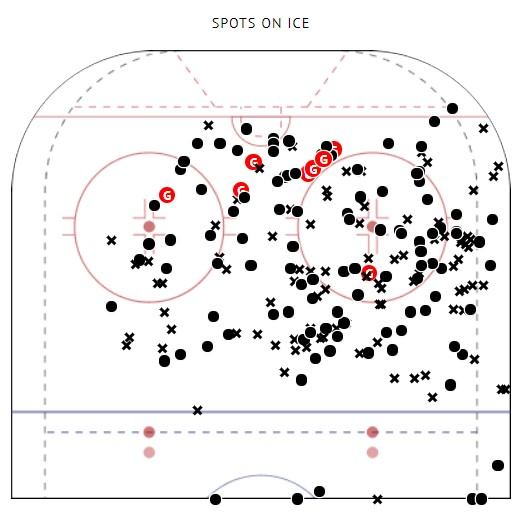 Looking at Gusev's shot map from this past season with the New Jersey Devils, the difference is pretty staggering. A similarly skilled playmaker, Gusev still scored the bulk of his goals from close to the net, but the majority of his shot attempts came from the perimeter, outside of the "house." As Ovchinnikov moves up the ranks and plays tougher opposition, he'll face a similar problem; whether he can continue to create offence will likely determine his future with the Maple Leafs.
Related: 5 Maple Leafs Looking to Bounce Back in 2020-21
Although the young Russian may not be the biggest name in the Maple Leafs' prospect pipeline (or the easiest to keep tabs on) Ovchinnikov will certainly be an interesting player to follow over the next few years. He remains a longshot to ever play in the NHL, but we've seen late-round picks like Gusev and even undrafted players like Mikheyev make the jump before. If it all pans out, he may just be an important piece for the Leafs in three or four years' time.
Stats from InStat Hockey and eliteprospects.com
---
---