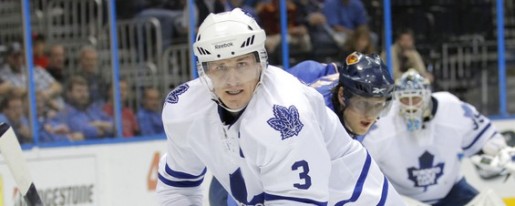 Maple Leafs Panel is a weekly feature that is published every Monday here on The Hockey Writers. It is a feature where THW Toronto Maple Leafs correspondents Lukas Hardonk, Mark Ascione and Alex Mamalis answer three questions that concern the Maple Leafs each week. To catch up on previous editions, click here.
Question: The regular season is winding down and for the first time in a long time, Leaf fans still have reason to believe that their team will qualify for the post-season. Given the Leafs' current situation and Eastern Conference standing, what would you rate the Leafs' playoff chances in terms of percentage?
Lukas Hardonk: There is no doubt that the Maple Leafs have what it takes to make the playoffs. Strong goaltending, offence that can be deadly at times and defence that is solid enough to get the job done on most nights. With that, it's not a matter of whether or not the Leafs need more to get the job done.
The problem is the teams around them. Washington can light up offensively at any moment, Florida has been consistently good all season, no one is entirely sure what is going on with the Senators and the Devils are starting to run away. Given the fact that there is so much uncertainty, the Leafs' playoff chances have to sit around 70 percent.
Mark Ascione:  Toronto has a pretty tough schedule coming up, but I'm not sure how much one can infer from a schedule. There have been a lot of teams winning games they shouldn't this season. If you believe 95 points is needed for a playoff spot, the Leafs need 33 of the next 52 available (.635%), which is a lofty number.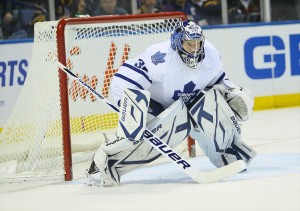 I'm going to go with the 'conventional wisdom' and say their changes are pretty good at 75 percent. I can't see Montreal or Tampa Bay leapfrogging from their current position to eighth. I also believe they have enough to stay ahead of Winnipeg, while Florida and Washington will battle it out for the Southeast title. Further, as much as the Leafs may need to be .635%, that means all these other teams need to be about that or better to pass Toronto. None have indicated they can be, not over 25 or so games.
Alex Mamalis: We know for certain that the Leafs rack up points in bunches; a 10-7-1 record since the New Year isn't eye-popping. However, looking at how they got their points in those 10 wins and how they lost points in the eight losses, my thesis is definitely proven. They've been very inconsistent and it's a pattern they've developed over the season, so the continuation of it is inevitable.
The Leafs' most recent point compilation was a lengthy one. Not only did they win six of eight, they also seized an extra point in one of their losses. This has put them in an excellent position; they are the being hunted rather than being the 'hunters'. The Leafs have lost three straight yet they are still in eighth by a point. Toronto still has the power of deciding their own fate. Thus, I'd put the Leafs' playoff chances in the high 80 percent range.
Question: At this time last season, people were wondering if the Leafs would trade Clarke MacArthur. Now that he has proven that last year's numbers weren't much of a fluke, should the Leafs actually seriously considering moving the 26-year-old this time around?
Lukas Hardonk: MacArthur's trade value one year ago would have undoubtedly been higher than it is at this point in time. He was on pace for outstanding numbers and played a solid two-way game, while holding the ability to spark a team with energy both on and off the ice.
This season hasn't been quite as good for MacArthur. However, he is still on pace to set a career-high in goals with 26. He is still a solid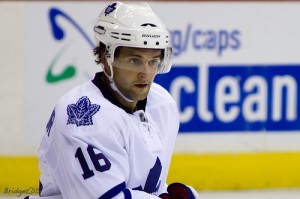 two-way guy and can still spark a team when it's down. That said, he is a very useful player and is one the Leafs need to have on their roster. Given his abilities and value to the team, why move him?
Mark Ascione: I'm a believer that a team should make a trade as long as they believe it improves the team. If the Leafs get a decent offer for MacArthur, or if he can be included to complete a larger deal, they must trade him. It would make no sense to ship him out for a third round pick; it would have to be a deal where the end result is an upgrade to either the top-six forward group or the back-end.
Moderate cap hit, a year remaining on his current deal and some good second/third line offence is what he brings to a team. I think he is replaceable, either through free agency or with Kadri or Frattin. He had 62 points last season and currently has 17 goals, on pace for 26 goals, 19 assists and 45 points. He could be an important puzzle piece for the run to the playoffs this year.
Alex Mamalis: I may be a tad biased with this answer, because I am a fan of MacArthur's style. He's one of the Leafs' few forwards that can effectively partake in a cycle, contributes 20-25 goals, is part of the team's best two-way line and has a cap hit that is quite favourable. Additionally, he's not a slouch defensively either.
With all of that considered, paired with Mikhail Grabovski, he's the Leafs' best two-way forward. Now, I'm not against moving him. If the price is right, anyone can be dealt. But the return would have to be fairly substantial to consider moving MacArthur.
Question: It was recently announced that the Maple Leafs will take on the Detroit Red Wings in the 2013 Winter Classic at The Big House in Ann Arbor, Michigan. Of course, one of the highlights of the Winter Classic is the HBO series "24/7". Assuming HBO and the NHL go through with the hit series again this year, out of all Leaf players, coaches and brass, who do you expect the star will be?
Lukas Hardonk: We must remember that this entire question is based around the word "if." If 24/7 does happen this year, it has the potential to be one of the best since the series began in 2010, simply because the Maple Leafs and Red Wings are two of the quietest teams off the ice.
Dion Phaneuf, Phil Kessel and Ron Wilson are three people who no one─at least fans and media─is entirely sure what they are like away from the media and off the ice. Solely based on stories and rumours that have been told in the past, it sounds like Phaneuf can be quite an interesting character. With that, my pick is Dion Phaneuf.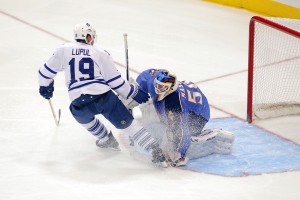 Mark Ascione: I think Joffrey Lupul showed during the All-Star weekend that he has some personality, while Jake Gardiner took the whole 'Silver Stick' think in stride so I think he will be interesting to watch. Of course, the coach and general manager are always good for a quote or three, and I believe Mikhail Grabovski will surprise some people, assuming he is resigned of course.
Unfortunately, I think two of the bigger stars─Phaneuf and Kessel─will be difficult to get anything from, as they both seem way too guarded and introverted. I am sure they are good teammates and great guys to be around, but I'm just not sure their personalities lend them to a 24/7 kind of event.
Alex Mamalis: I'm really looking forward to the Leafs in 24/7, because I see a ton of potential for a few less-known personalities.For one─if he's still with the Leafs at the time─I really see Jonas Gustavsson as being the Ilya Bryzgalov of the 2013 Winter Classic. His quirky, can be edgy at times and is definitely a wild card because of the lack of media time he receives.
Following Gustavsson, I can see Joey Crabb being a character. This is just really a hunch, as I've seen almost no media time with Crabb featured, but something in the recent interview over the Gunnarsson spout struck me. He has everything that it takes to be an HBO star. Others that I'll be looking for include Phil Kessel, Dion Phaneuf, Joffrey Lupul and James Reimer.
Follow the panel on Twitter: Lukas Hardonk, Mark Ascione and Alex Mamalis.