EDITION NO. 9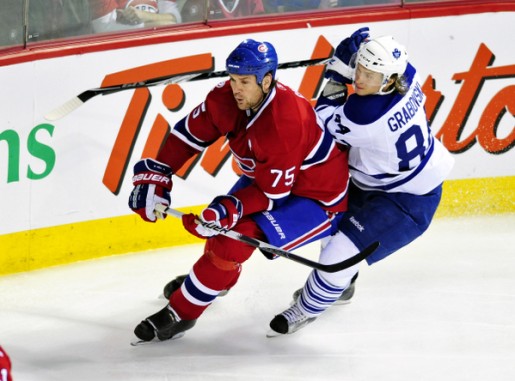 Maple Leafs Panel is a weekly feature that is published every Monday here on The Hockey Writers. It is a feature where THW Toronto Maple Leafs correspondents Lukas Hardonk, Mark Ascione and Alex Mamalis answer three questions that concern the Maple Leafs each week. To catch up on previous editions, click here.
Question: The Carolina Hurricanes re-signed forward Tuomo Ruutu to a four-year, $19 million contract last week while the Edmonton Oilers came to terms with Ales Hemsky on a two-year, $10 million contract. Both deals work out to annual salaries that are roughly the same as what Mikhail Grabovski is expected to receive on his next deal. Given the differences between Grabovksi and Ruutu and Hemsky, would you expect the price to re-sign Grabovski to have skyrocketed?
Lukas Hardonk: It's no secret that agents and players use these types of contracts to their advantage when negotiating a new deal with their respective team. In the case of Grabovski, you can expect absolutely nothing to change. In fact, Grabovski and his agent should be extremely happy to have seen Ruutu and Hemsky sign for as much as they did, as it will undoubtedly raise the price for the Maple Leafs to re-sign Grabovski to at least $5.2 million per season.
Why? Simple: Ruutu and Hemsky have not put up statistics this season that are even comparable to that of Grabovski's. Hemsky, a play maker, has four goals and 22 assists this season, while Ruutu has 17 goals and 13 assists. Put those numbers against Grabovski's 18 goals and 22 assists and you can anticipate where contract negotiations between Grabovski and Leafs are headed.
Mark Ascione: The Tuomo Ruutu and Ales Hemsky contracts do give Grabovski and his agent a lot of leverage to get more than $5 million per season, and I think that's unfortunate for Toronto; I am not sure they can afford him at the higher number. He's the best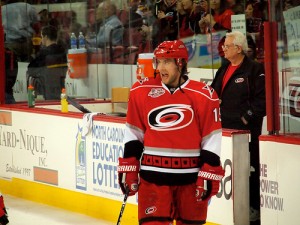 centre the organization has right now so I cannot argue with the organization making every attempt to sign him. But to go higher than $5 million, I am not sure he starts in Toronto.
Alex Mamalis: In a word, absolutely. I would say both players are inferior to Grabovski in terms of overall skill and ability. Thus, them now earning what they earn, it gives Grabovski even more repositories to find opportunity from for a high salary. And that's only on the ground level.
He's still arguably the team's best pivot and their definite best two-way forward. It also comes to down to this: What would you pay for a 30-goal, 30-assist centreman who is just as reliable in his own end? I'd say $4.5 million is a reasonable price range. With Hemsky and Ruutu signing the way they did, you can see how much the contract negotiations have potentially been affected.
Question: "[Jonas Gustavsson] has saved our season. The only reason we're in the hunt is because of him. When James [Reimer] got hurt he bailed us out; when James stumbled in January he bailed us out." – Brian Burke on TSN Radio 1050. Do you agree with his comments? Why or why not?
Lukas Hardonk: Burke was correct in saying that Gustavsson has saved the Maple Leafs' season and I don't believe that needs much of an explanation; he already gave one. I would like to add that Gustavsson has managed to rid some of the pressures that come with playing in Toronto this season, which is rather impressive for a third-year goalie who was coming off of a rough 2010-2011 campaign.
However, that doesn't necessarily mean that Burke made the right decision in coming public with what he believes on that topic. It could undoubtedly bring the team down and it certainly hasn't helped one that is now struggling to remain in the playoff race. That brings us to what he said in the same interview about searching for a new goaltender, although that's a different subject for a different day.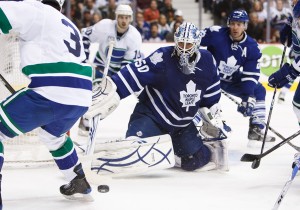 Mark Ascione: Well yes, Burke is right that Gustavsson played very well and his solid play in net was a big factor in keeping the Leafs in a playoff position, but as much as he played well and deserves that credit, neither he nor Reimer have been stellar lately. I think it's fair to say that the recent slide is also in part attributable to the play of Gustavsson.
Alex Mamalis: Burke is starting to run short my personal leash with him as general manager. He's very stubborn with his coach and often over-credits his goalies, among many other things. However, that's a conversation for another time.
Jonas Gustavsson was not the only reason the team saw January success. A vastly improved penalty kill, excellent five-on-five play and great goal support often equated to Gustavsson seeing success. This is not to take away from the month Jonas had, as he had a solid one. But to credit only Gustavsson was a bad decision on Burke's part.
Question: The Maple Leafs recently called up forward Matt Frattin from the AHL's Toronto Marlies, and he played in Saturday night's game against the Washington Capitals. Given the Maple Leafs' current situation re: the playoff picture, was Frattin the right guy to call up, or would you have given the call to Joe Colborne?
Lukas Hardonk: There is no doubt that the Maple Leafs made the right decision in choosing to bring up Frattin over Colborne. We had already seen the energy and passion that Frattin─who didn't take long to find a spot on the Leafs' roster earlier this season─can supply the Leafs' lineup with during his time in the NHL in the first half of the season.
Colborne, 22, played well in nine games with the Leafs this season, but didn't seem to fit in the lineup quite as well as Frattin did. Colborne has done a very good job in 44 games with the Marlies this season, so there isn't much of a point to disrupting his development by throwing him into a pressure-packed situation with the Maple Leafs.
Mark Ascione: I think Frattin is the right choice at this point. Certainly nothing against Colborne, but I just think Frattin has been on a hot streak and the Leafs could use some more jam on the boards as well as some scoring off the wing. Frattin has a little more grit, whereas Colborne is not especially known for using his size that way.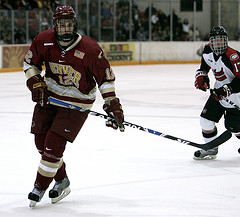 Frankly, I'm not an advocate of bringing Colborne up unless he is going to play on one of the top two lines and at centre. For now, Tyler Bozak and Mikhail Grabovski have that covered. But Frattin can help bolster the third line, which is where he would likely play anyway.
Alex Mamalis: Though Frattin has already been called up, this question is an interesting one. Does the team need more complete finesse and high hockey IQ or a gritty, two-way winger who's still an added offensive threat? As with who the team went with, I say Frattin, due to the atrocious third line the team currently has assembled.
Now, with Frattin you have a player who can grind it out in the corners with Crabb, go north/south with Lombardi and be the finish man for Connolly. We saw in the Washington game that he was one of the team's bright spots. He finished his checks, got pucks to the net and was positionally sound defensively.
Follow the panel on Twitter: Lukas Hardonk, Mark Ascione and Alex Mamalis.