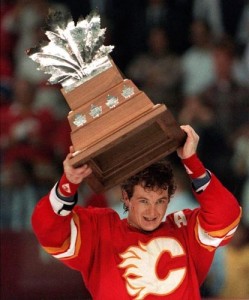 Al MacInnis will be honoured on February 27, prior to puck drop between the Calgary Flames and St. Louis Blues.
The Hall of Fame defenceman, notorious for his booming shot, will receive a banner in the rafters of the Scotiabank Saddledome as part of the "Forever A Flame" program. MacInnis will be the first ever to receive such an honour.
A native of Inverness, Nova Scotia, MacInnis wore #2 for the length of his career and played 23 NHL seasons. The Flames drafted him in the 1981 Entry Draft, and although he played his first NHL game on December 30, 1981 it wouldn't be until 1983-84 that he would complete the bulk of an NHL schedule.
From there however, MacInnis put together stunning Hall of Fame numbers. Starting as a full-time pro in the 1984-85 campaign, MacInnis rolled at a point per game pace and was voted to his first All-Star Game, (it was in Calgary that year).
MacInnis went on to be a 13-time All Star but for Flames fans who were around at the time, his most memorable moments had to come during the 1989 Stanley Cup victory. Amazingly, MacInnis led the league in post-season scoring during that run becoming the first defenceman to ever achieve that feat. Of those numbers, four goals and five assists were registered in the final series against Montreal, which led to a Conn Smythe Trophy as MVP of the playoffs.
MacInnis announced his retirement on September 9, 2005 as a member of the St. Louis Blues, with 1,274 career NHL points. Of that total, many were attributed to his rocket of a shot which legitimately made him one of the most feared offensive-defenceman in NHL history. MacInnis was the "Hardest Shot" king over the course of his All-Star Game appearances between 1991 and 2003. Similar to Zdeno Chara today, if MacInnis was competing in the "Hardest Shot" competition, you knew he was going to win.
MacInnis is still the Flames assists leader, with 609, and was inducted into the Hockey Hall of Fame in 2007.
Callum Ng covers the Calgary Flames for The Hockey Writers, follow him on Twitter @CallumNg