In this edition of Toronto Maple Leafs News & Rumors, I'll comment about some of the interesting aspects of last night's 2-1 Maple Leafs' win over the Ottawa Senators. I'll also quickly look forward to tonight's game, which is projected to match each team's back-up goalie against the other.
Item One: Joe Thornton Has Two Goals Waved Off
I have to admit that I haven't seen two goals waved off from the same almost-goal scorer in a single game before. But last night, it happened to the Maple Leafs' Joe Thornton. We now know Thornton is able to put the puck in the net, but we aren't sure he can do it in ways that count on the score sheet.
Related: Maple Leafs News & Rumors: Thornton, Roster Moves & Mystery Forward
Thornton had one of his "goals" waved off for goaltender interference when he pushed both the puck and Matt Murray's leg over the goal line both at the same time. The second was waved off when he deftly, but illegally, redirected the puck out of the air with a high stick. Both almost-goals came within five minutes of playing time.
What was interesting to me was how absolutely wide-open the 6-foot-4 Thornton was in front of Senators' goalie Matt Murray on both plays. He looked both determined and clever with the stick. Even when he's not doing it legally, he can score – well, almost.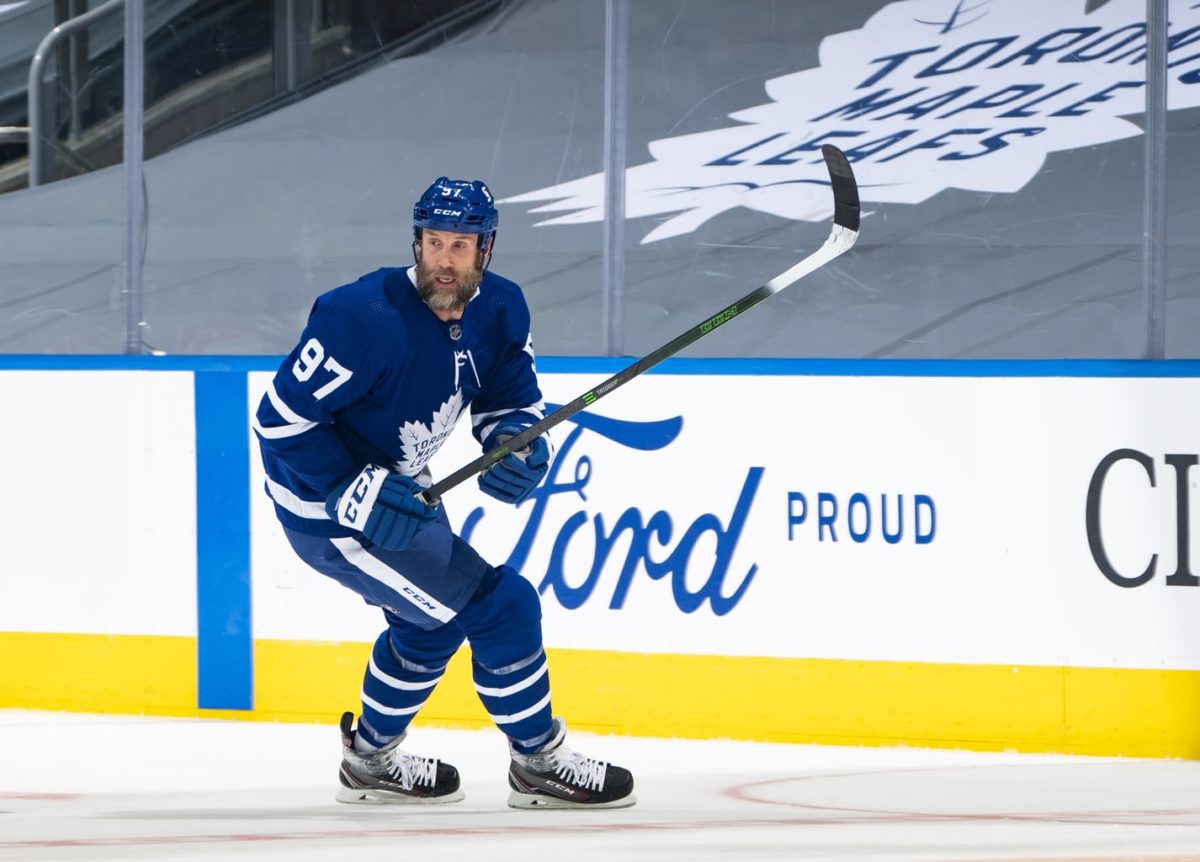 I know I might be in the minority, but I think Thornton's playing well on the top line. He looks active, but also seems to know how to conserve his energy at the same time. He had some long shifts last night, and I don't think he's the kind of selfish player who'd stay on the ice when he was gassed just to get an offensive opportunity.
Item Two: Frederik Andersen Bounces Back for Win
Frederik Andersen started on Wednesday night against Ottawa and won the game 2-1. But tonight represents the first back-to-back the team has played in quite a while. Will he be in goal against the Senators once more? Although at this point in the day, I can't find a final call, so I'm guessing that Michael Hutchinson will start for the Maple Leafs.
After giving up six goals on 31 shots in the 6-5 overtime loss on Monday to these same Senators, Andersen was perfect except for a great rush by the Senators that ended with a Brady Tkachuk tap-in goal late in the second period – no goalie could have got that one. On the night, Andersen made 27 saves in 28 shots and bumped his season's record to 10-3-2, a goals-against-average of 2.67, and save percentage of .905.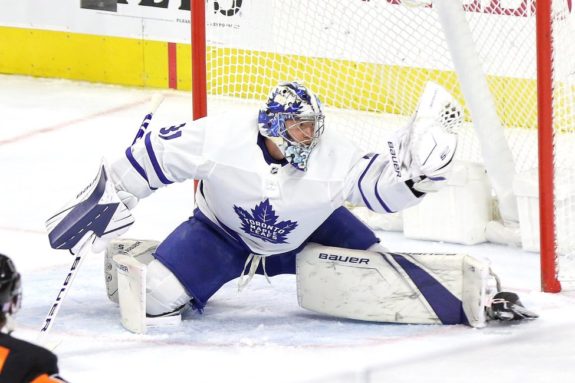 In short, it was a good game for Andersen, who had suffered back-to-back losses to Ottawa and Montreal before this game. Save for the Senators' overtime comeback, Andersen's looking stronger. It was the fifth game in the last six that he'd held opponents to two goals or fewer.
Item Three:  Auston Matthews Adds One More to His NHL-Leading 14 Goals
Auston Matthews now leads the NHL with 14 goals scored; and, Toronto now leads the NHL with 26 points for the season. Isn't this what life was supposed to be like every season since the Maple Leafs drafted Matthews first overall in the 2016 NHL Entry Draft?
Related: Jaromir Jagr – A Retrospective in Quotations
After having the two Thornton "goals" waved off – rightfully so, Matthews finally scored one that counted just five minutes into the second period. It was the 14th straight game in which the 23-year-old has scored at least one point.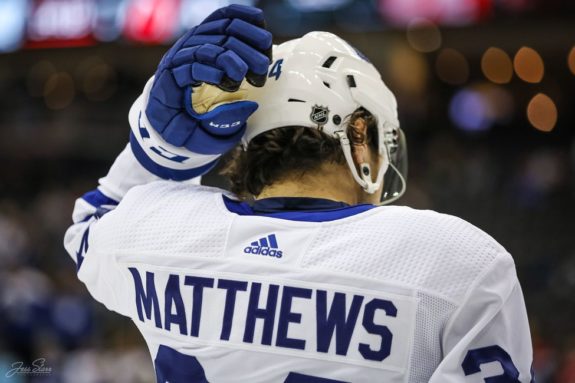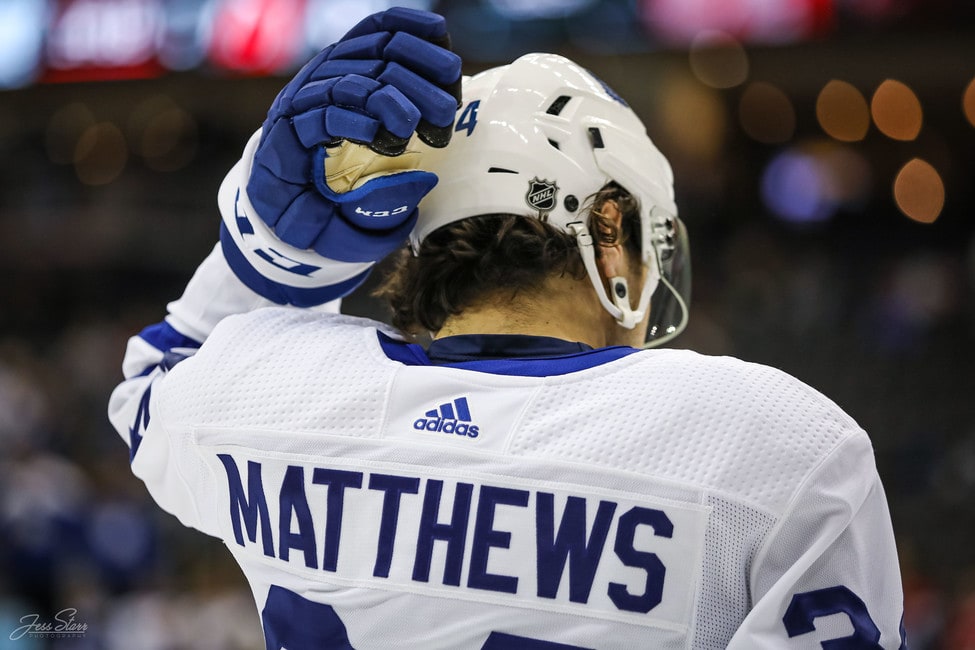 Matthews, who's scoring at quite an incredible clip, now has 14 goals and seven assists (for 21 points) in 16 games this season. Should he continue this pace, he'll finish with just under 50 goals (48 goals is a more exact projection) in this shortened 56-game season. Too bad he missed a game with an injury, actually.
Although that pace seems almost ridiculous, others have scored 50 goals in 50 games before. Among players who've scored 50 goals in 50 games are Maurice Richard, who was the first NHL player to score 50 goals in 50 games in 1944-45. Mike Bossy scored 50 goals in 50 games in 1980-81. And, Wayne Gretzky scored 61 goals in 50 games 1981-82 (hitting 50 goals in 39 games), 61 goals in 50 games in 1983-84 (hitting 50 in 42 games that season), and 53 goals in 50 games in 1984-85 (hitting 50 goals in 49 games that season). So it's not impossible.
Last night's goal was vintage Matthews – a blazing one-timer from the right circle. He now leads the surprising Vancouver Canucks' Brock Boeser, who scored his 12th last night against the Calgary Flames and his now-ex-teammate Jacob Markstrom. 
In addition, Matthews has scored 10 of his goals playing five-on-five hockey. In this funky season, Matthews is emerging into something very special. No one can seem to stop him. The last time a team held him off the score sheet was on Jan. 15 – the second game of the season; and, it was Ottawa.
Item Four: Alex Kerfoot Scores Game Winner
Alex Kerfoot broke the 1-1 tie just past the halfway point of the third period with his third goal of the season. Kerfoot jumped on a loose puck to Matt Murray's right and smacked it off the goalie's head – then off the sidebar – then into the net for the goal.
Related: Redoing the 2005 NHL Draft
From what I've seen, Kerfoot's been playing well recently and his statistics seem to agree. His goal was the fourth time in his past five games he's found the score sheet.
Kerfoot had shown he could contribute offensively when he played with the Colorado Avalanche, but he's had a different – and more limited – role with the Maple Leafs. I know he keeps coming up in rumors as trade bait, but I hope he isn't moved.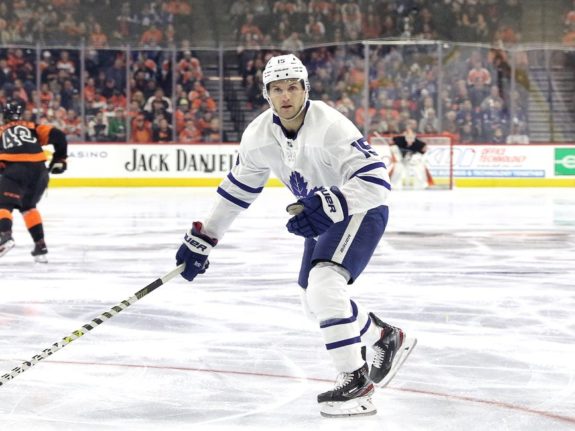 After the game, Kerfoot spoke to the media and noted, "This was a huge win for us bouncing back from a tough loss. It's really big in a shortened season like this to stop that negative momentum. You don't want that creeping into your minds or into your game."
What's Next for the Maple Leafs?
Although it hasn't been confirmed yet, the projection is that tonight's battle will be between the two backup goalies. Michael Hutchinson should likely start in net for the Maple Leafs and Marcus Hogberg for the Senators. That gives fans something new to look at and – for Maple Leafs' fans – to worry about.
Related: Maple Leafs' Keefe Tells Fans to Watch Out for Michael Hutchinson
Which Hutchinson will show up? Will it be the beleaguered net minder who couldn't be trusted to gain points for the team; or, will it be the newly-confident net minder of playoff success with the Avalanche last season? 
---
---
The Old Prof (Jim Parsons, Sr.) taught for more than 40 years in the Faculty of Education at the University of Alberta. He's a Canadian boy, who has two degrees from the University of Kentucky and a doctorate from the University of Texas. He is now retired on Vancouver Island, where he lives with his family. His hobbies include playing with his hockey cards and simply being a sports fan – hockey, the Toronto Raptors, and CFL football (thinks Ricky Ray personifies how a professional athlete should act).
If you wonder why he doesn't use his real name, it's because his son – who's also Jim Parsons – wrote for The Hockey Writers first and asked Jim Sr. to use another name so readers wouldn't confuse their work.
Because Jim Sr. had worked in China, he adopted the Mandarin word for teacher (老師). The first character lǎo (老) means "old," and the second character shī (師) means "teacher." The literal translation of lǎoshī is "old teacher." That became his pen name. Today, other than writing for The Hockey Writers, he teaches graduate students research design at several Canadian universities.
He looks forward to sharing his insights about the Toronto Maple Leafs and about how sports engages life more fully. His Twitter address is https://twitter.com/TheOldProf