Since their rebuild started, the Toronto Maple Leafs have put an emphasis on acquiring draft picks and developing their top prospects. Despite being a consistent playoff team, they aren't taking that for granted as they continue to stockpile potential NHL talent. 
We know the big names that headline their pipeline. Nick Robertson made a name for himself during the play-in round and Rasmus Sandin is developing into a strong two-way defenseman. There's also been the stellar play of 2020 first-round pick Rodion Amirov, who dominated at the recent Karjala Cup for Russia and was named the best forward at the tournament. Even Roni Hirvonen is showing a lot of promise as a two-way centre. 
While these names are getting high praise, and deservedly so, other Maple Leafs prospects who were drafted later should be receiving a lot more praise and attention. They're not first or second-round picks, but they're worth keeeping an eye on.
Mikhail Abramov, Victoriaville Tigres, QMJHL
Abramov's growth has been amazing since he came over to North America. After leaving Russia for the QMJHL, he had a very strong rookie season, registering 54 points in 62 games. That got him noticed by the Maple Leafs who drafted him in the fourth round, 115th overall at the 2019 NHL Draft.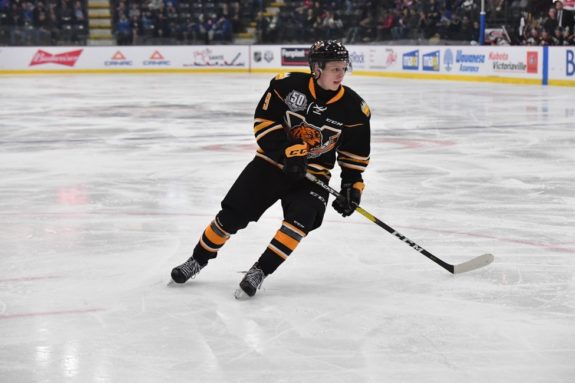 Since then, Abramov hasn't slowed down. He had a strong draft plus-1 season, doing the heavy lifting on an average Victoriaville Tigres team last season with 76 points in 63 games. He is continuing that trend this season as captain, registering 13 points in eight games. Abramov is becoming a late-round find that could make an impact on the Maple Leafs. 
He has excellent speed and has a very strong skillset. He's an excellent play-maker and is very patient when picking his opportunities to distribute the puck. He's not afraid to shoot, and he's very dangerous when trying to find the back of the net. He's extremely crafty with the puck and isn't afraid to get fancy and do things himself if need be. 
In 2019-20, Abramov won 45% of his puck battles and that stat has increased to 50% this season as he's becoming more engaged in the play. His ability to battle for possession will especially bode well for increased scoring chances for his team.  
He's been an underrated offensive producer in the past, and the QMJHL's issues due to the COVID-19 pandemic haven't put a damper on his play. While the team has only played six games, his offensive production will grow and would be higher in a full season. While he's a threat at the junior level, if he continues this level of play, the transition to the pro level should be smooth. 
Abramov could centre Amirov on a line at the upcoming World Junior Championships in Edmonton. This would be a big treat for Maple Leafs fans to see more of what Abramov can do.
William Villeneuve, Saint John Sea Dogs, QMJHL
Despite being a former second-overall pick in the QMJHL Draft, Villeneuve didn't get a lot of attention at the 2020 NHL Draft and could become a valuable pick for the Maple Leafs. 
I had him as a potential second-round pick, but fate intervened as the Maple Leafs selected him with one of their fourth-round picks, 122nd overall. Villeneuve led the Saint John Sea Dogs in points and was the highest scoring defenseman in the "Q" with 58 points in 2019-20. He is off to a slow start this season with only six points in 15 games, but the Sea Dogs haven't been great. Even though they rank seventh in the league, they have one of the lowest point percentages (.467) in the league and have allowed the third most goals against (63).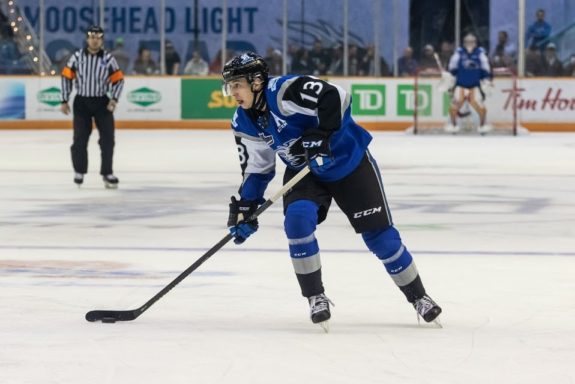 Nonetheless, there is still a lot of promise in Villeneuve's game. He is a very strong play-maker who can set up and connect with his teammates. This season, he's averaging 29 accurate passes per game and has an accurate passing rate of 89%. He's capable of stick-handling in transition, he can also stretch the play effectively to quickly get into the offensive zone as he averages 3.6 breakout passes per game. 
Villeneuve is very reliable in his own end, logging a lot of minutes and playing in all situations. He provides great coverage in front of the net and has the vision to break up plays. While his speed is a concern, that will improve as he continues to develop.
Nick Abruzzese, Harvard University, NCAA
After Robertson, who scored 55 goals, and Abramov, who made a statement, you can add Abruzzese to the list of gems from the 2019 NHL Draft, selected 124th overall. He recorded 80 points with the Chicago Steel in his draft year and then went the distance in a phenomenal rookie season with Harvard in 2019-20, scoring 44 points to lead all freshmen ahead of some big names. 
Even though he's small at 5-foot-9, 161 pounds, there is no quit to his game. He is a fierce competitor and is constantly working hard to improve. He's very intelligent and always tries to be one step ahead of his opponent, always thinking of what he's going to do next. He knows how to read the ice very well so that he can be open to receive a pass or sneak in behind a play to tap in a loose puck. He has good speed that allows him to separate himself from other players.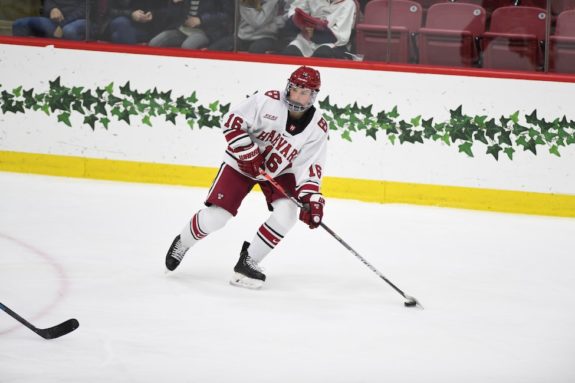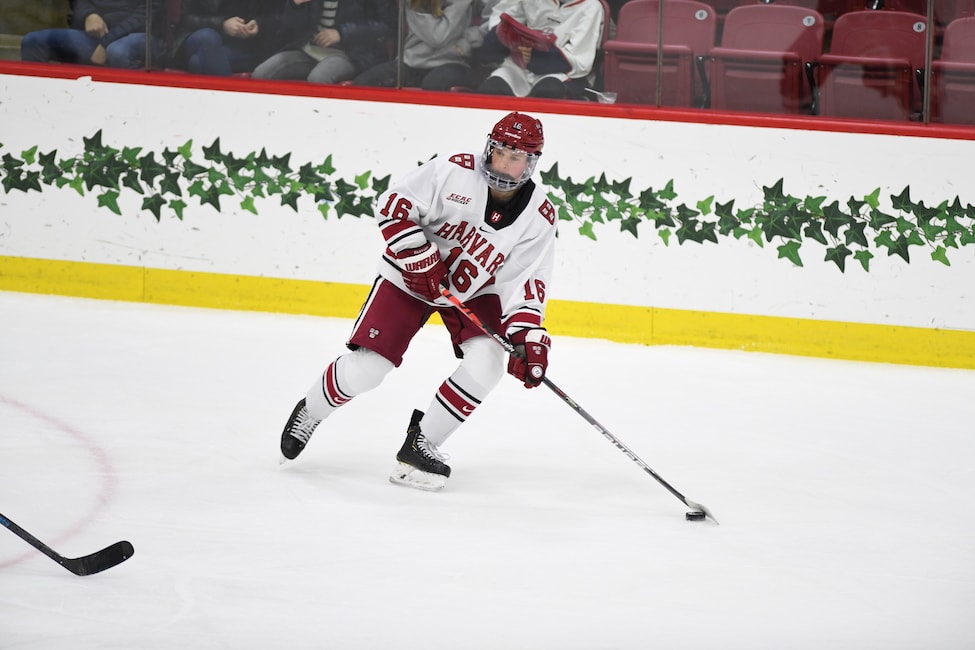 Abruzzese has a good shot and a quick release, especially when he winds up for a one-timer. He has quick hands that allow him to maneuver in tight areas, especially in front of the net. He's a very good passer who knows where to spot his teammates and get the puck to an open area so they can receive a pass.
After a promising start to his development, Abruzzese is in a difficult spot. Ivy League schools have cancelled their season due to the COVID-19 pandemic, which has given him few playing options; he can't even play in the American Hockey League if their season goes ahead. It's not easy for anyone in this position, but if he keeps up his on-ice training to stay in game shape, he would have that advantage when play resumes.
Topi Niemela, Kärpät, Liiga
He may not be a flashy offensive defenseman or a player who can generate points like Villeneuve, but Niemela can give a team defensive stability, and this is an area where the Maple Leafs have struggled. Teams passed on him and Toronto took advantage, selecting him early in the third round of the 2020 NHL Draft.
When the play is heading the other way, that's when Niemela is at his best. He knows when to stay back and defend on the rush. He never strays or gets caught out of position and rarely panics in tense situations. He makes great decisions without the puck and does a really great job of anticipating and breaking up plays. 
The Maple Leafs have many players with an offensive mindset and having someone like Niemela who focuses on defense will give them balance on the backend. Director of amateur scouting John Lilley had high praise for Niemela's commitment to defense and thinks it the best in the draft. Niemela has also been a fixture on the penalty kill, with an average of 1:19 per game. 
Niemela can make an impact offensively. In the U20 SM-Liiga, he put up four points in six games with Karpat U20. He recently earned a call-up to the men's team where he has three assists in seven games. He plays a simple but effective game. When he's on the attack he knows when to jump in, keep the play alive or even take a chance on a rush. 
Niemela brings a great blend of offense and defense, and he could end up being a great selection for the Maple Leafs. They drafted some great talent upfront, and he adds to a growing list of promising blue line prospects.
Dmitri Ovchinnikov, Sibirskie Snaipery, MHL
Ovchinnikov was one of the Maple Leafs' late-round draft picks in the 2020 NHL Draft, but there's a lot of excitement surrounding him. He has 23 points in 16 games with Sibirskie Snaipery in the MHL, but zero points in five KHL contests. While he was good value with that pick, he's starting to increase his stock within the organization. 
Ovchinnikov thinks the game at an extremely fast pace. He's got great speed and quick hands to make plays in tight. He's very successful at controlling the puck on zone entries, and he averages 4.3 entries per game and 3.2 entries are by stick-handling. 
Even though he can generate chances, Ovchinnikov is a very strong passer with an accurate pass percentage of 91%; against Mamonty Yugry, he was 17 for 17. He also averages 1.38 passes to the slot per game to help generate high-danger scoring chances. In the games that have been tracked this season, his highest percentage of shots come from in front of the net at 78.9%.  
There is a lot to like about Ovchinnikov. He has shown a lot of promise, but his size does remain a concern. He does need to get more comfortable in engaging in puck battles as he has won 40% this season. While that might be his only downside, the Maple Leafs could have stumbled upon a hidden gem. THW's Chris Faria recently wrote a great article about Ovchinnikov and compared him to other prominent Russian players at his age.
The Maple Leafs have many talented players in their prospect pool. Who are you keeping a close eye on? Have your say in the comment section.
Statistics from InStat Hockey and Elite Prospects.
---
---