Leafs Beat Caps in Shootout
The Leafs have James Reimer to thank for defeating the Washington Capitlas 2-1 in a shootout Saturday night. The 25 year-old stopped 49 of 50 shots he faced in regulation and overtime before stopping Ovechkin, Backstrom and Brouwer in the shootout to secure the victory. Here are the full highlights from the shootout:
Reimer now leads the entire NHL in save percentage at .947. In his last seven starts, he has stopped 272 of 283 shots, for an even more ridiculous .961 SV% while allowing just 11 goals. In those seven games, he has faced an average of over 40 shots per game. Maybe him being rested is working?
"Rest is a weapon," Reimer said after the game. "You've got to take care of your body; nutrition…you've got to be a good pro, that's what it comes down to. You have to do the little things right."
When reporters asked him about leading the league in save percentage, he said "stats are stats… it means something but it doesn't mean everything, thats for sure. Its cool to be up there but at the same time the most important thing is playing the best for your teammates."
When Reimer stopped the final shooter in the shotoout, I'm sure lots of Leaf fans felt as relieved as he did:
Watch this over and over: A GIF of James Reimer's reaction to the win http://t.co/kubDIXUQsi #TMLtalk #Leafs

— Toronto Maple Leafs (@MapleLeafs) November 24, 2013
Other Notes from Capitals Game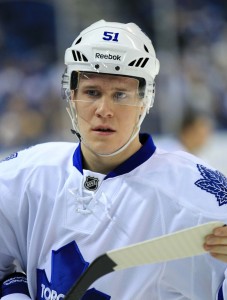 1. The Leaf goal came off a Jake Gardiner point shot. I personally feel Gardiner has been getting too much playing time, specifically 5on5. This goal came on the powerplay (where he belongs) but Carlyle has been playing Gardiner a lot at even strength. Last night he played 22:05 5on5. Against the Preds he played 20:06, against the Isles he played 19:42 and against the Sabres in the home-and-home he played 23:07 and 19:43 at even strength. It has gotten to the point where Gardiner is playing more than everyone except Phaneuf. I have seen his defensive play improving, that is for sure (he was just playing pretty terribly early on), but not to the point where he deserves these kinds of minutes.
2. On that note, Gardiner's point shot was effective because it got through to the net, something coach Carlyle says the Leafs have been working on. No need for a big wind up, just get the puck through and things will happen (such as the Clarkson tip-in).
"We're far far too cute," said Carlyle. "We just refuse continually to direct pucks… we're not getting that second and third opportunity, that fleury of shots."
If you need reminding about how important getting shots through can be, here is what can go wrong when it doesn't happen:
3. Clarkson continued his strong play of late. His second goal of the season was accompanied by four shots on goal, three hits and three blocks. He now has four points in his last five games (yes that means he had just one point in his first eight games…)
4. Yes Reimer faced 50 shots but once again (and I can't believe I am going to say this) the quality of those shots were lacking. I have ranted about the Leafs need to give up less shots per game, and I stand by that. However, for those who saw the game, it did not exactly feel like 50 shots. 40, maybe. Did the Leafs get outplayed? Yes. Did Reimer win the game for them? Yes. But, the shot count from the game (50-28) does not adequately show what happened (i.e. the Leafs were NOT outchanced 2-to-1).
Reimer said it best: "It was more of them just throwing pucks on the net from everywhere. As far as tiring games, I've had some 30, 35 shot games that have been more tiring…because of offensive zone time. Tonight when they got in there they were just putting pucks on net."
Connor Brown Signs Entry Level Deal
Connor Brown, the Leafs 6th-round choice from the 2012 NHL entry draft, signed a standard three-year entry level contract. For those who want to read more about Brown, here is a link to my prospect update from October that features him.
For now, an abbreviated update from my October 19th entry: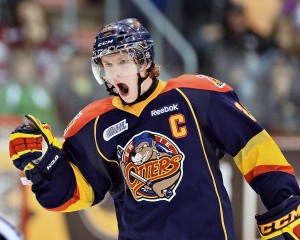 Brown is first in the OHL in scoring (still). He has 49 points in 25 games. The Erie Otters have long been the joke of the OHL, consistently sitting at or near the bottom of the standings , but that is no longer the case. Phenom Connor McDavid now has a year of OHL experience under his belt and he, along with Brown, overager Dane Fox, and Caps first-rounder Andre Burakovsky, have led the Otters to the top of the OHL standings with a 20-4-1 record.
Before this season it was unclear if Brown would mold into a capable top-six forward. He is now proving he has that upside but is also proving to be an invaluable leader on and off the ice, as this is his second year as captain.
One important thing to remember however is his age. At 19 (turning 20 in January), he is older than a lot of other OHLers plus he gets the benefit of playing consistently with the best player in junior since John Tavares (McDavid, who has 38 points in 24 games and ISN'T EVEN ELIGIBLE TO BE DRAFTED THIS YEAR). I wouldn't call Brown's totals to date unattainable, but don't expect these scoring totals to translate at the NHL level.
Here's an excerpt from an interview (and also a promotional video) from the Otters PR department:
Check out our partners at TiqIQ for the best deals on Toronto Maple Leafs tickets for all 2013-14 games.
Nathan Kanter covers the Vancouver Canucks and Toronto Maple Leafs for The Hockey Writers. He received his master's in journalism from Western University in May of 2015 before serving as the first ever Digital Managing Editor at Western's university newspaper, The Western Gazette, in 2015-16. From 2016-18, he served as the radio play-by-play voice of the Battlefords North Stars in the SJHL. His work has been published in The Hockey News, at Sportsnet.ca and at Dobber Prospects.