Prospect Update will be a bi-weekly feature that will check in on a few of the Leafs top performing prospects. This week we take a look at two players tearing up the OHL.
Connor Brown – RW Erie Otters (OHL)
Brown, the captain of the Erie Otters, currently leads the entire OHL with 25 points in just 11 games. He has 11 goals in 11 games. Plus another 14 assists. Erie has won six in a row and currently leads the Western Conference with an 8-2-1 record and 17 points. Brown was named the OHL player of the week one week ago for his seven points in three games from October 9th to 12th.
Brown was drafted by the Leafs 156th overall in 2012. He attended Leafs prospect camp this past July where he proved to team coaches and scouts that he still has the ability to score and play more than a checking role. Director of Scouting Jim Hughes said back in July he believed Brown can be a top-six forward and clearly Brown believes it too.
Check out Brown's first goal of the OHL season, a great breakaway effort:
The McDavid Effect
Part of Brown's success has to do with Connor McDavid, the 16-year old phenom who sits 5th in OHL scoring with 19 points and is the centerman for Connor Brown.
McDavid is so good that he was granted exceptional status by OHL commissioner David Branch to allow him to play a year early.
Just how good is McDavid? Well, in his rookie year he had about a point-per-game, which seems ordinary, until you realize he was 15 years old for half the season! It's quite possible that McDavid cracks 85 points this season, something most highly touted prospects manage in their NHL draft year. Max Domi and Kerby Rychel are examples of this, players who last season each had 87 points before going to NHL clubs in the first round. McDavid could accomplish that one year BEFORE he's even allowed to be drafted. 11 games is a bit misleading, but McDavid is currently on pace for 117 points.
Credit Brown though, as McDavid has only assisted on six of his 11 goals. Brown is making things happen on his own and as captain, is leading his team to success following two abysmal seasons. He does whatever it takes to win including killing penalties and dropping the mitts if necessary. He even has a shorthanded goal this year.
Stats out of Proportion?
Yes, Brown does have 25 points, but 13 of those are powerplay points. Erie currently lead the OHL in PP% at 33.3%. That will likely not continue all season so it will be interesting to see if Brown can keep up high point totals when the powerplay starts to wane a bit. Can he keep scoring like this at even strength? Who knows, maybe the powerplay will be that good all season long. It's doubtful, but stranger things have happened. The point is, with a powerplay this hot and much of Brown's success attributed to that powerplay, it's likely he won't continue to dominant this badly.
Carter Verhaeghe- C Niagara Ice Dogs (OHL)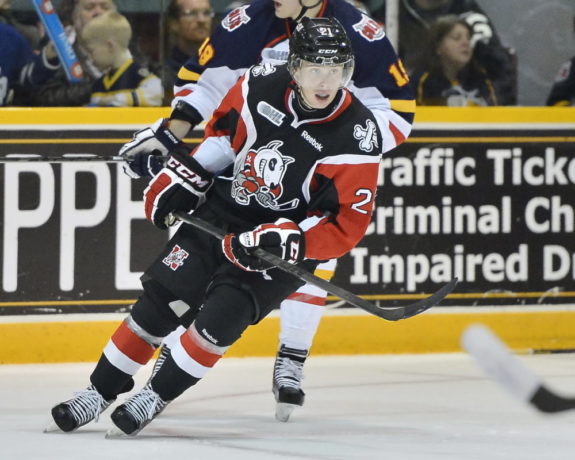 Verhaeghe is no longer stuck behind Ryan Strome and is now seeing the minutes he needs in order to produce. And produce he has, as he sits third in OHL scoring with 23 points in 11 games, just two less than league leader Brown.
What's impressive is his consistency; he hasn't gone a game yet without registering at least a point. Sometimes in junior players can pile up points against weaker teams in blowout victories that inflate their scoring totals. But not Verhaeghe. Aside from a 7-2 blowout against Owen Sound in which the center had five points, Verhaeghe mostly is consistent with one and two point nights in close games.
Dominant nights are always fun to watch though, so here are highlights from Verhaeghe's five-point evening against the Attack:
http://www.youtube.com/watch?v=Nj5o4h-d3S0
Maple Leafs Looked Beyond Stats
Last season Verhaeghe only managed 44 points in 67 games but the Leafs drafted him anyway, seeing him as a skill player who just needed a better opportunity. He did also finish last year with 11 points in the final 10 games. For now, it appears they were bang on as Verhaeghe has come out flying to start the OHL season.
Can he continue? I'd say he has a better chance to keep it up than Brown. Jim Hughes said Verhaeghe could hit 100 points in the OHL, though he didn't exactly say to expect it this season. Who knows though, maybe he's just begun to hit his stride?
Nathan Kanter covers the Vancouver Canucks and Toronto Maple Leafs for The Hockey Writers. He received his master's in journalism from Western University in May of 2015 before serving as the first ever Digital Managing Editor at Western's university newspaper, The Western Gazette, in 2015-16. From 2016-18, he served as the radio play-by-play voice of the Battlefords North Stars in the SJHL. His work has been published in The Hockey News, at Sportsnet.ca and at Dobber Prospects.