It seems like a lot of things never change in Buffalo. Among an anemic offense and a recent culture of losing, finding Patrick Kaleta in the press box due to a suspension have unfortunately become common occurrence for Sabres fans. If the fourth-line agitator doesn't soon clean up his game, he could quickly find his way out of the NHL.
Another Season, Another Suspension
Kaleta's latest transgression came last week when he delivered a blow to the head of Columbus Blue Jackets defenseman Jack Johnson. The infraction is outlined in the below video.

Kaleta is currently appealing the 10 game suspension that would cost him $152,439 in lost salary if upheld. This marks the seventh time Kaleta has been fined or suspended over the last four year. Clearly, he is not getting the point. His previous suspension came just 21 games before this latest incident when he hit New York Rangers forward Brad Richards from behind.
The Player with Two Faces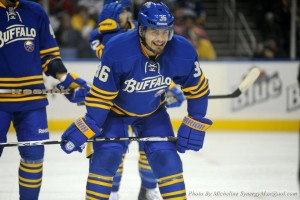 Patrick Kaleta seems to be one of the most enigmatic figures in the NHL. While the Angola, New York native is loved by Sabres fans and those in Buffalo and the surrounding communities, he's detested by others around the league.
It's not uncommon to hear words such as "rat" or "garbage" when many hockey analysts describe the agitator. A number of people believe he should be thrown out of the game and that he is a huge liability.
Ryan Lambert of Puck Daddy wrote, "Until we're given legitimate evidence of contrition, it's a safe assumption that Kaleta will continue to "play on the edge" and try to injure his opponents given the slightest opportunity. This is especially true for people who share the ice with him on any given shift."
In 2011, Adam Proteau of the Hockey News gave us a top 10 list of most hated players in the NHL, and Kaleta landed at number two on the list.
On the contrary, there is a much different version of the forward portrayed by those who claim to know him the best. As part of the Buffalo Sabres' Beyond Blue & Gold series, the organization profiled Patrick Kaleta.
When he's not on the ice looking to hit the opposition, he is busy doing work for his HITS Foundation and is regarded as a model citizen of the Buffalo community.
Last Chance for Redemption
Kaleta is certainly at a crossroads in his career. This may very well be the final opportunity he has to get his act together. Regardless of whether or not the intent is or isn't there, Kaleta is reckless and needs to play a smarter game.
Kaleta has long defended his game by saying,  "I try to play a clean, hard-nosed game. A lot of people don't like that." While many would beg to differ about him trying to play a clean game, Kaleta believes he has already been making strides in the right direction. "I've been changing my game over the past little while. Everyone who's watched the Sabres and paid close attention has seen it," said Kaleta in his first public statements since his suspension.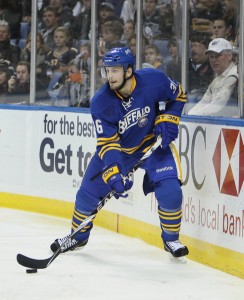 Again, many probably wouldn't agree with that assumption, but here's where the plot thickens. Matt Cooke (who was ranked number one on that list of most hated players) has reached out to Kaleta. Last season, we witnessed a kinder, gentler and most importantly — less suspended Cooke. It appears he has gotten things figured out.
"The work that I put in has helped me not only take the risky plays out but also become a more effective player. I've got a way more active stick on the forecheck, and I'm more aware of my surroundings, which has helped me offensively," said Cooke during an interview with ESPN's Pierre Lebrun. "Right now, I err on the side of caution."
Kaleta seems to have taken Cooke's words of advice to heart. "He understands where I'm coming from and what I have to do to stay in the league and what I have to do to help out the team," Kaleta said in regards to his discussion with Cooke. "I respect everything he said and hopefully I can use what he said and help myself and my game out."
Whether or not Kaleta has and will continue to make adjustments to play a more responsible style of hockey may be in question, but what isn't is, he must make marked improvements to keep himself in the NHL.
As an American based in Amsterdam, Joe provides a unique hockey insight, bringing a global perspective to the game. Joe has several years of experience covering the game on both a domestic and international level, including being credentialed for multiple World and World Junior Championships.