Oliver Ekman-Larsson gets comparatively little attention outside of the Phoenix area and the Pacific Division, especially when awards are being considered. But the 22 year old Kalskrona, Sweden native is beginning to turn heads. Here is what you need to know about Oliver Ekman-Larsson before the rest of the hockey community catches on.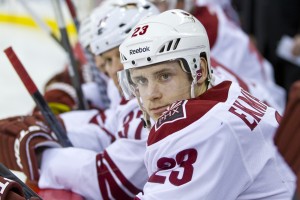 Who is Oliver Ekman-Larsson?
Oliver Ekman-Larsson was the sixth overall pick in the 2009 NHL Entry Draft. His class included NHL mainstays like John Tavares, Matt Duchene, Evander Kane, & Brayden Schenn. Considered the 4th best European skater by the NHL Central Scouting Bureau, the Phoenix Coyotes thought highly enough of him to snatch him up early on. Though they didn't know it at the time, Ekman-Larsson would be a perfect match for future head coach Dave Tippett's defensive oriented system.
Oliver Ekman-Larsson (affectionately referred to as OEL by Coyotes fans) would have to wait a couple of seasons before seeing NHL ice. He made his debut with the Coyotes in the 2010-11 season. He would play 48 games with the parent club before being sent down to the AHL club. The next season, he would make the roster full-time and never look back
What's the Big Deal About Him?
While Ekman-Larsson's numbers weren't quite good enough for Norris Trophy consideration last season, SB Nation site Pension Plan Puppets rated Ekman-Larsson as the best defenseman in the NHL in the 2013 season by virtue of his advanced statistical numbers. They justified their decision thusly:
His consistency across the board secures him our selection for this year's Norris Trophy; he simply had no weak point this season compared to his peers, staying within the pack in all categories and never losing too many points to the leaders.
In addition to reasonably strong offensive numbers (24 points in 48 games last year), OEL plays against the other team's toughest opponents on a regular basis. Ekman-Larsson led the Coyotes last season in QualComp, which means he took shifts against the opponent's Top 6 forwards more often than any other player on the team. Additionally, his started shifts in the offensive zone only 45% of the time approximately. This means more often than not Oliver Ekman-Larsson was beginning shifts on defense or in the neutral zone.
In many ways, that model of consistency is why OEL is so valuable to the Coyotes. Phoenix has quite a bit of firepower on the blue line thanks to offensive defensemen like Keith Yandle and David Rundblad. They also have quality shutdown defensemen in Zbynek Michalek and Rostislav Klesla. OEL excels in both aspects of his game. This sort of all-around production makes him invaluable to a Coyotes team that plays defensively and gets its offense from everywhere on the depth chart.
Conclusion
The bad news for other NHL offenses is that Oliver Ekman-Larsson is only getting better. In his rookie year, he averaged .23 points per game. In 2011-12, he averaged .39 points per game. And in 2013, he averaged .5 points per game. As of October 18th, OEL is matching his 2013 pace, with two goals and two assists in eight games. And considering he signed a six year contract extension in March that keeps him in Phoenix until the 2018-19 season, OEL will be patrolling the Phoenix blue-line for a long time to come. If he continues to put up the numbers he's producing now, GMs league wide will only be able to wonder at what might have been had they gone with the stud from Sweden.