Having officially entered the stretch run of the NHL season – "officially," as in I just arbitrarily decided stretch run parameters – teams across the league are emptying the tank in their push toward the finish. For some teams, that approach is literal: let's dump as many serviceable players as we can to facilitate a late-season free fall and improve our odds in the draft lottery. For other teams, it's more figurative: let's push the pedal to the medal over the final month of the season to lock up a playoff spot. Fumes lie in the wake of the latter group, actual players lie in the wake of the former, and when it's all said and done, the teams that tried to lose end up with a bigger reward than all but one of those that tried to win. Funny how that works.
Hey, NHL: want to stop teams from tanking? Adopt this policy. This policy rocks. And yours doesn't. Yours is outrageous.
Trite complaint aside, teams with a legitimate chance of making the playoffs are beginning to eye the remaining games on their schedule to figure out what it will take to get there. We play that team twice – damn, they're good – but this other team three times – and alright, they're lousy. If we can win 10 of our last 15 we should be fine. Players will tell you they don't engage in such silly speculation and that they're only worried about their next opponent, but that's all a bunch of bologna. It's human nature to ponder the future, and NHL players are as human as the rest of us. Not Patrick Kane, though. Patrick Kane's from a different planet.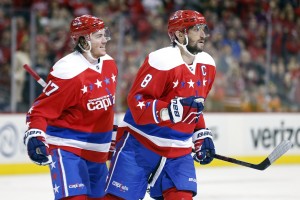 To be fair, objectives still vary within that group of playoff-contending teams. For some, like the Capitals and Blackhawks, qualifying is a foregone conclusion, so they've turned their attention to securing home-ice advantage through as many playoff rounds as possible. For others, like the Red Wings and Avalanche, qualifying is still very much the primary goal, so they're concerned with fending off the challengers from behind – because getting swept in the first round is so much more fun than missing out altogether.
For everyone else in between, it's about staying sharp, avoiding a late-season tailspin, and trying to grab home-ice in that first-round series. Those teams have to get there first, though, and nothing is ever guaranteed in a parity-driven league like the NHL. "Easy points" are a nice idea in theory – and sure, some are more attainable than others – but gone are the days when fans could circle a few dates on the calendar and draw a checkmark in advance. Still, let's take a look at the road ahead for the New York Islanders and try to map out their path to the playoffs. Chances are, it will look nothing like what we come up with.
Remaining Games
The Islanders have 17 games left, nine against teams above .500 and eight against teams .500 or below. (And by "above .500," we mean teams with more wins than losses, which seems like an obvious idea until you remember the NHL has decided overtime/shootout losses don't count – except for a point in the standings! – and just blithely considers everyone and their mother "above .500." That's for another time, though.) Against the former group – Boston, Florida, Pittsburgh, Dallas, Tampa Bay and the Rangers – the Isles are 6-6-2 on the season; against the latter group – Nashville, Philadelphia, Ottawa, Carolina, Columbus and Buffalo – they're 9-3-2. If they maintain those respective percentages in terms of points per game, they'll end up with 20 points in their final 17 games, good for 102 on the season. That makes the playoffs a lock.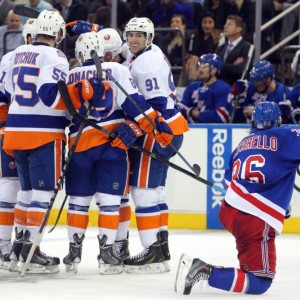 But here's the catch. Of those nine games against teams above .500, four come in the next five games, with the playoff-likely Predators the only exception. And then four more come in an uninterrupted string at the start of April. The Isles schedule is clearly softer in between, but they'll have very little time to catch their breath through the gauntlets that lay ahead. If they scuffle – losing, say, five of eight – their footing suddenly won't feel so firm.
What has to be unnerving for Isles fans is the team hasn't looked all that sharp of late. They were largely outplayed through their recent trip out West – good on them, though, for scrounging up points – and haven't righted the ship since coming home. The wins against the Rangers and Penguins were satisfying, if not too reassuring, and the Isles soured that feeling by laying an egg in Toronto on Wednesday night in a 4-3 OT loss. On Saturday, they'll enter a difficult five-game, seven-day stretch, with their game beginning to fray and their starting goalie, Jaroslav Halak, shelved for the season. It's hardly crisis time in Brooklyn, but some ominous skies are beginning to form on the horizon.
The Realistic Outlook
Let's take a deep breath. The Islanders' odds of making the playoffs are currently 99.6 percent according to Hockey-Reference, which is about as comfortable as it gets at this point in the season. It would take an epic meltdown on their end and an epic surge on someone else's – likely the Flyers' – to force the Isles out of the postseason field. And that's assuming the other two relevant teams below them, the Penguins and Red Wings, go on similar tears of their town.
Since the NHL switched to its current playoff format in the 2013-14 season, the second wild-card team – that is, the last team in – has averaged 95 points. Call that the magic number for making the playoffs. As of right now, the Penguins are on pace for 94 points, the Red Wings, 93 and the Flyers, 92. The Isles, who will have at least one game in hand on every team in the Eastern Conference after Thursday night's action, are on pace for 103.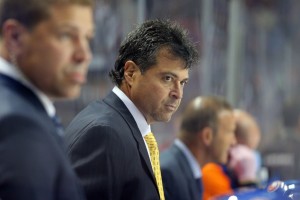 Now let's afford each of the Penguins, Red Wings and Flyers four extra points to account for their expected surge down the stretch. Even then, the Islanders would have to finish with less than 96 points to miss the playoffs, which means picking up a mere 13 points in their final 17 games, a half-point less per game than their season-long pace. Might it happen? I suppose. But might the moon fall from the sky?
In all likelihood, the Isles will calmly cruise to their second consecutive playoff berth in the Metropolitan Division. They'll handle the heavyweights in their path as they have all season long, and prey on the bottom-dwellers the way good teams are supposed to. Coach Jack Capuano will rest his new starting goalie, Thomas Greiss, as much as possible without jeopardizing his team's chances, probably doling out about six starts to backup Jean-Francois Berube. The Isles will win a few games that will make everyone sigh in relief, they'll lose a few games that will make everyone gasp for air, and they'll finish comfortably in third place in the Metropolitan Division and enter a first-round clash with the Rangers that will make everyone lose their minds. (Hockey gods: we need this!!)
When the puck drops in game one of the first playoff series between these old-time rivals in 22 years, our musings today will feel like idle chitchat. But the journey ahead is one the Isles can't overlook.
Can't get enough hockey? Want to talk about it with our writers, and fellow fans? Join The Hockey Writers Group on Facebook today for the best hockey conversations on the web!