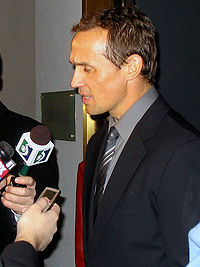 Marc-Andre Fleury should make the Team Canada roster for the 2014 Sochi Winter Olympics. Before you bash me for thinking I'm a Pittsburgh Penguins' homer, hear me out. As I wrote in my last article, Fleury is having the best season of his career.
In fact, the Flower has been the Penguins' MVP. All of the Pens' superstars have hit a scoring drought or played bad hockey at one point this season. Fleury has been the only consistent player on the Pens' roster while carrying the heaviest load. He doesn't have a veteran back-up to relieve him of his duties in the net.
While Fleury has been justly criticized for his post-season play, he can only be truly blamed for last year's playoffs. His post-season play against the Philadelphia Flyers two years ago wasn't his best, but he had no help from his team. The Flyers were averaging five goals a game, were 12-29 (41%) on the power play, but Fleury took all of the blame while the entire team was in disarray.
This is why executive director Steve Yzerman didn't extend an invitation to Fleury for Team Canada's orientation camp. Instead of publicly complaining about being left off the orientation roster, Fleury let his play do the talking.
Fleury has been as impressive, if not more, than the five goalies who showed up for the summer camp: Corey Crawford, Braden Holtby, Roberto Luongo, Carey Price, and Mike Smith. With the exception of Luongo, the Flower is the only player out of this group who was on the 2010 roster when Team Canada captured a gold medal. He knows what type of pressure the Olympics present. If you've watched Fleury this season, he's not the same goalie we've seen in the past. If you disagree, you're holding a grudge against Fleury.
Since acquiring the services of a sports psychologist and being mentored under new goalie coach Mike Bales, Fleury has displayed composure and calmness between the pipes. He's playing his angles better, sucking up rebounds, and directly rebounds out of danger. He looks technically sound for the first time in his career.
Team Canada Goalie Battle
Carey Price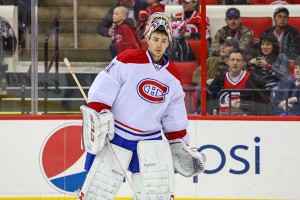 As of right now, Price is the most popular candidate to get the starting nod for Team Canada. Even though Price has been one of the hottest goalies of late, he's never proven in his career that he can perform under pressure. Price hasn't won a playoff series in his past four appearances. Many of these short-comings can be linked to Price letting in weak goals. The higher the stakes, the more Price has crumbled.
While Fleury has struggled in his last two playoff appearances, he's at least proven he can win in the playoffs. He has appeared in two Stanley Cup Finals, winning one of them. I can't fathom how anyone can nominate Price over Fleury when comparing track records.
Corey Crawford
Someone who does have a recent and proven playoff record is Crawford, who was last year's Stanley Cup-winning goaltender. He outplayed his counterparts in the 2013 playoffs, but besides his win total this season, the Chicago Blackhawks' net-minder doesn't have the best stats. He's surrendering 2.50 goals per game with a .908 save percentage. Fleury has 1.95 GAA and .923 SV% before Monday night's game and has outplayed Crawford to this point in the season.
Mike Smith
Smith has the wins, but his numbers are average at best (3.02 GAA & .912 Sv%). If we've learned anything from goalies who've played for the Phoenix Coyotes, we've found that it's a goaltender-friendly environment. This season is different and it's showing in Smith's numbers. The Coyotes are the 4th highest scoring team in the league. What they've made up in offense, they've lacked in defense and goaltending.
Braden Holtby
Holtby doesn't have enough NHL experience under his belt to carry the weight of Olympic favorite on his shoulders. Holtby dazzled us in his first post-season as a rookie, but hasn't played long enough to prove this was more than a fluke. In my opinion, he never should've been invited to the orientation camp.
Josh Harding
Harding has better numbers than anyone in consideration, but he wasn't invited to the orientation camp. In addition, Harding was penciled in as a back-up to begin this season for the Minnesota Wild. I don't think Team Canada has the trust in someone like Harding who is unaccomplished.
Roberto Luongo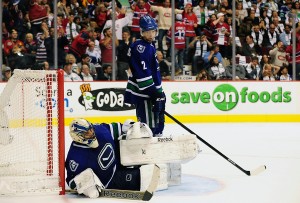 Then there is Luongo. He won the gold medal for Canada in 2010, but Luongo he's never been trusted by the Canadian faithful. Luongo has been shaky in pressure-packed moments. To Luongo's defense, he's already proven that he can win gold under the most possible pressure: in overtime, in a gold medal final, against Team USA. Despite the accolades, Fleury and Luongo seem to receive similar criticisms. I'm not sure how anyone can convincingly advocate Luongo over Fleury at this moment in time.
Sochi
The winter games will be here before you know it and Steve Yzerman is going to have to make some critical decisions. Team Canada's goaltending situation will be the Yzerman decision under the most scrutiny.
If I were Yzerman, I'd go back to Luongo since he won a gold medal four years ago, but Fleury deserves to be right at the top of the list. Considering the Pens offensive philosophy and how well Fleury has played this year, he's just as good of a choice as any for Team Canada in goal.
Justin Glock has covered the Pittsburgh Penguins for The Hockey Writers since 2011. As a lead writer, his Penguins knowledge traces back over two decades. For any requests, please feel free to contact Justin via email: JGlock10@gmail.com.