Hershey picked up a win against the talented Binghamton Senators (12-5) in a two game set this past weekend, but stayed around the .500 mark with a 6-6-2-2 record. They've won three of their last five games and finish out a five game home stand with three games at Giant Center this week. The Hockey Writers previews Hershey's week ahead below.
November 27th vs. St. John's (9-8-1-2)
Former Hershey Bears forward Andrew Gordon visits Giant Center as the opposition for the first time in a while, following his departure after the 2010-11 season. He played four seasons in Hershey, including a 71 point campaign and 13 goal postseason during the Bears sixty win season  in 2009-10.
The IceCaps head to Hershey with a 2-2 record against the East Division this season, including a 1-1 record against Hershey this season. The Bears split a two game set in St. John's earlier this season, highlighted by Dmitry Orlov's four point night on the blue line.
After Philipp Grubauer's two starts in net this weekend against Binghamton, David Leggio is the favorite to get the start in goal Wednesday night. Capitals goalie Michal Neuvirth is currently day-to-day, meaning Grubauer could be called up for Washington's next game, also on Wednesday night.
Goals per Game: 2.80 (16th)
Goals Against per Game: 2.90 (18th)
Power Play: 20.9% (7th)
Penalty Kill: 83.0% (18th)
Offensive Leaders: Eric O'Dell (20 points), Kael Mouillerat (16), Jason Jaffray (14) and Brenden Kichton (14)
Goalies: Eddie Pasquale (8-7-1, 2.37 GAA, .921 SV %) and rookie Jussi Olkinuora (1-2-1, 3.72 GAA, .874 SV)
November 30th vs. Wilkes-Barre/Scranton (12-4-0-2)
Hershey's struggles against the Baby Penguins are well documented, going 0-3-1-0 against their biggest rival to this point in the season. Wilkes-Barre/Scranton lost leading scorer Brian Gibbons to the Pittsburgh Penguins and could be without him for the foreseeable future, especially with the injury to Pittsburgh forward Beau Bennett.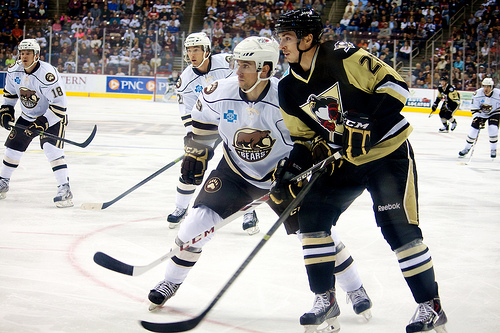 Wilkes-Barre/Scranton has an awesome 6-1-0-2 record against the East Division, compared to Hershey's subpar 2-4-1-2 performance against teams they play most often. The Bears' defense, already without Tomas Kundratek for the long term, will face the challenge of stopping the Penguins' high flying offensive attack.
Hershey's been outscored by 11 in the third period (11-22) and hold an 0-3 record when tied after two periods. Playing a full sixty minutes could bring Hershey a victory Saturday night, which would be their first against Wilkes-Barre/Scranton this season.
Goals per Game: 3.67 (3rd)
Goals Against per Game: 2.61 (6th)
Power Play: 16.0% (18th)
Penalty Kill: 83.3% (17th)
Offensive Leaders: Tom Kostopoulos (16), Brendan Mikkelson (14), Chris Connor (11) and Simon Despres (11)
Goalies: Jeff Deslauriers (10-3-2, 2.34 GAA, .900 SV %) and Peter Mannino (1-1, 3.40 GAA, .877 SV %)
December 1st vs. Providence (8-7-1-2)
The Bears fell to the Bruins last spring in the first round of the AHL playoffs, blowing a 2-0 series lead in the best of five affair. Hershey dropped Providence in the first two games on the road, but squabbled a late game lead at home in the fourth contest of the five game set.
Providence has been strong in the second period, outscoring the opposition 27-14, but have been outscored by a total of 13 goals in the first and third periods. Their young goalies, Malcolm Subban and Niklas Svedberg, have yet to find their best games.
Nine skaters have ten points or more for Providence, including rookies Jared Knights and Alexander Khoklachev. Keep an eye out for a potential physical head to head matchup between AHL tough guys Bobby Robins and Joel Rechlicz.
Sunday night's game is also WGAL and Northwest Savings Bank Teddy Bear Toss Night at Giant Center. There were 12,497 stuffed animals were collected last year.
"The Teddy Bears Toss has become a popular annual tradition," said Doug Yingst, President and GM of the Hershey Bears in a press release.  "Our loyal fans enjoy the event knowing that needy children will appreciate the toys throughout the holiday season."
Goals per Game: 3.50 (5th)
Goals Against per Game: 3.50 (29th)
Power Play: 21.3% (6th)
Penalty Kill: 73.1% (30th)
Offensive Leaders: Ryan Spooner (16), Matt Fraser (14), Carter Camper (14) and Nick Johnson (13)
Goalies: Niklas Svedberg (6-3-2, 3.28 GAA, .900 SV %) and Malcolm Subban (2-5, 2.76 GAA, .907 SV %)
Bears Links
You can follow Matthew on twitter @m_speck and email him at mspeck21@yahoo.com with any questions or comments.
Matthew Speck covers the Washington Capitals organization for The Hockey Writers. He provides coverage of both Washington at the NHL level and prospect related content. Matthew also covers local sports for the Lebanon Daily News in Central Pennsylvania. You can email him at mspeck21@yahoo.com with any questions or comments.