With November almost in the rear-view for fantasy managers, many might be wondering which players could potentially have a big impact during the month of December. While it is always nice to scour the waiver wire and free agent pool for a lesser-owned gem, it is also worthwhile to look at trends with some more widely owned players.
[Can you ice a winning fantasy club? FREE to Enter This Sat, Single Day Fantasy Game – Cash Prizes!]
Injuries and inconsistencies might have relegated some players to fantasy benches or their respective free agent pool, but with the temperature outside steadily dropping some players are starting to rediscover their form just in time. Despite the fact that there are still several months left to play in the fantasy hockey season, the quarter mark of the '13-'14 NHL regular season has already passed, and the halfway point will be upon fantasy managers quicker than they expect.
Preparing For December
Rick Nash (New York Rangers – LW/RW)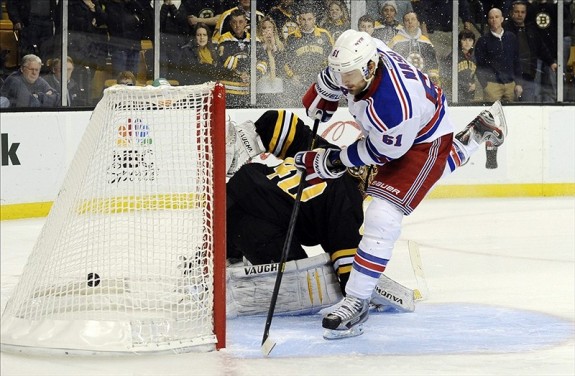 Rick Nash recently returned to the Rangers' lineup after suffering a concussion and will be eased back into top-six minutes for New York. While Nash might not be receiving the amount of ice-time that his owners might be expecting, fantasy managers must also understand that it will take the forward some time to readjust to the rigors of the NHL.
Seeing as how Nash was an integral part of the Rangers' offense before he went down with a concussion, fantasy managers should not hesitate to reinsert the forward into their lineup. Even though Nash has only recorded a goal since returning to the Rangers, his role on the team is unquestionable, and it is only a matter of time before he starts picking up his scoring pace. With the Rangers righting their ship as of late, Nash could be a huge impact player for New York during the month of December as he will have ample time to get more in tune with Alain Vigneault's system and style of play. It may be hard to get a hold of Nash in many leagues as he is almost 100% owned in most fantasy formats, but those that own the forward will likely be in for a treat in the coming weeks.
Justin Schultz (Edmonton Oilers – D)
Justin Schultz likely won't provide any jaw-dropping +/- statistics or significant contributions in departments such as hits and blocked shots, but the offense that the 23 year old can provide to the Oilers goes without say. Since his return to the Oilers' lineup, Schultz has registered a goal and an assist while playing alongside Anton Belov on Edmonton's second defensive pairing.
While fantasy managers should be prepared to take a hit to their +/- rating when reinserting Schultz into their fantasy roster, the defenseman's offensive production should outweigh the negative sides of his defensive game – something that should correct itself as the defender keeps progressing in the NHL. Seeing as how Schultz also gets time with Edmonton's second power-play unit, the d-man could also provide fantasy managers with the occasional point scored on the man-advantage.
Brent Burns (San Jose Sharks – D/RW)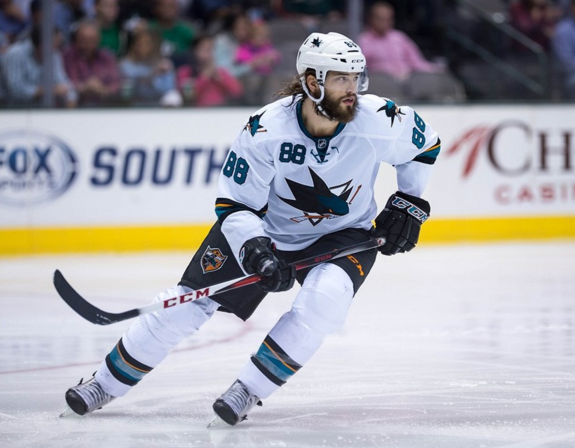 There is no doubting the fact that the San Jose Sharks missed Brent Burns during his month-long absence. Burns' dual-position eligibility (Defense & Right Wing) undoubtedly intrigued fantasy managers going into this season, and the right winger has done everything to justify the Sharks' decision to place him at forward.
Most recently, Burns was playing on the Sharks' top line alongside Joe Thornton and Tomas Hertl, and has recorded two points (1 Goal, 1 Assist) in two games since returning to the San Jose lineup. There is no denying what Burns has meant to the San Jose Sharks when he has been in the lineup, so the same should go for fantasy managers that own the dual-position skater. While it is yet to be seen if Burns can sustain his pace for the rest of the NHL season, owners should consider the fact that the D/RW has only been kept off the score-sheet twice this season. If fantasy managers haven't done so already, then they should absolutely place Burns back into their active roster as the skater has been irreplaceable thus far.
Jeff Skinner (Carolina Hurricanes – C/LW/RW)
Jeff Skinner's production might have dipped over the last three years, but there is still reason enough to believe that the forward can make an impact on the Hurricanes in December. Before being sidelined for 11 games, Skinner had recorded nine points (3 Goals, 6 Assists) in ten games played for Carolina and was a key offensive contributor for the team.
Despite the fact that Skinner has only managed to record one assist in three games since returning to the Hurricanes, there is still a tremendous amount of upside to the forward. Not only does Skinner qualify for the center, left, and right wing positions in Yahoo! formats, he is also currently tied for third on the Hurricanes' team scoring and even has one more point than offseason acquisition Alexander Semin. Although Skinner recently had some of his ice-time cut down, fantasy managers should definitely adjust their fantasy lineups accordingly for Skinner's inclusion as the forward is poised to continue the season as one of Carolina's more important offensive producers.
Tyler Bozak (Toronto Maple Leafs – C)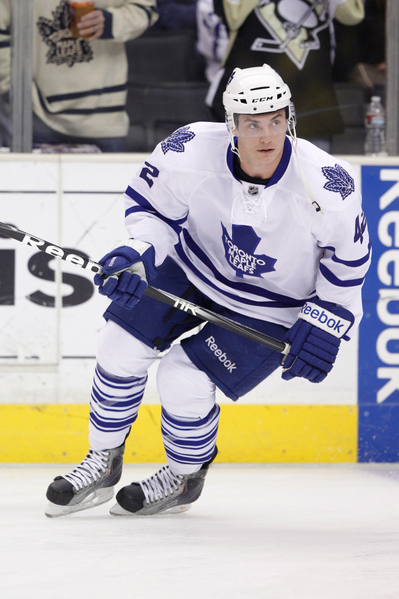 Much like the previous four players mentioned in this article, Bozak has missed a portion of time for the Maple Leafs due to a certain injury. While Bozak gave Toronto a scare when he limped off of the ice last Friday during practice, the centerman declared himself fine and should be able to return to the Leafs' lineup very soon.
Of course, fantasy managers would love it if Bozak returned sooner rather than later, but all signs are pointing to the center reasserting himself for the Leafs in December. Bozak is only 24% owned in Yahoo! formats, so chances are that many fantasy managers will likely have a chance to add the centerman as his return date gets clearer. Peter Holland has done some nice things while playing on Toronto's top line lately, but fantasy managers should prepare to see Bozak moved back to top-line duties alongside Phil Kessel. Bozak might not be the flashiest or most productive member of the Leafs' offense, but as long as the centerman keeps his top-line spot in Toronto he is certainly a more-than-viable option for most fantasy managers.
[Can you ice a winning fantasy club? FREE to Enter This Sat, Single Day Fantasy Game – Cash Prizes!]
In his third year with The Hockey Writers, Toli covers all things related to the New York Islanders. Focusing on the Islanders, the NHL Draft & draft-eligible prospect goalies, and hockey history, Toli can be contacted on Facebook by searching/messaging Toli Metter and on twitter by searching @ToliMetterTHW.