Central teams want to stay away from the St. Louis Blues. The Minnesota Wild learned this the hard way.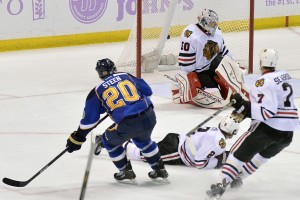 On Monday night, the Blues hosted the Wild at Scottrade Center in an inner-division clash. After the Wild thought that they had scored 30 seconds into the game, the wind was taken from their sails. It was ruled that Zach Parise directed the puck into the net with a high stick, negating the goal. Just 50 seconds later, Vladimir Sobotka notched his fifth tally of the season and the Blues never looked back. Alex Steen added two goals and Jaroslav Halak earned his second shutout of the season in a 3-0 victory.
The Blues improved to 8-0-1 against Central Division rivals. They have also outscored opponents 37-16 in the nine meetings.
The chart below shows the dominance that the Blues have conducted against divisional foes:
[table id=249 /]
Keep in mind that the Blues won in the shootout against the Blackhawks 3-2 on Oct. 17 and lost to the Jets in another shootout on Nov. 18. Shootout goals were not included in the chart.
No surprise on the top performers
Goaltender Jaroslav Halak. After his 22-save shutout on Monday, Halak improved his record to 7-0-0 against the Central, while also posting 167 saves on a possible 179 shots. He has recorded a 1.69 GAA with a .933 save percentage in those games.
His best performance came against the Predators on opening night when he stopped 28 of 30 shots, including this gem against Eric Nystrom with just 30 seconds left in the game.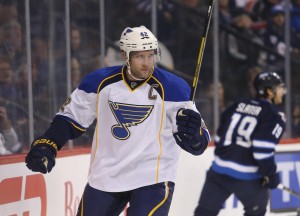 No. 1 scoring line. The Blues' top line has been key to winning any games, let alone the Central Division matchups. Steen has combined with David Backes and T.J. Oshie for 21 goals and 19 assists. Steen is the team's goal leader (12), while Oshie is the top assist man (11).
In addition, the three forwards have posted a plus-30 while averaging a combined 20 minutes, 35 seconds of time on ice.
Defenseman Alex Pietrangelo. The top defenseman has not only played a shutdown role against Central clubs, but he has been an important aspect for the offense. The 23-year old has contributed 11 assists and 13 points, including one power-play goal and six power-play points.
His plus-12 is staggering while his 25 minutes, 24 seconds outranks pairing partner Jay Bouwmeester's 24 minutes, 45 seconds.
———–
The Blues hope to continue the dominance of the Central Wednesday night when the team travels to Colorado to take on the Avalanche. A win has the potential to sit St. Louis atop the NHL standings.
I am a former NHL media member and reporter for the St. Louis Blues, working for various media outlets. Currently, I am an NHL News Writer and Editor for The Hockey Writers. I live in St. Louis and work as a freelance copywriter in numerous industries.