Montreal Canadiens general manager Marc Bergevin has built a reputation for himself as one of the best executives in the National Hockey League during his two and a half seasons at the helm of the Habs. It's easy for me to say that Bergevin is one of the top GM's in the league, but I am certainly not alone in that line of thinking.
"@ryanmartin79: @winsford99 You watch a lot of Habs, eh Strach? General thoughts?" Best front office in hockey and as a result, a threat.

— Alan Strachan (@winsford99) January 18, 2015
Bergevin started his new role on May 2nd , 2012 after the Canadiens had one of their worst seasons in franchise history, finishing with 78 points. In the last 60 years, the Habs only finished with less points five times. The Canadiens finished last in the Eastern Conference that season, and 28th overall in the 30 team league.
The Canadiens fired head coach Jacques Martin midseason, overhauled the front office by sending GM Pierre Gauthier packing, traded top goal scorer Michael Cammalleri not just midseason, but mid-game, and gave no guarantees to interim head coach Randy Cunneyworth.
Since then, the franchise in turmoil has won an Atlantic Division title, made a run to the Eastern Conference Final, and is currently among the few teams battling for first overall in the East standings. Much of the credit for the rapid turnaround has been heaped on Marc Bergevin. It makes sense that the man who has the final say on all trades, signings and draft picks would deserve praise. However, let's take a closer look to see just how much credit Bergevin has earned for the Canadiens going from the Eastern Conference cellar, to one of the beasts of the East so quickly.
Bergevin's first several moves were to use the Canadiens deep pockets to stock up on quality managerial brass. He brought in Scott Mellanby as director of player personnel, Rick Dudley to be his assistant, Patrice Brisebois to help young players learn about playing in hockey-mad Montreal, Martin Lapointe as a director of player development and Clement Jodoin and Gerard Gallant as assistant coaches. He also brought Michel Therrien back for his second stint as head coach of the Montreal Canadiens.
Habs Coach Therrien has no shortage of critics http://t.co/847pv8dfjn

— CTV Montreal (@CTVMontreal) January 25, 2015
The decision to bring back Therrien was met with much criticism, but he had a very successful Junior coaching career before taking over behind and NHL bench, led some overachieving Habs teams in his first stint, and helped bring the Pittsburgh Penguins to the Stanley Cup Final before returning to Montreal. Also, it is hard to argue with results, and the Habs record of 103-55-16 in Therrien's second tour of duty ranks third in the East behind the Pittsburgh Penguins and Boston Bruins in that time.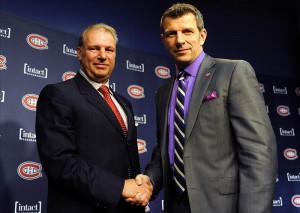 After getting the management team in order, the most important decisions by any general manager are made in signings, trades and draft picks. Bergevin has to be given high marks for surrounding himself with experienced managers (Dudley, Therrien), and bringing former players with many years of experience into the front office to help develop young players and show the prospects what it takes to play in the NHL (Mellanby, Brisebois).
When Bergevin took over the Habs, they had a reputation as an easy team to play against. His first order of business when free agent frenzy opened on July 1st, 2012 was to acquire toughness. He signed Brandon Prust to a four year deal with a cap hit of $2.5 million, Colby Armstrong to a one year, one million dollar deal and Francis Bouillon to a one year deal for $1.5 million.
Prust has played well as a member of the Canadiens bottom six forwards, and has been a valuable penalty killer for the Habs for the past two and a half seasons. He has been asked to be a heavyweight and has fought players at least a weight class above him on many occasions. His contract seemed a bit steep when it was signed, but Prust has played well and proven to be worth the investment made in 2012.
Armstrong was a low risk signing at a million bucks for one season, and played well for the Habs, predominately on the fourth line. He chipped in just five points in 37 games, but the added depth helped the Canadiens bounce back from a terrible season, to return to the playoffs.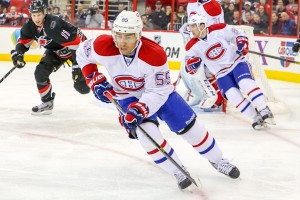 Bouillon was a decent fit on the Canadiens third pairing during the lockout shortened year, playing a mentor role as Nathan Beaulieu, Jarred Tinordi and Greg Pateryn all made their NHL debuts on a pairing with the steady veteran. Bouillon was resigned for the 2013-14 season, and though his age began to catch up with him, he scored the game winner in one of the most improbable comebacks in NHL history.
On July 2, 2012, Bergevin signed Price to what was the biggest contract in franchise history at the time. A six year deal with a cap hit of 6.5 million per season is a steal for the most important player in the organization. Price could be earning 10 million dollars this season and he would be worth every penny.
In August of 2012, Bergevin rewarded Max Pacioretty for his breakout 2011-12, by signing the former first round pick to a six year contract with a cap hit of $4.5 million per season. In just the second year of that deal, Pacioretty is already well underpaid. He is proving to be one of the top two way forwards in the league, and would earn nearly double his current cap hit if he were a free agent today.
Later that season, Bergevin would reward David Desharnais with a contract extension. Desharnais continues to slide down the Habs lineup this season. He has become the favorite whipping boy of the team's fans, but a $3.5 million cap hit is not unreasonable for a guy who has scored at a 53 points per 82 game pace since the beginning of the 2011-12 season.
Perhaps the worst re-signing Bergevin has made was settling on a long term contract with Russian defenseman Alexei Emelin. The hard hitting defender made a name for himself during the lockout shortened season on a pairing with coutrymate Andrei Markov. Emelin was injured late in the regular season, and was out for nearly a full year. While he was on the shelf, Bergevin agreed to a four year contract extension at $4.1 million per season. Emelin is yet to return to the same level he reached during the 2012-13 campaign, and has been demoted to third pairing duties recently. His contract has quickly become the worst on the team, and has become one of Bergevin's biggest mistakes in his Habs tenure.
https://www.youtube.com/watch?v=uAZJe9QRm1c
Bergevin also signed goaltender Peter Budaj to a two year extension in the summer of 2013, but perhaps more importantly, did not re-sign goaltending coach Pierre Groulx and instead brought in Stephane Waite from the Chicago Blackhawks to work with the netminders.
After winning the Atlantic Division, but quickly bowing out of the playoffs to the Ottawa Senators, the Habs biggest 2013 summer signing was Daniel Briere. Briere struggled in his one season with the Canadiens, scoring 25 points in 69 games. Briere was a fantastic signing compared to the one year, $1.5 million deal given to defenseman Douglas Murray who struggled mightily in his single season in Montreal.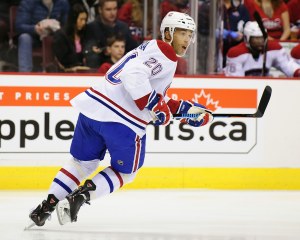 The following summer, Bergevin signed Manny Malhotra and Tom Gilbert, both of whom were supposed to fill very specific holes. Malhotra should have been the fourth line center, and Gilbert was supposed to be the second pairing defenseman on the right side behind Subban. Neither have played well this season, and although Malhotra continues to be the best faceoff man in the league, he is struggling defensively and both players have been made a healthy scratch recently.
Bergevin also went overseas to sign an unknown free agent out of the Czech Republic by the name of Jiri Sekac. The solid two way winger is proving to be an absolutely genius signing by the Habs GM. Sekac has found chemistry on a line with Brandon Prust and Lars Eller, but has also fit in well alongside Tomas Plekanec.
His most recent contract signing was a long term pact with Brendan Gallagher that will keep the scrappy winger in Montreal for the next six seasons. Gallagher has frequently played on the Habs top line, is capable of chipping in 20 goals, is already a valuable member of the power play at 22 years of age, and will stick around for more than half a decade at a cap hit of $3.75 million.
The most controversial deal that Bergevin has made, was with the Habs most important skater, P.K. Subban. Bergevin played hardball with Subban, who was a restricted free agent in the summer of 2012. The short 2013 season started without the two sides agreeing on a contract, and Subban missed the first four games of the season.
Subban is the perfect example of why bridge contracts are a bad idea for GM's

— nylander stan account (@LightsOutInFive) January 21, 2015
Eventually, the Habs top defenseman signed a two year deal with a cap hit of $2.875 million. In the first season of the new deal, Subban scored 38 points in 42 games, won a Norris Trophy and was named to the NHL's First All-Star Team. He helped carry the Habs back into the postseason after a one year hiatus, and earned himself an invite to Team Canada's Summer Development Camp for the 2014 Olympic Games.
@GargoyleCB22 what lesson? Subban's bridge worked perfectly, they got him for 10 years.

— Аrpon Basu (@ArponBasu) November 29, 2014
The following season, Subban scored ten goals and 53 points in 82 games, before becoming an RFA once again in the summer of 2014, when the real drama would begin. Both sides were unable to come to an agreement, and on August 1st they would head to an arbitration hearing. When it seemed like things were at their worst between the Canadiens and Subban, the largest contract in team history was announced the day after the arbitration hearing.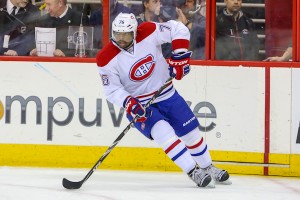 Subban signed an eight year contract with a cap hit of $9 million per season. Bergevin was ripped for forcing Subban into a two year deal in 2012, and making him earn a long term deal, instead of handing him one when he was 23 years old. However, had Bergevin signed Subban to a long term deal of five or six years in 2012, he would be eligible for free agency as early as the 2017 offseason, which would drive his price through the roof.
Not only did Bergevin force the young defenseman to earn his first long term deal, he also made sure Subban won't have a chance to leave Montreal until 2022, when he will be 33 years old. It is hard to criticize a GM for ensuring his best skater stays around until he is in the twilight of his career.
Overall, Bergevin's signings have been quite impressive. His worst signings were mostly low risk and low cost players on short term deals. Sure, Murray, Armstrong and Bouillon didn't run the power play for Montreal, but on one year deals at less than $1.5 million, they weren't expected to lead the team in ice time. His biggest blunders have been the Briere and Emelin deals, but the Canadiens have Carey Price, P.K. Subban and Max Pacioretty signed long term as the cornerstones at forward, on defence and in goal.
For the next three seasons after this one, the Montreal Canadiens will pay a combined cap hit of $20 million for one of the best two way forwards in the league, a former Norris Trophy winner who is among the league's best defensemen and arguably the best goaltender in the NHL. That gives the Habs a great nucleus to build around, and thanks to some smart signings by Marc Bergevin, the team is once again among the best in the East, and will have financial flexibility going forward to stay there for the foreseeable future.