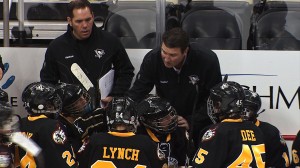 Ask anyone who remembers Mario Lemieux's playing career and they'll tell you he was a player who wasn't afraid to speak his mind.  They'll even point to a number of well-documented examples when 'Super Mario' seemed to be begging for special treatment.
Like in 1992 when he called the NHL a "garage league" because of the baffling rules (or lack thereof) that benefited the marginal hockey player.
Or the time he lost his mind and confronted referee Kerry Fraser after he was mauled in a 1994 game against Tampa Bay.
But for the most part, Lemieux quietly accepted the constant physical abuse that accompanied his role as a superstar in that era.  He absorbed the slashes and the punches and cheap shots that took a serious toll on his mind and his body over time.
Bobby Orr once told CBC that Lemieux was "the most talented player I've ever seen. If it were not for health problems, God only knows what his numbers would have been."
Lemieux's transition into an ownership role has been relatively quiet as well after he won city and state support for a new arena that opened this fall.  A wave from the owner's box or a timely text message is about all fans get anymore from the man Orr spoke so highly of.
This weekend that changed.
Brawls erupted in a Friday night game between his Penguins and the New York Islanders that left the entire hockey world stunned.  Pittsburgh's Eric Godard received an automatic 10-game suspension for leaving the bench to join in a fight, Matt Martin of the Islanders was suspended four games for punching Max Talbot from behind, and Trevor Gillies was given a nine-game suspension for a vicious elbow and attack on defenseless Penguins prospect Eric Tangradi.
Tangradi remains out of the lineup with his second concussion in less than a year and the Islanders organization was fined $100,000 for a "failure to control their players."
When details of the suspensions and fines were finally released late Saturday night, Mario decided he had seen enough.
The following afternoon he released a seething response to the league laced with words like travesty, sideshow, and embarrassing:
"Hockey is a tough, physical game, and it always should be. But what happened Friday night on Long Island wasn't hockey. It was a travesty. It was painful to watch the game I love turn into a sideshow like that.

"The NHL had a chance to send a clear and strong message that those kinds of actions are unacceptable and embarrassing to the sport. It failed.

"We, as a league, must do a better job of protecting the integrity of the game and the safety of our players. We must make it clear that those kinds of actions will not be tolerated and will be met with meaningful disciplinary action.

"If the events relating to Friday night reflect the state of the league, I need to re-think whether I want to be a part of it."
What happened on Friday night was a complete embarrassment, but it wasn't rock bottom for the NHL.  Dozens of disgusting incidents have happened in the past and with the snails-pace of change in today's NHL it's certain to happen again.
So what prompted Lemieux to snap?
ESPN's Scott Burnside took the opportunity to attack Lemieux's character in a column calling him out as a 'petulant child stomping his feet'.
Others like Joe Yerdon at ProHockeyTalk on NBC offered a more reasoned critique wondering if Lemieux's method of delivery was selfish.
Penguins General Manager Ray Shero told Kevin Allen at the USA TODAY that the statement even caught him off guard.
"[Mario] just saw something that disturbed him in the game and he spoke out about it," Shero said. "It's out of character. So when he does say something, you know how strongly he feels about it."
To pinpoint the origins of Lemieux's uncharacteristic reaction, it's worth taking a look at who he's become in the five years since he walked away from the game for the final time.
Mario the Coach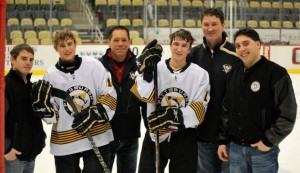 The challenge for any supremely-talented athlete is finding an avenue to satisfy the competitive juices long after a playing career ends.
Wayne Gretzky dabbled in coaching at the NHL level for a few years after retirement, but the 'Great One' managed just a 143-161-24 record behind the bench of the Phoenix Coyotes before getting hung out to dry by the team in bankruptcy court.
Mario possesses a similar interest in sharing his hockey knowledge with others, but prefers to mentor the younger generation.
For the past few years Lemieux has coached his son Austin's traveling team which recently competed in the Tier 1 '96 Super Series amateur hockey tournament at Pittsburgh's CONSOL Energy Center:
"My son, he is the reason I got involved," Lemieux said. "It's been a joy to be around him and teach him the stuff that I know, and to the other kids as well. When he started playing I wanted to be involved in his hockey career. It's a lot of fun for both of us."
Lemieux went on to explain that helping Austin and his teammates develop and improve is a rewarding role that most hockey parents don't get the opportunity to experience.
He said that winning and losing isn't important to him as a coach, as long as the kids learn to play the game the right way and always put in a solid effort.
Mario the Landlord
Away from the rink, Mario serves as a father-figure and a mentor to another hockey-obsessed 'kid'.
Lemieux has never forgotten the treatment he received from Tom and Nancy Matthews in the mid-80's as a French-speaking teenager stepping foot in an unfamiliar city.  The Matthews treated him like a son and Mario has made it a point to pay-it-forward by opening the doors of his home to a number of young Penguins over the years.
Sidney Crosby moved into the Lemieux residence during his rookie year when the two played briefly as teammates and he was just beginning to adjust to the NHL, a new city, and a brighter media spotlight.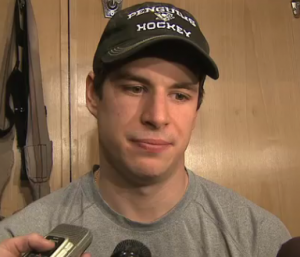 Crosby took such a liking to Lemieux and his family that he still remains a member of the household six years after making his way to Pittsburgh.  Six years seems like a long time, but for Crosby the last six weeks have proved to be the most grueling.
Recovering from a concussion(s) he suffered in early January remains a frustrating day-to-day process for Crosby as he itches to return to the ice.  But this isn't your normal hockey injury.
Crosby didn't suffer a broken hand from a slash like the one Adam Graves laid on Lemieux in the 1992 playoffs.
This wasn't even like the high-ankle sprain that kept Crosby off the ice for long unpredictable stretches of the 2007-08 season.
Lemieux witnessed one of his most-talented rivals, Pat Lafontaine, lose his career to concussions in the late 90's and over the past six weeks has had to watch a 23-year-old kid battling the same brain injury in his own home:
"It's brutal. You sit around and can't do anything. Early on, I could barely watch TV. I've been able to do that more. It's the things you take for granted and do everyday, like driving. That would set me off. That kind of stuff you take for granted. You realize going through something like this that being able to drive is a good step. I've been driving since it happened. Just getting through that without getting a headache or feeling a little off are the things you take for granted."

-Sidney Crosby, Jan. 24
Lemieux and the Penguins never complained publicly about the hit Crosby sustained in the Winter Classic from Washington's David Steckel, but you can sense the team's quiet frustration as the future of the NHL's greatest star remains an unknown.
Mario the Owner
Mario Lemieux the owner isn't one to speak publicly either.  He spoke at a press conference in the 2009 Cup Finals and again after the Alumni Game last month, but he doesn't want the Pittsburgh Penguins to be about him.
Shero adopts a similar approach as the team's general manager.  He doesn't publicly respond to daily incidents like his equal in Toronto, but admitted behind closed doors that he's had conversations with Matt Cooke about playing the game with more respect for opponents.
Critics call Shero and Lemieux hypocrites for employing a serial cheap-shot artist like Cooke, who was recently suspended four games by the NHL for a hit from behind on Fedor Tyutin of Columbus.
But Matt Cooke's recent actions were illegal under the rules of hockey.
Players like Cooke, Sean Avery, and Jarkko Ruutu aren't paid millions of dollars for their sleek offensive abilities. Today's NHL agitator is incentivized to carefully toe the blurry line between illegal and irritating. When they pester an opponent into a senseless penalty, we applaud them and say 'that's the type of player you want on your team'. When they take one step over that line, we crucify them mercilessly for their lack of respect.
What the Islanders did on Friday night was illegal under the rules of law.
A premeditated attack on another person without consent is deemed assault or battery in most jurisdictions.
When players step on the ice each night they assume the risk that injury could occur as a normal result of hits and the high speed the game is played at.  Guys like Max Talbot, Eric Tangradi, and Steve Moore (Todd Bertuzzi's defenseless victim) don't sign up to have someone attack them blindly and try to break their neck.
Lemieux watched on Friday night as a 31-year-old journeyman with one career goal elbowed the career and the life of his organization's top prospect into uncertainty.
"If the events relating to Friday night reflect the state of the league, I need to re-think whether I want to be a part of it."
When Lemieux says he needs to re-think whether he wants to be a part of it, he isn't just talking about his role as co-owner of an NHL team.
He's speaking as an ambassador of the game, an influential youth hockey coach, a landlord of a concussed superstar, and a father to hockey-playing children.
Call him selfish; a hypocrite; a petulant child.
Lemieux has witnessed the dramatic impact headshots can have on the life of a person firsthand.  He doesn't want to be the one telling CBC in fifteen years that Crosby was "the most talented player I've ever seen. If it were not for health problems, God only knows what his numbers would have been."
He also doesn't want to watch his own children suffer a similar fate at the hands of the game he loves.
Can you blame him?