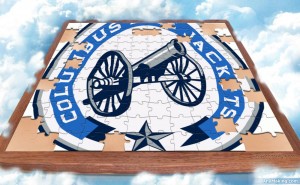 As the Columbus Blue Jackets enter the last 40% of the season, they teeter on the edge of viability in the playoff race.  It has been a season that has veered from early success to December despair, and all spots in between.   A 14-6 start was undone by a 6-14-3 swoon in late November and December, culminating in a five game winless streak to break in the New Year.  Since, however, the Blue Jackets have put together a 8-3-2 string, earning 18 out of a possible 26 points, and remain viable playoff contenders, only four points out of eighth place, and only seven from fourth.
Needless to say, the schizophrenic variations in on-ice performance have engendered reactions that are equally schizoid (examined in more depth in my forthcoming The Psychology of Misery), together with more legitimate inquiries into the team's almost pathological inability to find consistency.  So, what is the solution to the puzzle?  What are the key pieces?  More importantly, where are those pieces?  With the trade deadline looming, and pressure building on GM Scott Howson to pull the trigger on a significant deal, how can the desire to build through "home grown" young talent be reconciled with the clamor to win now?
With last year's disappointing collapse (which featured a more dramatic December swoon) and the ensuing dismissal of Coach Ken Hitchcock, some have been quick to draw parallels between then and now, point to the lack of moves in the off-season, and cry "Foul!" for making Hitchcock the scapegoat.  It's not that simple, however.  While it is true that both clubs enjoyed early success and a spectacular fall, with largely the same players, the dynamics involved were entirely different.  Underlying last year's prolonged collapse was a poisonous locker room atmosphere, replete with a double standard that enabled older veterans to make legions of mistakes, yet preserve their ice time, while youngsters were pulled, benched and scratched for relatively minor transgressions that would be expected from young players.  That resulted in polarization off the ice, and hesitancy on the ice — a lethal combination in the modern NHL.  While the club did have a "system" to fall back on, it was one that was ill-suited to today's game.  What it did do, however, is mask some individual deficiencies, particularly among blue liners.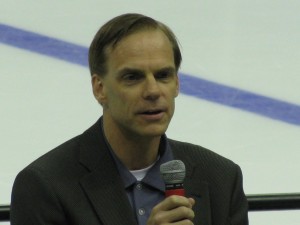 Fast forward one season.  The club comes out of the gate strong with a 12-6 record –the best in history.  Unlike the fast start of the year before, however, which was characterized largely by unstructured, "free-for-all" play, this streak arose within Arniel's system, utilizing pressure and possession to create opportunity.  Despite two ugly 5 – 1 losses to Colorado that began exposing some shaky blue line play, the club rebounded admirably, sweeping the West Coast for the first time in club history.  That was followed by a shutout of Nashville and a nice come from behind overtime win against the Islanders.  Then came the four games that turned the tide — the home and home against Detroit, a tough shootout loss to Nashville, and a 5 -0 destruction in Buffalo.  Even though the club played well against Detroit at its peak, the letdown that followed led to a crisis of confidence.  And, as with most people when they lose confidence, the club returned to what they knew — Hitch hockey.  They became stationary, reticent and began falling back instead of challenging.  This, of course, made the problem worse.
Unlike last year, however, the situation never spun out of control at the organizational level.   Reason A was the coaching staff, who have a wealth of experience in playing NHL level hockey, and know what the players are going through.  Arniel was learning his team, and began identifying the problem areas.  Like it or not, Mike Commodore was quickly identified and moved along.  This sent a signal to the younger players that nobody was getting a free ride.  So, instead of cannabilizing itself, the squad stayed together, and began working its way through the problems.   A healthy scratch here, a call-up there, and suddenly the club was back to playing aggressive hockey within In the process, some personnel shortcomings and gaps were exposed.  So, with the club on the right track, the trade deadline looming and an anxious fan base screaming for playoffs, what needs to be done?
Despite fan protestations to the contrary, the solution does not call for a complete trashing of the roster.  GM Scott Howson needs to balance fan salivation over any player who can fog a mirror against what the evidence demonstrates the club needs.  Folks sometimes forget that this is really only Howson's third season where anything material could be accomplished.  His first year, 2007-2008, was largely a washout, due to the twin albatrosses that were the contracts of Sergei Fedorov and Adam Foote.  2008-2009 brought the overhaul, with Huselius, Vermette, Commodore, Tyutin, Hejda and Umberger coming into the fold.  Mason wins the Calder, the club makes the playoffs and all is right with the world.   2009-2010 saw the stars of the prior year — Commodore, Hejda and Mason — fall on hard times, though hope emerges when the club responds positively to Claude Noel's more up-tempo style.  However, from the GM perspective, you have some core players who have had one great year, and one awful year.  Which is real?  Can you blow things up over an off year?  Not really, particularly when you are in this for the long haul.  Enter 2010-2011, and those answers begin emerging as Arniel demands performance and some players begin springing a leak under pressure.
Before looking at individual areas and where the fixes need to come, keep in mind that this is not a unilateral process.   In a salary cap world, a needy team can't just snap its fingers and make a deal happen — at least not a deal that makes sense.  Remember the Sheldon Souray frenzy, fed by Aaron Portzline and others?   Sure, Souray has a great point shot.  But, he's old, injury prone, slow and a bit of a head case.  Howson passed.  It turns out that the other GMs in the league passed as well, and Souray is languishing in the minors, with the most recent assessment being that he is too slow for the AHL, let alone NHL.  Howson has always said that he will not make a deal just to make a deal, even though he must have been sorely tempted as the torches in the crowd got closer to his feet.  He won't deal from desperation, unless absolutely compelled to by circumstances beyond his control.  You will never hear about a Blue Jackets trade until it has already happened . . . guaranteed.  The NHL trading world is an elaborate poker game, and Howson takes his game face very seriously. However, there needs to be an alignment between supply and demand, between what we have to offer and what other teams have to give.  Not always easy, and one shift away from being massively altered by injury.
Also, keep in mind that my assessment of who might or might not be in play is just that — an assessment.  Nobody is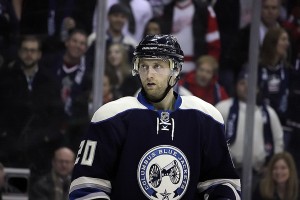 immune from a trade — it just depends on what is coming the other direction.  If the Penguins wanted to send healthy Crosby, Malkin and Letang to Columbus for Nash, that deal gets done.  Is that in the realm of possibility?  Of course not.  Talent always comes at a price, and trades succeed or fail based solely on mutual perception of the fairness of the price.
Starting with the forwards, the only ones likely not potentially in play are Nash, Umberger, Vermette and Brassard.   Nash and Umberger are obvious, as they are 1st and 2nd on the club in points and are the key leadership figures in the room.  Vermette is extremely solid, young, and with tons of upside yet.  His numbers have suffered a bit because of the unsettled nature of the wing opposite Umberger, but he makes the team better, and is starting to get the scoring touch back, now that the line has some stability.  Brassard may be a surprise to some, but he is quietly becoming the player that was expected at draft time.  Keep in mind that he only had a sniff of the NHL during his first year, then only 31 games in an injury-shortened playoff year.  Last season was spent largely in Hitchcock's doghouse, with drastically curtailed minutes and ample time on the fourth line.  So, entering this campaign, he really had the equivalent of one full NHL season.  He is making an impact in all three zones, creating opportunities, shooting more, and really should have more assists than he has been given credit for (see Voracek discussion below).  Combined, Vermette and Brassard are in the middle of the pack in terms of clubs 1st and 2nd centers, with tons of upside.  Sure, he could attract something good in a trade, but I have a hunch Howson wants him around.
The two forwards I see as being involved most in trade discussions are Kristian Huselius and Jake Voracek.  Huselius in many ways is a walking, talking metaphor for the Blue Jackets season — brilliant at times, horrendous at times and prone to move from one extreme to the other, even within the same shift.  He avoids contact like new car owners avoid crowded parking spaces, and appears largely disinterested on the ice.  When he is on, he is breathtaking to watch, but for every terrific move, there are multiple turnovers, defensive lapses or Chimera-like misses.  While his significant point production during his first two years made his quirkiness almost forgiveable, I think he has crossed the line this year. Injury and a dramatic drop in productivity have put a target on his back, bolstered by a forgettable minus-14 in only 33 games. Although much is made of his contract, he is a skill player with good years left, and his deal is not so far out there to be undoable.
Jake Voracek is another story entirely.  The 2007 draft pick was at the top of the charts in terms of expectations entering this season, and while his overall point production (on a per game basis) is up slightly from last year — he is nowhere near the point-per-game  (or better) player that the organization anticipated.  He has created more questions than he has provided answers, and has elicited more groans than cheers thus far this campaign.  He has more upper body strength, but it seems to have come at the expense of stamina, vision and the ability to finish plays.  Turnovers and missed opportunities have been far more prevalent than the type of play we saw over the past two years.  Grumblings relating to a poor work ethic and attitude are heard from some circles, and are tied to the notable lack of a contract extension.   His former workout buddy, Mike Commodore, is languishing in the AHL, so life is challenging for the y0ung Czech at the moment.   He could attract some value in return, so the tea leaves suggest that Jakub might be in play.
The remaining forwards present a mixed bag.  Samuel Pahlsson is a steady, if unspectacular, shut down center.   Young Matt Calvert, a recent call-up from Springfield, has shown that skill, grit and energy can co-exist in one body, which does not necessarily bode well for some of those high-grit, low-skill members of the roster. Derek Dorsett, just such an "energy" player,  has evoked schizophrenic reactions from the fan base this season. Dorsett has a loyal following, willing to overlook his shortcomings with the puck and in the defensive zone,  due to his willingness to hit and fight, anytime anywhere.  Others, however, view his performance with a more critical eye.  They see a player with little regard for game situation, who takes unnecessary penalties, shows little on-ice judgment and has shown precious little improvement in the skill aspects of the game.  These folks  also point to his minus-12 rating.  In contrast, Jared Boll has shown significant improvement in the skill aspects of the game, while simultaneously maintaining his toughness.  Derek MacKenzie has shown versatility in his stint with the club, while veterans Ethan Moreau has been limited to only 23 games, due to injury.  Chris Clark has shown flashes of ability in his 44 appearances, but none of these players will serve as the centerpiece of a trade.  Both are unrestricted free agents at the end of the year, as is Andrew Murray, and accordingly have only nominal trade value.
It is the blue line where most of the focus lies, for many reasons.  Defensive issues have plagued the squad since last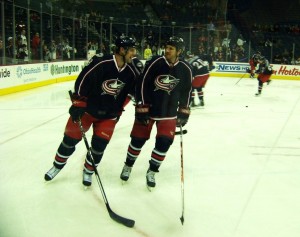 season, when the former shut down pairing of Mike Commodore and Jan Hejda proved incapable of stopping teams boasting quickness.  As noted above, Commodore has been exiled to the NHL's version of Siberia, and Hejda has struggled most of the year.  Kris Russell, who typifies the agile, offensively gifted defenseman the Jackets seek to incorporate at their blue line, has been inconsistent for much of the year, but has shown signs of life since being paired with call-up Grant Clitsome.  Clitsome has been impressive in his first sustained NHL duty, going 3-6-9 over his first 12 games, while demonstrating defensive responsibility, puck-moving ability, and the knack of getting the puck to the net from the point on the power play.  That role was formerly held by Anton Stralman, who has had a borderline catastrophic year — with zero goals, numerous defensive lapses and a string of healthy scratches on his resume.  Rostislav Klesla, the last of the original Blue Jackets, was having a decidedly mediocre season before being felled by the latest in a string of injuries, and his best days are clearly behind him.  Fedor Tyutin, after lapsing into indifference during the Jackets' skid, was a healthy scratch for a game or two, and has been extremely solid ever since.  Indeed, he has likely been the most consistent blue liner for Columbus.   Marc Methot, a talented youngster, has had moments of stellar play, but equal measures of turnovers and inexplicable misplays.   His mobility has generated 15 assists, but he has yet to notch a goal and has not provided the offensive spark from the blue line that had been hoped.  He needs to improve his decision making and become more of an offensive presence.
To say that there area any untouchables among the defensive corps would be wrong, yet Tyutin and Clitsome may be the closest.  Methot may be a keeper, but could also bring something in return. He is an RFA at the end of the season, as are Clitsome and Stralman.  If Clitsome demonstrates continued productivity,  he will get an offer.  Stralman is unlikely to return, while Russell  lies in that nether world in between expendable and invaluable.  By most accounts, Hejda will be allowed to explore free agency, unless he can be packaged to go elsewhere.  Complicating the situation, but in a positive way, is the fact that the Columbus minor leage system is full of promising young defensemen, including 2009 1st rounder John Moore, David Savard, Nick Holden and Cody Goloubef.  Also waiting in the wings is Miami University star Will Weber.  Clitsome's ability to come in and contribute, and similar performances elsewhere in the league, may cause Howson to re-think the traditional adage that it takes defensemen years to mature in the minors before they are NHL ready.  It may be that the emerging emphasis on mobility and offense is perhaps more natural and less intricate for blue liners today.   If so, Howson's range of options expand considerably.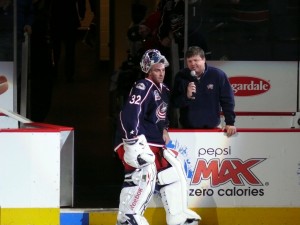 Turning now to everyone's favorite topic — goal tending.  Steve Mason had a horrid sophomore campaign, and has experienced major peaks and valleys in his game this year as well, leading for some to call for Mason to be traded, bringing some value back, then either turning over the reins to Mathieu Garon or picking up one of the many free agents that will be available next year.   I'm not buying that strategy, and I don't think Howson will, either.  Mason is 4-1 over his last five starts, with a 1.609 GAA and a save percentage slightly north of .948.  Garon has been a great fill-in, and has had moments of brilliance, but tends to fade over the long haul.  The free agents are not in a position to lead a playoff drive now, and I seriously don't think that the organization is prepared to give up on a 22 year old goalie with a Calder Trophy on his mantle.  Goaltenders are mercurial, at best, but Mason appears to be turning the corner.  While he could probably bring some real value on the open market, due to the dearth of good goaltending out there, it creates a potentially unfillable void.  I just don't think that Howson is prepared to do that.
More likely is that Garon would factor into the trade scenario.  He has shown his ability to step in for two or three games at a time, and would be a large upgrade for many franchises who are hurting between the pipes right now.  He is a UFA at the end of the year, so leveraging a poor goalie market is something that is right in Howson's wheelhouse.  If no trade emerges, Howson can work on locking him down for a year or two more, depending on how other things develop.   However, if any goaltender will be moving, it will be Garon, not Mason.
All of this long-winded analysis still comes down to the essential question — what does Howson do now?   Is he a buyer or a seller?  While I personally disagree with the concept that teams have to engage in a massive annual fire sale, I think the true answer is that he will be a little of both.  I can see him acting like a seller with a few players to marshall some draft picks — then packaging those picks with some players to fill some gaps and provide a push down the stretch.  Reading Howson is, at best, a difficult proposition, and his moves could range anywhere from boldly dynamic to rigidly static.  My intuition tells me that any acquisitions will be likely few in number, but significant in stature and ability. Accompanied by perhaps one or two more call-ups from Springfield, Howson will be looking to find the right missing pieces to complete the puzzle.   The GM and the coach are both aware of where the gaps in talent lie — along the blue line, and with one or two scoring forwards (note I said forwards, not necessarily centers).   What they do to address those gaps will make for interesting theatre over the final 26 games of the season.