NHL Power Rankings, February 14
In the spirit of the Hallmark-created holiday of St. Valentine's Day, this week we take a look at what I love about each of the NHL's 30 teams — in addition to ranking them (last week's ranking in parentheses). Ironically, the week leading up to the holiday of love featured a couple line brawls and a somewhat embarrassing brawl between the Islanders and Penguins.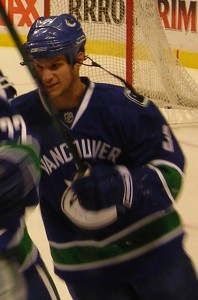 1. (1) Vancouver (36-11-9): The Sedins, Ryan Kesler, Roberto Luongo, Alex Burrows, Christian Erhoff, Kevin Bieksa …
2. (2) Philadelphia (36-14-5): The Flyers play the game the way it is meant to be played: fast, hard, physical and in your face.
3. (3) Tampa Bay (34-17-5): Steve Yzerman built a team that can win now, and who doesn't love Martin St. Louis?
4. (6) Detroit (34-16-6): When the Red Wings are on, like they were this weekend against Boston, there is not a more fun team to watch: puck control, patience, and artistry on ice. Not to mention, Nicklas Lidstrom is an amazing physical specimen at 40 years old.
5. (4) Pittsburgh (35-19-4): Some people love him, some hate him, but Sidney Crosby is the league's best player. Kris Letang and Marc-Andre Fluery are not too bad either!
6. (7) Washington (29-17-10): Like Crosby, there is no middle ground when it comes to Alex Ovechkin, but you cannot deny he is exciting to watch.
7. (5) Boston (31-18-7): The Bruins aren't afraid to drop the gloves at any point against any team, and it's hard to root against Tim Thomas. He's the everyman's hero.
8. (8) Dallas (31-19-6): Brenden Morrow and Brad Richards are great leaders and Loui Eriksson and Stephane Robidas are amongst the most underappreciated players in the NHL.
9. (13) Anaheim (32-21-4): Jonas Hiller carried the Ducks early, and Lubomir Visonovsky has had a great year on defense.
10. (9) Montreal (31-20-6): I loathe having to say something nice about the Canadiens, but Hal Gill went to the high school where I currently teach and coach hockey. He gives something back every year and is one of the nicest guys in the game. Mike Cammalleri is a great player too.
11. (10) Nashville (30-19-7): Pekka Rinne is simply amazing in goal, Shea Weber and Ryan Suter are two of the best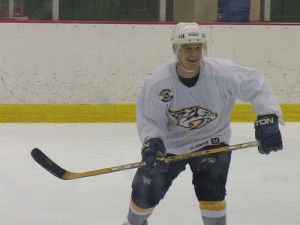 young defensemen in the game, and the Mike Fisher trade may be a key to the Preds' playoff success.
12. (12) Los Angeles (31-22-3): Jonathan Quick is an underrated and underappreciated goalie. He has brought the Kings back to life.
13. (14) New York Rangers (30-24-4): Brandon Dubinsky and Ryan Callahan are tough as nails and they do whatever it takes to win. You have to respect guys like that.
14. (15) Phoenix (29-19-9): The Coyotes' players continue to play well despite a severe lack of fan support.
15. (11) San Jose (30-21-6): Always liked regular season Joe Thornton, and I love how Logan Couture plays the game.
16. (16) Minnesota (30-20-5): Brent Burns is a tremendous defenseman and Cal Clutterbuck has one of the best names in sports (former Sacred Heart University standout Bear Trapp still holds that honor).
17. (17) Calgary (28-22-8): Jarome Iginla is one of my favorite players, and the Flames have battled back from an awful start to get in the playoff hunt.
18. (18) Chicago (28-22-6): Jonathan Toews is one of the most exciting players in the game,
19. (19) Carolina (27-22-8): Cam Ward, Eric Staal and Joe Corvo compete as hard as anyone in the league..
20. (21) Buffalo (26-22-6): The way the Sabres have played their way back into the playoff race is admirable. If they get in, they will make life tough for someone in the first round (especially if it's Boston).
21. (25) Columbus (28-23-5): R.J. Umberger is one of those guys fans love when he's on their team, and hate when he is on the opposing team.
22. (23) St. Louis (24-21-9): Alex Steen is an underrated talent and David Backes' candidness about wanting to hit whoever didn't pick him in the all-star game was refreshing.
23. (22) Atlanta (25-23-10): Craig Ramsay is one of my favorite people in the game, and Ondrej Pavelec's return from a bizarre fainting spell in the year is amazing.
24. (24) Florida (24-24-7): Tomas Vokoun is one of the game's best, and his play has the Panthers in the hunt for the playoffs despite a lackluster offense.
25. (27) New Jersey (22-30-4): Love the fact the Devils are still fighting and are at the back end of a playoff hunt. They may not make it, but they deserve credit to continuing to improve and play well.
26. (20) Colorado (25-25-6): The Avs have some great young talent in Matt Duchene, Chris Stewart, Paul Statsny and Kevin Shattenkirk, and I love they gave the legendary Peter Forsberg another shot – even if it didn't last long.
27. (26) Toronto (23-27-6): I love that Toronto fans have figured out what a phony Phil Kessel is. Time to move on again – if someone will take you.
28. (28) New York Islanders (20-29-7): John Tavares – enough said.
29. (29) Ottawa (18-30-8): This was a tough one. There's not much to love in Ottawa right now. I'll go with Matt Carkner's work with the Capital City Condors, a hockey team for kids with special needs. Andrew Rodger looked at his work a few weeks ago: https://thehockeywriters.com/capital-city-condors-helping-kids-take-flight-in-ottawa/
30. (30) Edmonton (16-32-8): How can you not love the young talent the Oilers have? With another top 3 pick in June, the Oilers are poised to have a strong squad by 2013-2014.
(Steve Kendall is a freelance writer with 20 years experience covering hockey at all levels. In addition to thehockeywriters.com, he has written for The Boston Herald, The New England Hockey Journal, and The Worcester Telegram & Gazette.)