How many officials can you identify by name in today's NHL?  For me, it's no more than a handful.  Without names on the back of the jerseys, referees have been turned into machines devoid of all personality and individualism – which is probably a good thing.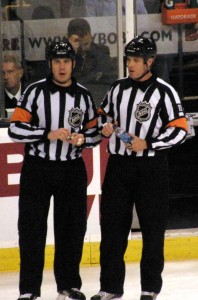 A decade or two ago, fans would hear the name of that night's referee and know exactly the type of game they were in for.  Andy Van Hellemond, Don Koharksi, Kerry Fraser…each had their own unique style of calling a game that often created subplots separate from the two teams facing off on the ice.
Kerry Fraser was an interesting case.  Respected by some players and despised by others, Fraser had a way of getting under the skin of the game's participants unlike any other referee I can recall off the top of my head.
When he joined us on The Hockey Writers Live last Sunday, Fraser talked about his book The Final Call and the role of the referee on the ice in NHL games:
"From a referee perspective, the response of the referee is crucial.  How do we react, how do we respond to the challenge, the intimidation, and the verbal assaults? Ultimately the referee should be part of the solution, and not part of the problem.

In The Final Call, it clearly demonstrates that most of the time there's an appropriate response to bring the temperature of the game down."
With that response, I had to ask Fraser about one of my lasting NHL memories in Pittsburgh where Fraser ended up being part of the problem.  In 1994,  Mario Lemieux lost total control on the ice and went after the long-time referee.  Legendary announcer Mike Lange's initial words during the incident tell the story of Lemieux's relationship with the referee up until that point:
"[Lemieux] and Kerry Fraser are not seeing eye to eye right now…Fraser is not saying anything, but in just the actions that he's doing, he's saying 'Mario, I control this game, you don't.  Sit down.'"
The video tells the rest of the story:
Throughout their careers, I'm not sure the two ever saw eye-to-eye.  Fraser told us:
[Mario] wanted the game officiated a different way, and I agree with him 100%.  We were letting far too many things go.  The expecatation…the standard had slipped to the point where restraining of the skilled players was just at epidemic proportions.  So that frustration all came together that night when he felt he was fouled.  He overreacted to some marginal contact that I felt, in my judgment, wasn't worthy of a penalty, and then he retaliated and took a penalty.

I think it all boiled over at that point in the emotion of all the things he had been dealing with (off the ice)…

The flashpoint hit at that stage and he came out and fortunately he was intercepted by Ronnie Francis and Kevin Stevens and a couple of other players and a serious incident perhaps was avoided.
In his book, The Final Call: Hockey Stories From a Legend in Stripes, Fraser goes on to explain what he felt was one of Mario's biggest flaws early on in his career:
[Mario] was a giant of a man who was unique in that he had the hands of a surgeon, the wingspan of an albatross, and he always knew where the net was.  Much like Mike Bossy, he always knew where to shoot the puck and could thread a needle with his passes.

Mario arrived as a proud French Canadian with a relatively poor grasp of the English language, a skill he quickly polished.  He also brought with him a reputation for being independent-minded and perhaps a bit high-maintenance.  In his final year of junior he refused to play for Canada in the World Junior Championships, and at the draft he refused to go to the Penguins' table and pose for photos in a team jersey with the team's front-office staff.

What I'm saying here is that he had it all. With the exception of one thing: maturity.
He also describes other incidents where he took Mario aside to speak about maturity and leadership, as well as similar confrontations with Sidney Crosby.  It left me wondering – should a referee really be handing down life lessons during a game to the players he is officiating?
Fraser's book has a lot of interesting anecdotes and it's well worth a read to gain insight into the game from a very different perspective.  You can find it on Amazon here.
To listen to the entire THW Live segment with Fraser discussing Lemieux, click here:
Kerry Fraser on Mario Lemieux – 10/24/10
News and Notes:
~ I've received a lot of questions regarding Jordan Staal and when he will return.  As we outlined in our Eric Tangradi feature a few weeks ago, the team took the long-term injury exception on Staal on Opening Day and he isn't eligible to return until next Wednesday (November 3) against Dallas.  I haven't received word of a definite return on Wednesday, but there have been reports indicating as much.
~ I understand the search for chemistry early in the season, but there's been far too much line-juggling with the forwards.  At times I've seen three "centers" on the same line all standing in the middle of the ice.  Another side effect of the constant line changes is an uptick in 'too many men on the ice' penalties that plagued the Michel Therrien era at times.
~ Deryk Engelland dominated another NHL heavyweight Friday night when he took down Jody Shelley of the Philadelphia Flyers:
In training camp, Bylsma explained his ideal setup on defense (when healthy) would be to lean heavily on Kris Letang, Paul Martin, Brooks Orpik, Alex Goligoski and Zbynek Michalek.  "If you look at the top five guys, you can expect them to play more than the sixth guy, whoever that is," Bylsma said.  "I think the sixth guy is going to have to bring some kind of different element to the table, whether that's on the penalty kill or maybe with grit and physicality."
After seven seasons of bouncing around the ECHL and AHL, Engelland has found a way to bring that extra element to the Penguins.  By dropping the gloves (and winning fights against) the league's heavyweights, he also allows the team to scratch enforcer Eric Godard and dress a more reliable forward.