Last night Matt Martin made his home-ice debut for the 2010-2011 season with the New York Islanders and couldn't have had it written any better. On his first shift he leveled big defenseman Hal Gill behind the Montreal Canadiens net and then fed a pass to Trent Hunter in the slot that got blocked aside by Alex Auld. Later in the period he would level Gill again which clearly frustrated the veteran d-man as he would start a fight with Martin in the second period after he crushed Sergei Kostitsyn into the glass.
Oh yeah, and he also scored his first NHL goal after Frans Nielsen set him up with a pretty pass from behind the net.
"That's why they brought me in here. That's my game. I play physical and I got to make room for myself and my line mates," said Martin, who was just an assist shy from completing the Gordie Howe hat trick.
The loss was something that was tough to swallow considering that the Islanders dominated the second period but could not get enough pucks passed Auld, but scoring his first NHL goal is something he will certainly remember.
"It feels great," said Martin. "I didn't get one last year and it's kind of weighing on your head a little bit to get that first one out of the away but like I said, Frans Nielsen made a great pass. I can probably could put that one in a million times over."
However it was almost easy to overlook the fact that it was Martin's first goal in the National Hockey League. Each time he has worn an Islanders uniform, Martin is noticed throwing his weight around, dropping the gloves, or causing havoc in front of the net.
"That's why they brought me here. That's my job."
But the turning point in the game was when the Islanders could not cash in on a 5-on-3 power play in the second period. The momentum was in the home team's favor as they were out-shooting the Habs 10-2 but couldn't find the back of the net. The two-man advantage was almost spent entirely in the offensive zone but many shots went wide or were knocked aside by the Habs net minder.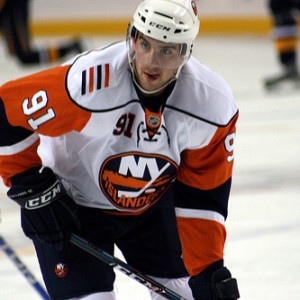 "I think the game could have been played a little bit different, especially on that 5-on-3," said John Tavares. "We just got to get back on our horse, we're ready for another one tomorrow but we got to bring that some kind of intensity, that same kind of pace we brought and the physical side that gave us some opportunities."
That physical side has been lacking over the past few games and has always been the key to the Islanders success. Despite their struggles on special teams last night, the power play has been the difference maker when it comes to scoring goals. But the Isles fore-checking system only works when the forwards aggressively pursue the puck and cause turnovers for the opposition by playing the body when skating 5-on-5. Players such as Blake Comeau and Trent Hunter are at their best when they play physical. Martin was able to provide that jump the Islanders needed.
"Marty, that's his game. He really gets in  those dirty areas and plays hard," said Tavares. "He's a real strong guy and it's great to see him get his first one. He deserves it. He's a huge boost for depth in our line-up."
Despite the lone goal, the Islanders were able to take control of a game that they could have won had it not been for the Habs goaltender. I spoke to P.A. Parenteau about the Islanders inability to score on the power play and his reasoning started with just two words.
"Alex Auld. I mean I think we made some pretty good plays, we had like three or four really good chances and he just made the save when he needed to make them. That was the difference."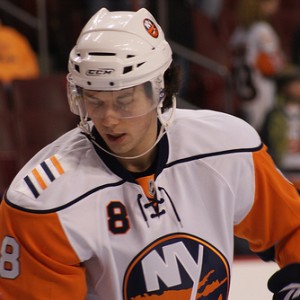 Martin's insertion into the line-up may give head coach Scott Gordon something to think about. If there is question as to whether or not Gordon is comfortable with the amount of depth in his line-up, just take a look at the fact that Bruno Gervais, the teams' eighth defenseman, was playing on the fourth line last night with Jon Sim and Zenon Konopka. It was his first game of the season, but he will likely be on defense tonight as Milan Jurcina is the latest to sit with a hamstring injury that will be re-evaluated on Monday. Trevor Gillies was a healthy scratch to allow Gervais some playing time.
With Michael Grabner still out along with Kyle Okposo, and Nino Niederreiter being sent back down to the WHL, there is room in the line-up for a player like Martin. Rob Schremp, according to Twitter, has completed a conditioning stint with the Bridgeport Sound Tigers and should be rejoining the team soon but will not be in Philadelphia tonight when the Isles visit the Flyers.
Players such as Grabner and Martin do not have themselves permanently inked into every night's roster. Both need to use their best assets every single shift in order to stay with the big club. Competition will certainly increase once Schremp makes his return and Okposo gets closer to getting back into game shape. This is their opportunity to prove that they can be the depth skaters this team needs when players such as Tavares, Comeau, Bailey and Moulson aren't scoring goals.
Martin will have to be physical again when the puck drops in Philadelphia and the Islanders look to end their 3-game losing streak when they take on the Flyers tonight at 7 PM.
-Rob McGowan
Follow me on Twitter!
http://twitter.com/IslesRM