Mark Giordano is entering the twilight of his career at 37 years old, and when NHL players reach that age, it's always a question of how much do they have left in the tank.
His career is far from over, as his deal carries two more years at $6.75 million. But when looking at Giordano, it's not hard to ask how an undrafted Junior 'A' player gets to this point and becomes one of the best defensemen to grace the Flames' blue line? Giordano slipped through the cracks on draft day, and looking back, teams have to be kicking themselves for passing on one of the best defensemen in the NHL over the past several years.
Going Undrafted
Giordano spent a full 2001-02 season in the Ontario Junior Hockey League (OJHL) with the Brampton Capitals, scoring 11 goals and tallying 26 points. He then moved onto the Ontario Hockey League (OHL) with the Owen Sound Attack for two seasons, where he amassed 97 points in 133 games and was the top-scoring defenseman on the team during both seasons.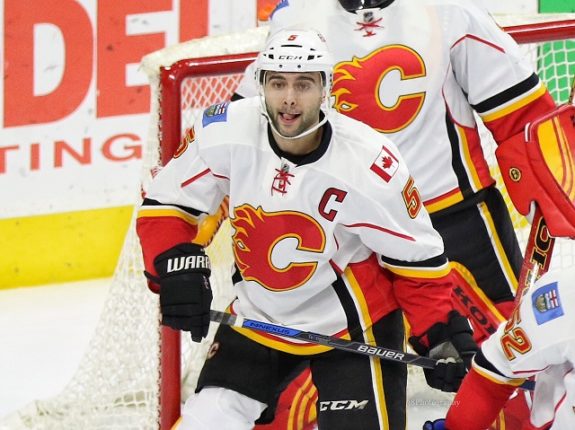 In between his first and second seasons in the OHL, every NHL team passed at the opportunity to draft Giordano, but his first NHL opportunity came in the form of an NHL invitation to the then-Phoenix Coyotes' training camp. Gio elected to head back to the OHL for his overage season, and after another successful campaign with the Attack, the Calgary Flames' invited him to summer camp, where he impressed then-head coach Darryl Sutter.
With the coaching staff excited by what Giordano brought, the Flames signed him after camp to an entry-level deal. From there, he developed in the American Hockey League (AHL) for a couple of seasons before making his NHL debut in the 2005-06 season.
Finding the Way
Two seasons into his NHL career, and a brief stint overseas in Russia during the 2007-08 season, Gio finally started to break out offensively in the 2009-10 and 2010-11 seasons, where he played in all 82 games and put up 30 and 43 points, respectively. He also saw his Corsi for percentage (CF%) reach 54.1 and 53.5 in those seasons, along with a shooting percentage (S%) of 9.9 and 4.8.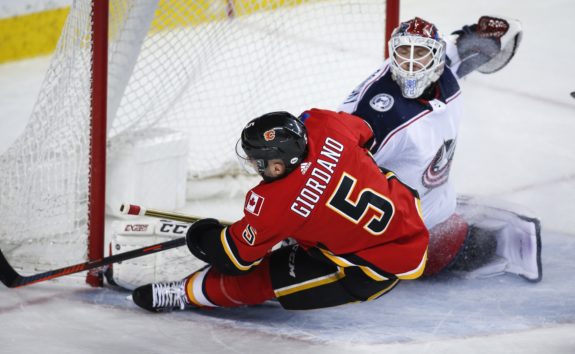 With his NHL status firmly cemented, the Flames committed to Giordano with a $4.02 million, five-year deal starting in the 2011-12 season. While he would put in a full 82 games in the next season, from 2011-12 until 2014-15, he wouldn't again play all games in a season until 2015-16. Despite the low totals of games in that span, he was still able to contribute to the team, with 137 points over 233 contests. 
The Flames as a team struggled to make the playoffs, as they did not qualify again until the 2014-15 season, which was a five-year drought. While injury problems did arise, including a broken ankle (2014-15) and a torn bicep (2015-16), Giordano was still a massive part of the Flames' team, as he was able to produce 47 and 48 points in those seasons, despite missing over 20 games in each. 
Big Breakout
In the 2015-16 season, at 32 years old, Giordano was able to finally break through the 50-point mark that had eluded him, as he put home 21 goals and 34 assists for 56 points. And while players entering into their early 30s are typically closing in on the end of their careers, Giordano was able to not only continue that torrid pace but also eclipse that mark a few years later.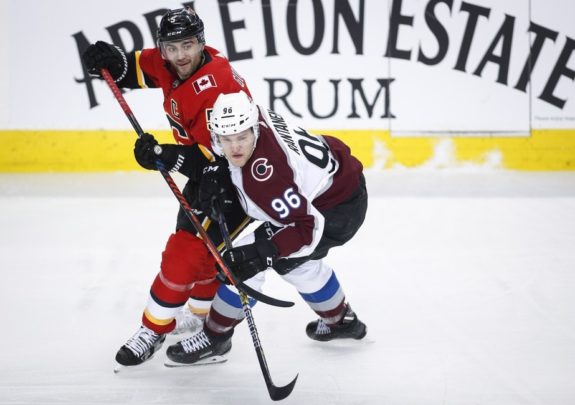 The 2015-16 season saw a career-tying high of 9.9 S% and an average time on ice of 24:47 across 82 games. After such a successful season, Gio was able to follow it up with two strong campaigns, though statistically, they weren't as impressive at the 2015-16 season.
In 2016-17, he put up 39 points in 81 games, and in 2017-18, he tallied 38 points. While Gio was gearing up for his thirteenth season in the NHL at the age of 35, it was hard to expect he was about to experience his best season yet.
Norris Conversation
The 2018-19 season was one full of expectations for the Flames. After once again missing the playoffs in 2017-18, they hired Bill Peters in the offseason in hopes of sparking a resurgence and a deep playoff run.
With Johnny Gaudreau, Sean Monahan, Elias Lindholm and Matthew Tkachuk leading the charge in terms of forwards, Giordano was a massive pillar in the Flames' lineup. Playing in all but four games, the captain had a career-high 74 points (17 goals and 57 assists). 
The team was also much better off with Giordano on the ice, as shown by his 57.1 CF%, a total only matched the previous season.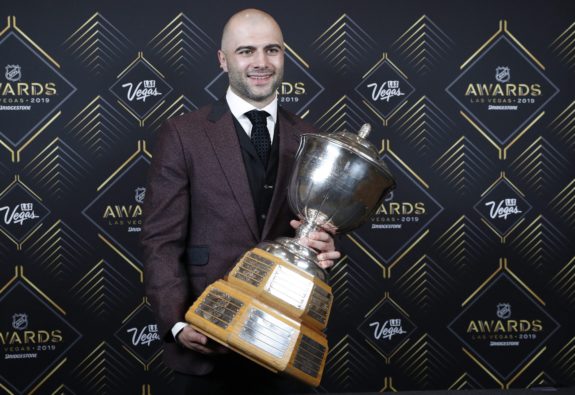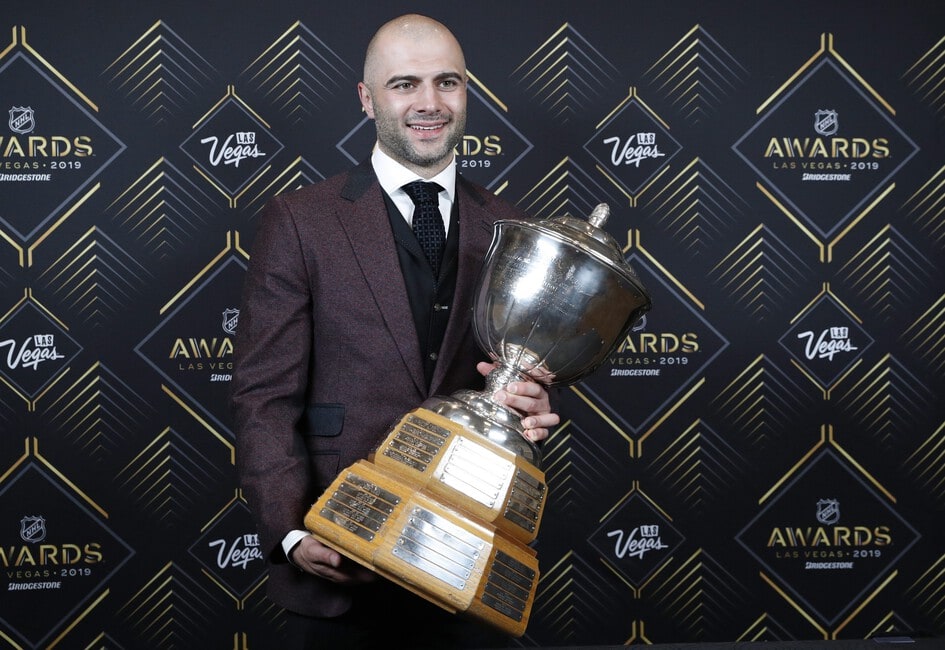 And while the regular season was a success for the Flames, as they finished first in the Pacific Division, the playoff campaign was short-lived, as they were ousted in the first round in five games by the Colorado Avalanche. 
Once again, playing well over 20 minutes a night and finishing second in points for defensemen, Gio received 165 first-place votes for the Norris Trophy and easily ran away in the race. So while it was never really in doubt that he was an all-time great Flames' defenseman by this point, winning a Norris cemented and highlighted just how important he is to the team.
And while he may not be the flashiest player or rack up tons of points, the 2018-19 season saw Gio show fans who may not have seen him play that often just how great of a defenseman he is.
What's Next?
While the 2019-20 season only saw the Flames play 70 regular-season games due to the COVID-19 pandemic, Giordano proved he was still capable of being a number one defensemen, with 31 points and his CF% over 50. The Flames hit the ground running in the qualifying round against the Jets, winning 3-1, but they were unable to beat the Dallas Stars in the first round.
With this coming season, where Gio will be 37, and the one after that still on tap contractually, it's a fair question to ask if he will continue being a number one option for the Flames. The good news is he's a late bloomer, and his best years have come when he was in his thirties. 
His CF% have also been over 50 in the last five years. And while it isn't a guarantee it will continue, it does look like they won't take a dramatic hit considering he's playing on a good team who has the puck more often than not. Having him on the ice resulted in a 52.5 CF% last year, while as a team, the Flames graded out at a 50.3 CF%.
And though it's hardly a great reflective stat to project how a player is on the ice, it's also worth noting Giordano has only been a minus player three times in his NHL career.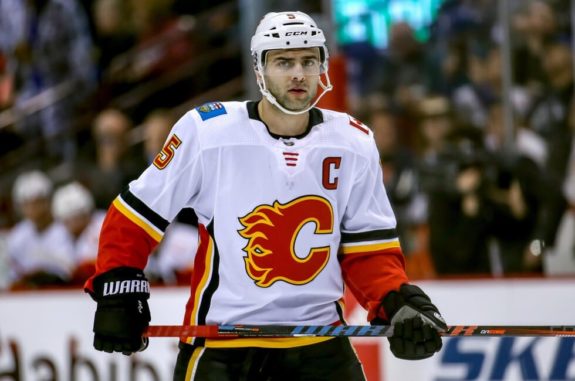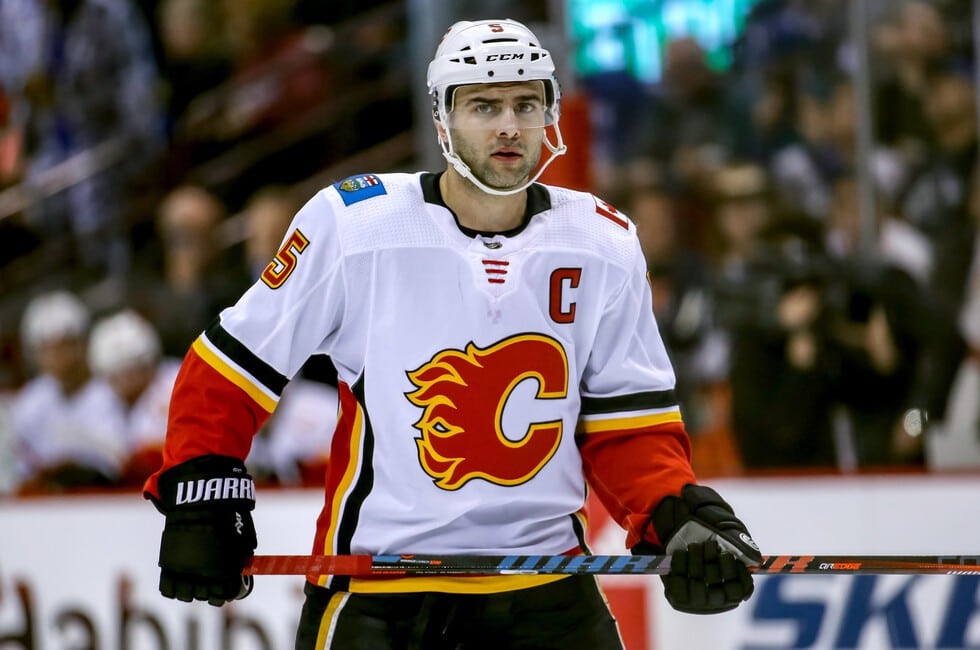 It's hard to imagine him having another season like 2018-19, but I think it's safe to assume he will easily be a top-four defenseman on the Flames for the next two seasons. And look at some of the older defensemen in the league who have been solid at both ends of the ice, namely Zdeno Chara and Shea Weber.
Like those two players, Giordano has been able to adapt to the rapid pace of the NHL despite not being the fleetest of foot. Good positioning, high-level competitiveness and advanced hockey knowledge are always needs on defensive cores, and it's hard to find a player like him who can bring that on a nightly basis.
Will he be the same player he was five years ago?
Of course not, but the Flames have a fairly stable core of defensemen, including a top four consisting of Noah Hanifin, Rasmus Andersson, Chris Tanev, and of course, Giordano. While the loss of Gio's partner in TJ Brodie hurts, if Tanev can stay healthy like last season, he'll be a solid addition, though he won't create near as much offense.
So the top pair will no doubt lean on Giordano to provide most of the offense unless they decide to move Tanev down to the second pair. While I don't see the need or the reason to, the Flames could also trade their captain if they were to underperform in the next few years.
Either way, by the end of his time in Calgary, whether that's two years from now when his contract is up, or at a date unknown, the Flames and their fans have to be more than satisfied with the career Giordano has had. And when all is said and done, it's hard to think many will be able to top what he has brought to the team's defense and their leadership core.
---
---