Detroit, Michigan is 200 or so miles north of Columbus, Ohio. The Detroit Red Wings are a rebuilding team but searching for the club's next starting goaltender. The current Red Wing tandem of Thomas Greiss and Jonathan Bernier are age 34 and 32, respectively. The team has a pile of young talent that will hopefully blossom into a highly competitive team. To keep in line with that young core, are there any interesting goalies still in their 20's that could complement that group? Could the solution be 200 miles south, in Columbus?
The 2021 free agent goaltender group includes Tuukka Rask, Frederik Andersen, Jordan Binnington, and Petr Mrázek. The most proven and best UFA of that group, Rask, is well into his 30's at age 34. Andersen was average for the Maple Leafs last season and is currently 31 years of age.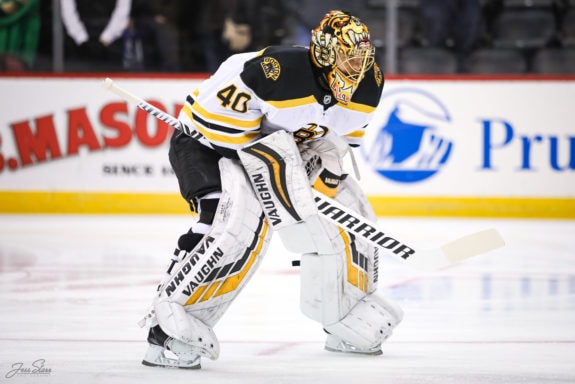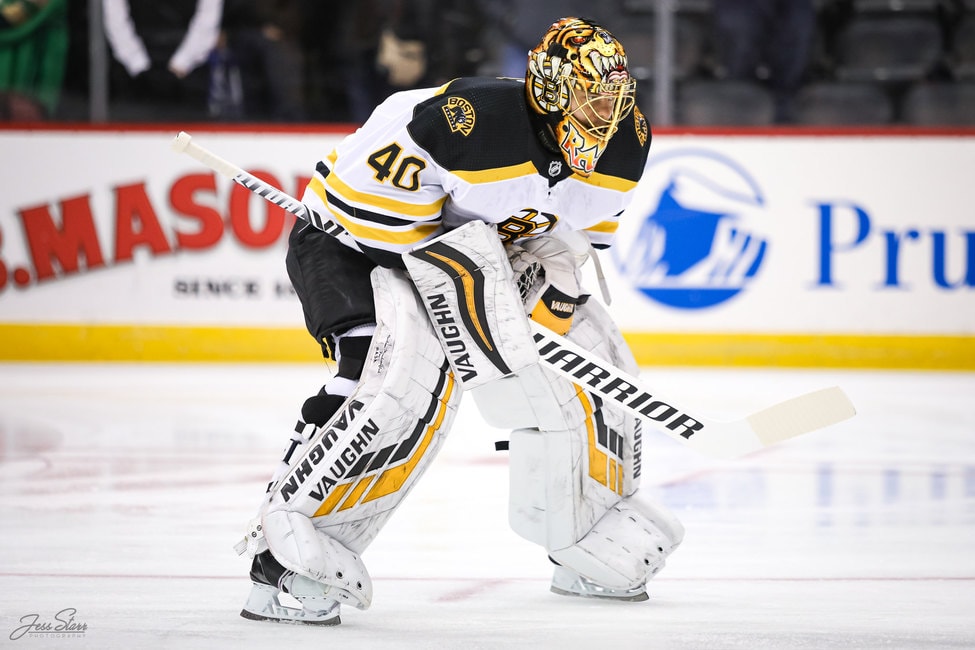 Binnington (27) has been a revelation for the St Louis Blues and played a huge role in the teams Stanley Cup victory in 2019. However, he did struggle in stretches last season and isn't exactly tried, tested and true. With a total of 83 NHL games, his eventual price tag and expected term might not exactly line up with the package. In fact, it will be interesting to see how the Blues handles this contract situation over the next year, and that in itself could be telling.
Mrázek (28), an original Red Wing pick in 2010, has been a rock since arriving in Raleigh and has solidified himself his role as the Carolina Hurricanes' starting goaltender. It is hard to imagine the Hurricanes letting this player go in the prime of his career.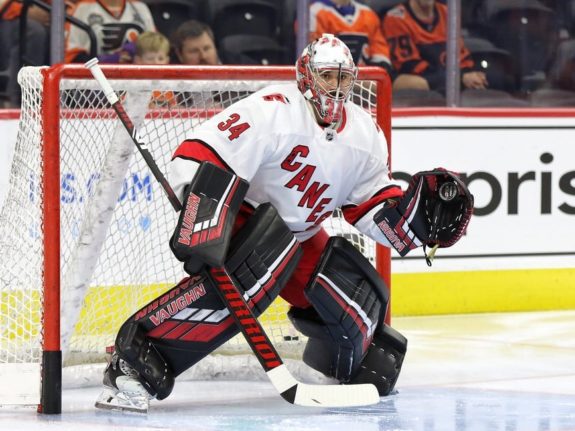 Looking ahead to the 2022 class of UFA goalies that includes two players of interest for the Red Wings – Elvis Merzlikins and Joonas Korpisalo. Of course, this is the very solid platoon for the Columbus Blue Jackets. Both players are currently 26-years-old and have shown flashes of brilliance early in their respective careers.
In fact, three days before the Red Wings signed veteran Thomas Greiss, there were reports that Detroit was interested in Joonas Korpisalo. Could that interest morph into a deal for either starting goaltender as part of a deal between Detroit and Columbus?
Elvis Merzlikins
Merzlikins has taken an unconventional path to the NHL, as 2019-20 was his rookie season. He was originally drafted by Columbus in 2014 (3rd, 76th overall). A tall and lanky piece of work, he stands 6-foot-3 and weighs roughly 180 pounds. The native of Riga had previously spent his entire career with two teams – the Latvian National Team and the Lugano hockey club in Switzerland. Meaning, 2019-20 was his NHL rookie season.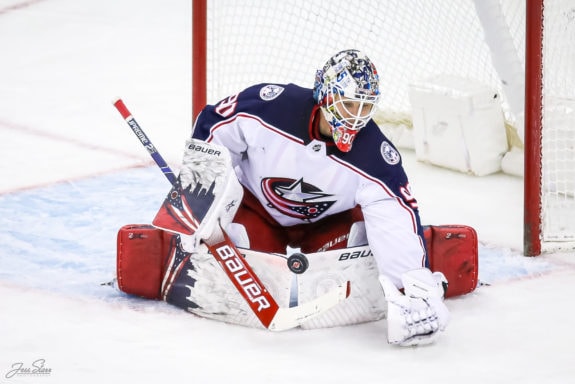 Full credit to the Blue Jackets for having the patience to allow this player to develop on his own terms. It seems to have worked. In 33 games, he posted a 2.35 GAA along with .923 save percentage. Solid numbers which earned him a substantial raise, agreeing to a 2-year, $8 million dollar deal ($4 million AAV) with Columbus in April.
Based on his contract it would appear that he is the priority between the two Blue Jacket goaltenders at this point. Merzlikins' counterpart, Korpisalo also signed a two-year contract in 2020 – for $1.2 million less per season. Regardless of the slight pay imbalance, this should create a healthy rivalry in the Blue Jackets crease.
Joonas Korpisalo
Korpisalo is another example in patience on the Blue Jackets behalf. Originally drafted by the Columbus in 2012 (3rd, 62nd overall), he made his NHL debut in 2015-16 and posted good numbers that season – 2.60 (sv%)/GAA .920 – over 31 games. However, that was and still is the Finn's best season ever. In fact, his next two seasons were a bit of struggle and he spent parts of the 2016-17 and 2017-18 seasons with the AHL affiliate Cleveland Monsters.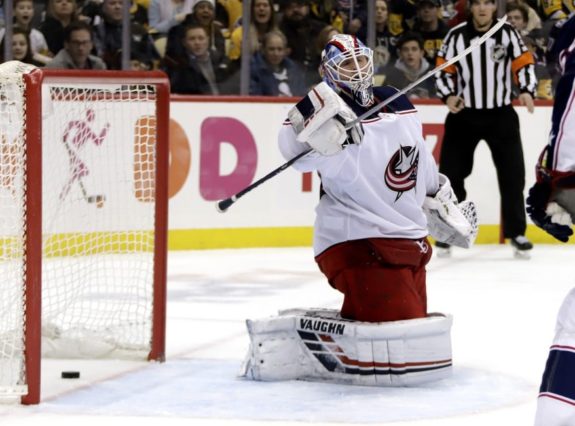 However, Korpisalo re-established his game in 2019-20 posting a more than respectable 2.60 GAA, and .911 (sv%). His bounce back season would land him a two-year $5.6 million contract ($2.8 AAV).
Have to say, interesting tactic by Columbus GM Jarmo Kekäläinen. Both players had solid seasons as a traditional tandem, so sign them to the same term and go with that approach for two more years. Or he is creating a healthy battle in the crease to find his true starter and then feature the other back stop to get the best return for his 'backup'. The beauty of the situation is that Kekäläinen and head coach John Tortorella can effectually do both.
Red Wing Interest
If the Red Wings staff, and in particular Director of Pro Scouting Mark Howe, was adamant about one these Blue Jackets goaltenders – would Yzerman target one of these players with an offer in 2022? Or will the Red Wings get aggressive and try trade for either Merzlikins or Korpisalo before they hit free agency.
The caveat to any deal is that the Blue Jackets would have to be motivated and interested in moving one of those players. Perhaps this is the long term strategy. Columbus might also be hesitant to trade one of these young goaltenders within the same conference.
The expected return would depend on two things. Obviously which one of the two – Korpisalo or Merzlikins. Secondly, the timing of the deal.
Hypothetically, if the Red Wings were to pursue Merzlikins before the 2021 trade deadline they could swap Greiss, or preferably Bernier, along with a mid-round pick. Detroit has six picks in the first three rounds of the 2021 NHL draft – a 1st, three 2nds, and two 3rds. Would a 2021 fourth round pick be enough of a sweetener to convince Columbus in exchange for Greiss?
It will be interesting to see what Yzerman and company ultimately decide to do with the goaltending over the short and mid-term. In the immediate future, the Red Wings might be getting a real close look at both goaltenders depending on how the re-aligned divisions shake out. If not, Columbus is only a three hour drive south.
---
---