Mid-July through early September is the six-to-eight weeks of the calendar that hockey fans dread. It's the one big chunk of the year with limited hockey news. Therefore, many thanks go out to Jamie Benn and Jason Demers (link may be inappropriate for younger ages).
Speaking of Demers, his former team, the San Jose Sharks, have had quite a strong offseason. They signed two marquee free agents in winger Joel Ward and defenseman Paul Martin. San Jose also traded for highly touted young goaltender Martin Jones. After having a drama-filled 2014-15 season and missing the playoffs for the first time in 12 years, the Sharks are in a much better spot than 12 months ago. They are a popular choice to bounce back and these three bold predictions are a few reasons why.
1. Brent Burns Will Finish With a 60% Goals-For
These predictions wouldn't be bold unless there was a significant chance for them to end up completely wrong. Brent Burns is certainly a question mark going into this season after posting a below average 47.8 goals-for percentage last year. He struggled defensively, adjusting back to defense for the first time in two years.
However, with a year back on the blue line under his belt, my gut feeling is that Burns will take off and be a force at even strength. There is a ton of evidence to suggest Burns will be a dominant five-on-five defenseman this upcoming season. The first reason is simple; Burns was a terrific even-strength defenseman in his last full season at the position before the two-year stint at forward from 2012 to 2014.
In Burns' first season with the Sharks (2011-12), he played on the blue line and kicked butt. At the time, Burns was well accustomed to the position after playing primarily as a defenseman with the Wild. While Burns didn't score as many even-strength points in 2011-12 as he did last year, the Sharks scored 54.8 percent of the even-strength goals with Burns on the ice that season. The Sharks were extremely successful with Burns on the ice at equal strength despite the fact he was usually paired with struggling partners like Douglas Murray, Colin White or Jason Demers.
This upcoming season though, Burns is expected to be slated alongside a stud shut-down defenseman in the freshly signed Martin. The long-time New Jersey Devil and Pittsburgh Penguin is considered by many to still be a top-pair shut-down defender and yet he will be playing second pairing minutes next to Burns. My THW Penguins colleague Michael Pityk noted recently that Martin was the only reason the Penguins defense "didn't implode down the stretch" of last season. Martin posted a 60.2 percent goals-for last season.
Both Burns and Martin are adept at controlling possession. Burns' disappointing goals-for last year was simply his defensive mistakes costing him. Assuming he cleans up those mistakes, and plays with a terrific partner in Martin, there is a good chance Burns crushes his competition next year.
2. Chris Tierney Will Reach 50 points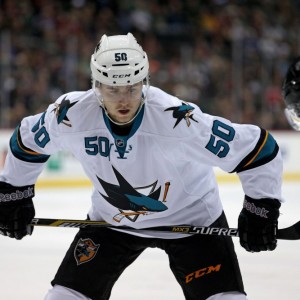 As a rookie, Chris Tierney tallied 21 points in 43 games. Extrapolate that pace over 82 games and you get 40 points. While San Jose's two most impressive rookies in 2013-14 (Tomas Hertl and Matt Nieto) went through sophomore slumps in 2014-15, my guess is that Tierney will avoid it in 2015-16. Not only will Tierney not suffer a dip in his second season, but he will increase his points per game rate from .49 to at least .61. Why you ask? Well, like with Burns, there are multiple reasons.
First and foremost is how Tierney exploded down the stretch last season. The then 20-year-old center was the best thing the Sharks had going down the stretch as older stars like Joe Thornton and Patrick Marleau went cold. Tierney, from his third-line spot with Nieto and Tommy Wingels on his wings (good, but not great players), went on a tear. The youngster finished the season with 14 points in his final 18 games, setting up plays like a young Thornton. That 14 points in 18 games is a .77 PPG rate, or in other words, a 64-point pace over 82 games. It would be asking a lot for Tierney to break out to that type of raw point total. However, 50-55 is in the realm of possibility.
Unlike Hertl and Nieto, Tierney will thrive in Year 2. Both Hertl and Nieto's sophomore slumps can be explained rather easily. Hertl simply was not healthy last year despite playing all 82 games. He suffered a set back about a year ago in his rehab from the brutal knee injury he suffered as a rookie. Nieto, on the other hand, simply had some of the worst luck of any NHL forward all season last year.
Not every rookie drops off in Year 2, and the Sharks are due for a second-year player to take off. I'm betting on Tierney to be that guy. The Sharks should have an even deeper team around Tierney this season. At worst, Tierney will be playing with the same caliber wingers as he did last season. At best, Tierney could see time with more skilled finishers like Ward or even Marleau instead of Nieto.
3. Patrick Marleau Will Score 30 Goals
Last season was considered a terrible year for Patrick Marleau. He scored 19 goals and had 57 points in 82 games. The Sharks were top heavy and an overall bad team last year. While Marleau's minus-17 rating was the worst on the team, that number can easily rebound back to his normal even range. Most of the Sharks saw a dip in their plus/minus ratings last year. Marc-Edouard Vlasic was a plus-31 in 2013-14. Even though Vlasic is in the prime of his career, he finished last season at just plus-12. That is a 19-point drop in year-over-year rating. We all know that plus/minus has its many faults, but comparing plus/minus between top players on the same team in terms of past precedents can be useful. It is a stat heavily based on a player's supporting cast. The Sharks as a whole were not very good last year.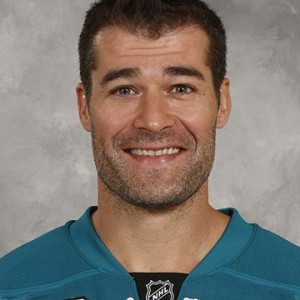 In 2013-14, the Sharks exploded to the tune of 111 points. In 2014-15, they stunk up the joint in the second half finishing with just 89 points. With a much better team around Marleau this year, chances are his numbers will improve. Not only will he have more help around him, but his luck is likely to improve significantly. Last year his shooting percentage was by far a career low. Father time catches up to everyone and Marleau might be on the decline but usually the fall is a much more gradual than a huge drop off. Marleau pumped 233 shots on goal last season. He only scored on 8.2 percent of those shots. His average success rate for his career is 13.4 percent. If Marleau had scored at his average rate last season, he would have scored 32 goals.
Laws of natural variance suggest that Marleau is bound to see an increase back towards his normal shooting percentage. Now, if his shooting percentage still ends up below average, but instead say 11.5 percent? Well, on 233 shots, that would equate to 27 goals. But the reasoning for a bounce back goes far beyond just better luck and more talent around him. Chances are Marleau will see a reduced role on the penalty kill, and easier competition. One of the big bonuses of signing Ward this offseason is that the slightly younger veteran can take up some of those tough minutes at even strength and on the penalty kill. Marleau should be much fresher next season. He has tailed off in the second halves of recent seasons. If the Sharks are smart, they will manage his minutes accordingly.
And last but not least, Marleau will be highly motivated to prove last year wasn't the beginning of his end. Under new head coach Peter Deboer and the organization's fresh win-now attitude, call it a hunch, but I'm expecting a big bounce back from Mr. Shark.