Right now perhaps not even Martin Brodeur knows the professional fate of Martin Brodeur, the most accomplished goaltender of his generation and arguably one of the top two or three ever to play the game. At the least, he will remain a New Jersey Devil through the 2014 season, completing one of the most celebrated two decades in professional hockey history.
If he chooses to retire it would be hard for him to say there was anything in the field of professional hockey that he had not achieved. He holds a couple dozen NHL records, including most of the big ones for goaltenders, such as:
Most regular season shutouts all-time
Most post-season shutouts all-time
Most wins all-time
Most games played by a goaltender
He has a Calder Memorial Trophy, five Jennings trophies, four Vezinas, three Stanley Cups, and two Olympic gold medals. Not bad for a kid whose decision to play goalie was such a non-event.
MB: "Coach takes me aside, says 'What do you wanna do this year, play forward or goalie?' I look around, my dad, nobody was around, so I was like, 'I'll be a goalie.' I made the biggest decision of my life by myself at 7 or 8 years old."
Brodeur's father Denis was the team photographer for the Montreal Canadiens, allowing Martin access to the players and to places like the Forum that other kids could only dream about.
MB: "My dad would talk to players like Claude Lemieux and Stéphane Richer and tell them one day his son was going to play in the NHL. How many dads say the same thing?"
Growing up in Montreal had the expected effect on the young Brodeur, as did the 1986 Stanley Cup Champion Canadiens and their white-hot rookie goalie: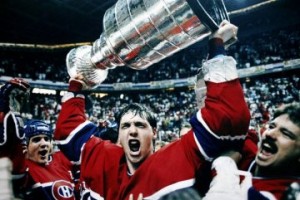 MB: "[Being a 13 year old goaltender] it was unbelievable. To see the Canadiens win the Stanley Cup and then going to the parade. I left school with my buddies, took our bikes and we went downtown to Peel and Saint Catherine Streets, sat on the corner to see the Stanley Cup parade right in front of us. It was a great feeling. Like any kid, my dream was to play in the NHL. And seeing my favorite team always with the Cup in downtown Montreal was a thrill. And I think that's where everything started for me – to see Patrick Roy at a young age be able to do what he did during the playoffs that year – it just made you believe that you're able to do it when it hits you so close to home."
In 1990, after a season playing for Saint-Hyacynthe Laser of the QMJHL, the Devils drafted Marty #20 overall.
MB: "The day the Devils drafted me was a great day … I went through the first round not even nervous because I was ranked in the second, then boom, I had to go down these stairs and give a short speech in front of 20,000 people about how excited I was to get drafted. Then I turned around and asked my agent, 'Where is New Jersey?'"
After another two seasons in the Q, Marty turned pro and was assigned to the Utica Devils of the AHL.
MB: "I felt it was easier playing in the NHL than playing in the minors. I'm the type of goalie where I like to focus on one or two players, I don't have to worry about my own players. In the minors I worried about everybody."
The following season Marty arrived in New Jersey.
MB: "There were a lot of veterans on that hockey club when I first played. And it was nice that I got the support from other guys, because sometimes when you're a young kid coming in, people just put you on the shelf. But that was not the case in New Jersey."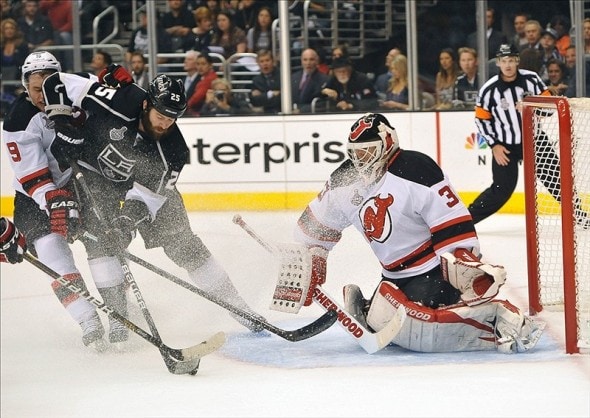 THE STANLEY CUPS
MB: "In the last game against Detroit, the time from ten minutes left to one minute left was probably the longest nine minutes of my life. But from one to zero was probably the greatest time I've ever had. I didn't want the clock to run out. It was such a great feeling: people crying in the stands, people jumping up and down, people cheering. Guys couldn't even sit up on the bench. It was probably the best minute of my life."

MB: "My kids and I watched that Bruce Willis movie 'The Kid' and ate popcorn out of the Stanley Cup. The next morning, they climbed up onto the counter and ate cereal out of it."

MB: "The last time a game made me cry was when we lost to the Colorado Avalanche in Game 7 … I cried right there on the ice. But the tears weren't really for me. I thought my kids would be devastated about it. I was worried about disappointing them [but] they didn't even notice. When I found them they were playing Game Boy. "Hey dad how you doing?"
THE TEAMMATE
Lou Lamoriello: "There's a confidence the guys have in Marty that lets them play their game."

Pat Burns

Pat Burns: "If we make a mistake, Brodeur will fix it. I've run out of words to describe him."

Scott Gomez: "Marty's like the thing in the commercial, the easy button. If we do miss assignments and the play breaks down, we know we have Marty to bail us out."

MB: "If you don't have a team that's committed to play a certain way in front of you, you're not getting shutouts. You can't do it by yourself."

Lou Lamoriello: "You've got Marty Brodeur and Mariano Rivera — they're key ingredients to success. Marty and Patrik [Elias], like Mariano and Jeter, have the attitude that it's their team. It's in their personality. They take ownership of their team."

MB: "I love my life in New Jersey. New York, for me — it doesn't give me anything special. I don't even go into New York. Just when we play them. That's it."
THE COMPETITOR
Jaromir Jagr: "His net gets smaller when the games get bigger."

Mike Milbury: "Brodeur's numbers are terrific, but I'm not impressed by them. Here's a guy who plays for a team that puts a choke hold on the opposition's attack, so I'm not surprised [by the low goals-against average]. What I'm impressed by, and what makes him a great goaltender, is that he stops the puck when it needs to be stopped. He's cool. The pressure doesn't bother him. Night after night he seems to be involved in 1-0, 2-1 games, and the pressure never seems to be a factor."

(Brad Barr-US PRESSWIRE)

MB: "I want to be on top, I want to be remembered as one of the best goalies of all time, and if you want [those distinctions] you can't be shy about it."

Vincent Lecavalier: "He's about winning every year. I don't think all of the records matter to him. He just wants to win Stanley Cups and that's why Martin Brodeur is a champion."

MB: "I just don't get nervous at a hockey rink."

MB: "It's easy to be the best, it's hard to stay the best."
THE PERSONALITY
Alexander Mogilny: "I've seen a lot of goalies but he's as close to being a normal guy as you can get."

Jacques Caron: "Marty looks at tapes after every game. He's not hard to correct; he accepts criticism. He listens, and he sees reality. He's also at the point where he sees what should be done himself, and at the end of every tape session he always says, 'Thanks a lot.' That's Marty—a star who still says thank you."

Jaromir Jagr (Ed Mulholland-USA TODAY Sports)

Jaromir Jagr: "It's really easy to become friends with Marty. He's easygoing. He's played the game for so many years, so there's always something to talk about."

Jacques Lemaire: "His biggest asset is that he keeps two feet on the earth. Good upbringing. Good values. He knows how to deal with the people around him."

Shawn Chambers: "Marty is one of the most normal guys I've ever been around."

Michael Farber: "Martin was brought up to understand that just because you do something special doesn't necessarily mean you are special."
THE GOALTENDER
Jacques Lemaire: "Hockey isn't only a job for Martin. It's his toy."

Glenn Resch: [Brodeur's best strength is] his uncomplicated approach to goaltending. Mentally he doesn't seem wrapped up in superstitions or looking back at what happened a game ago, a period ago, or even a minute ago. Marty seems to be playing in the moment … he is just having fun playing goal much as he did when he was 12 playing ball hockey in the street."

Marc-Andre Fleury (Flickr/wstera)

Marc-Andre Fleury: "Marty looks like he was always having fun. You could see him smiling during games and I like that he wasn't predictable; sometimes he would play butterfly, sometimes it would be poke-check, two-pad stack."

Sheldon Souray: "There's just this calmness about him. Maybe it's because he still thinks of hockey as a game."

Anthony Brodeur: "I watch my dad, he looks like he's having fun in net. He's not serious, he's not crazy … I think that's a pretty good attitude to have."
THE DURABILITY
MB: "I take a lot of pride in being durable."

MB: "The way I practice allows me to stay healthy. I practice like I play in a game, so it's no shock to my body when it's time to play."

MB: "I've endured a lot of wear and tear playing at a high level. It's bound to happen to everyone. It is what it is. Someday, I won't be able to play anymore. I know that. I wouldn't change anything that I did in my prime. We did a lot of great things."

Martin Brodeur (Flickr/LindseyAAkiyama)

MB: "When you have a puck coming at you at 100 miles per hour, how old you are is the least of your worries."

Patrick Roy: "Even if Marty's ready to retire, he's not going to say it because it's the same way I was. I didn't want to say it because sometimes you finish the year and you feel you may have another one or my tank is not empty. Mine was, and I was ready to move on. And the only person that knows is himself. He'll make the decision that he wants."

MB: "I just want to have fun doing what I'm doing. When the time comes that it is a drag to play hockey, that's when I'll say leave it to someone else to do this job for the Devils."
…………….
SOURCES
Bonander, Ross. "Hockey Talk." Delabarre Publishing, 2011
Canadian Press. "Devils goaltender Martin Brodeur ready to return after shoulder injury." 1 Nov 2011
Cannella, Stephen. "The Other Guy." Sports Illustrated, 26 May 2003
Cazeneuve, Brian. "That Old Devil." Sports Illustrated 8 may 2006.
Edge Interviews Martin Brodeur, wwe.com, 24 Jan 2007
Farber, Michael. "Kid Glove." Sports Illustrated, 6 Dec 1997.
______. "Exorcised!" Sports Illustrated, 1 May 2000.
______. Michael. "Martin Is the Man." Sports Illustrated, 10 Jan 2004.
______. "The Goalie Who Doesn't Flinch." Sports Illustrated, 16 Mar 2009.
Healy, Fran. Interview with Martin Brodeur for "Halls of Fame."
Kennedy, Ryan. "Can Fleury Catch Brodeur's Win Total?" The Hockey News, 25 Nov 2011.
Klein, Jeff Z. "Brodeur's Tenure Stands Out in Landscape Rich in Resilience." The New York Times, 23 Sep 2013
Kwak, Sarah. "The Devil You Know."  Sports Illustrated, 21 May 2012.
Miller, Randy. "Patrick Roy says Martin Brodeur will know when tank's empty." NJ.com, 16 Jan 2014.
______. "Devils' Martin Brodeur, Jaromir Jagr, building friendship on bus rides." NJ.com, 17 January 2014.
O'Brien, Sean. Interview with Martin Brodeur, 22 Apr 2013
Pang, Darren. Martin Brodeur interview on ESPN during the 1995 Stanley Cup Finals
Patrick, Dan. Outtakes with Martin Brodeur. ESPN the Magazine, Mar 2002
The Hockey Guys interview the Brodeur Boys, 20 Jun 2013