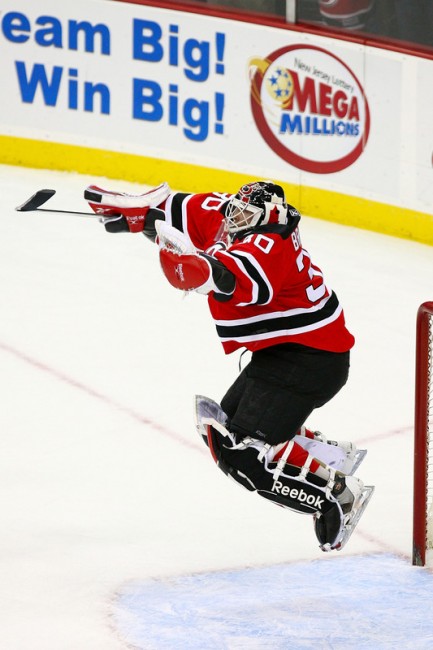 I am going to do something over the course of this post that I am not necessarily proud of but needs to be done. Martin Brodeur is a lightning rod for controversy no matter which way you slice it.
I also preface this article by saying that honestly I am no fan of what Brodeur has done to New Jersey for the last couple seasons. Like it or not, the hemming and hawing, innuendos, and curious quotes have caused a lot of uneasy feelings among media and fans alike in New Jersey.
However when I see articles that miss significant details, I get angry. That is not because what was written wasn't factual but more that it did not paint the complete picture. One can always respect the opinion of writers if they come to the table with everything without making you wonder if they just spun the story to their liking. It is okay to even leave people wanting more to the story. I will say this. Martin Brodeur is not the most overrated goalie of all time and not by a long shot.
Martin Brodeur Article That Started This
For the record, it was a thought provoking piece written by Adam Laskaris . Now talk about setting off a litany of comments arguing for and against. This article did it and then some. From the traffic standpoint, it has been incredible and rightfully so. The 200 plus tweets and the well over 5000 Facebook likes are of an indication that a lot of people read the story.

There are a lot of things that would be great to truly evaluate a greatest goalie of all time argument. Sadly some statistics just did not exist now like they do then. That is always the goal. In this society, we seem fixated on attaching the "oh he was the greatest of all time" on to almost everything when it comes to a legacy. Again, this is not to discount Adam's article in any way because it brings a lot to the discussion. For the record, I do not have Martin Brodeur as my all time best goaltender but I do have him in my Top 5. Actually I have quite a few old time goalies on my list named Sawchuk, Dryden, and Hall along with some guy named Dominik Hasek. I do not have Patrick Roy in my top five at all and there are some interesting reasons for that. Maybe that is best suited for another time.
So let's have some fun with this too. The article does have its serious side but does have a humorous and dark side to it as well. Let's present a few arguments for why Martin Brodeur is not the most overrated goalie of all time even though he is not the best of all time. How about we just say he is the best tri-state area goalie of all time. That sounds more fair.
The Trapezoid Rule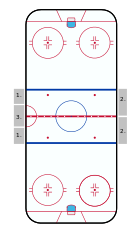 I do not know how this was missed but hey, here it is. If you want to know a little bit more about it, there are more than a few articles on THW that opine about the almighty "Trapezoid Rule". Just search throughout a hockey site or "Google it" and you will see how many times the rule has been searched for. There are few rules that have been more criticized in a sport. Yet it still stands. Why? Some people in hockey are sore losers or worse, thought the rule would increase scoring. Laughably it did not. Evaluating goalies is about more than just stats and numbers. It is sometimes about what was taken or renamed for a goalie also. The rule has been renamed by some as the "Martin Brodeur Rule" and it has some merit. What is the best way to neutralize the most proficient puck handler of all time? Hey! Let's make a rule. For the fun of it, I googled "Martin Brodeur Rule" and found a boatload of pages and articles that generated a ton of traffic. Here are some notable ones.
The last one was meant to be different. If a league feels like it has to pass a rule that means you have to be the greatest at doing something, right? Let's face it. Could you honestly come up with a better puck handler among goaltenders than Martin Brodeur? Think about how many goals that would be scored without the rule just because goalies would feel adventurous. Scoring chances would actually be increased and the rule really never did what it intended to anyway. So why do we still have it? Why not ask Bobby Clarke sometime? I am sure he would have a colorful answer for you.
That obviously is not our only argument on why Martin Brodeur is NOT the most overrated goalie of all time.
The Playoff Overtime Issue?
I am surprised this wasn't used. Oh wait! There is a reason why. Overtime can really be a residue of luck too. The best team does not always win in overtime and that is just how it is. Hell Patrick Roy once won ten of his sixteen wins in the 1993 Stanley Cup run in overtime. Does it make him the best ever? No. Was he lucky? Probably. Sometimes the bounces are just not with you. How else do you explain the New Jersey Devils losing 17 straight shootouts? It is not all lack of skill. Sometimes it's just luck too.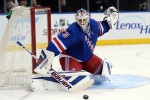 Martin Brodeur actually does not even have the worst playoff overtime winning percentage (with a minimum of 10 decisions). Granted that .361 number is an ugly one but not as ugly as Henrik Lundqvist's 4-11 mark in 15 overtime playoff games (.267 winning percentage). On the bright side for Lundqvist, he did lose seven straight at one point before winning three out of his last seven. How could anyone named "The King" have that bad of an overtime playoff record after all? Yet, he gets all this praise like it wasn't his fault and Martin Brodeur well, you know. That is the funny thing about numbers sometimes. We can twist them and maneuver them in any way we wish. Truthfully they are fact and accurate. Just do not go into the NHL.com's active overtime record page because it is a little outdated.
Again, remember in anything, luck plays a role. Do not worry, we have a few more points to lightly debate before closing. Ironically one of Martin Brodeur's overtime wins that will be most remembered is probably his shortest.
That is just how it is in overtime ladies and gentlemen.
The Eyeball Test
I am taking this a different way. Just think about how many goalies pass through the NHL these days and if you are old enough, one gets a pretty good idea of who are among the best of all time. When I saw this article, I remembered a writer who was a damn good one (still is by the way) who would attack Martin Brodeur relentlessly yet brought up some very intriguing points. If anyone remembers the "Brodeur Is A Fraud" blog, you will know what I am talking about immediately. However, if you don't, don't fret, here is a link to his change of heart.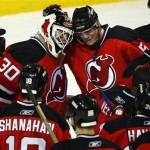 Again, intangibles most that do not follow New Jersey always seem to come to light by New Jersey media and fans which can scream homerism at times. That is understandable. Add in the fact that the Devils home ice stats guy (Dr. Murray Seltzer) notoriously shaved off shots like a Bic razor and suddenly objects in the rear view mirror may appear closer than they are. That logic applies to Brodeur more than almost any other goaltender. How do you measure a goalie who is like an on ice general? Granted, a lot of that is eroded but we are talking overall body of work. People can see how a goalie handles a team on the ice. They are the last line of defense after all and see the play develop in a view that no one can truly understand unless they have played the position. The other way is to constantly watch the game from the ends of the ice. Yes the seat is probably not a glamorous one but you get to see the game how the goalie does. It adds perspective for the things I am about to say.
Adam's article inspired me to write this, not as an endorsement of what Brodeur has done in the last few years but more as what he has done for the last two decades plus. Yes it refutes some parts and supports some as well. It really is all about the art of journalism and being able to convince the reader to not only read your story but to believe it. That is also a part of the eyeball test. It is very easy to take shots on what Martin Brodeur has done over the past four seasons but to extrapolate that over his entire career is a bit much.
Are we done yet? Not by a long shot! Yes there is more.
The Save Percentage Overemphasis
There are other, much better, ways to determine the greatness err effectiveness of a goaltender. All I heard from the Brodeur article was save percentage like a broken record that felt like a jackhammer drilling in and out of my eardrums. Here is the thing. Ask some goaltenders sometime the hardest way to play is when you do not see as much rubber come your way. Rhythms are tough to achieve when you face less than 25 shots in a night. Here are just a few ways to judge goalies other than just harping on save percentage.
How does he handle the puck?
How does he play with the game on the line?
How does he respond to a goal given up?
Does he win more than he loses?
Does he outplay the opposing goalie when it counts? Win or lose?
How does he cope with internal/external off ice issues?
Why don't we use other statistics?
The last one resonates deeply. It seems the obsession with save percentage knows no bounds. Thanks to sites like ExtraSkater, we can slowly get away from just using a flawed standard or two. Hell, we can throw intangibles back into the mix so we can revisit and debunk a few assertions.
Goalies that see a ton of shots have a higher probability to possess an amplified save percentage. Obviously the opposite possibility exists in some games where a goalie may play better than his save percentage indicates. All it takes is a few fluky bounces. Trying to compare save percentages from different eras is fruitless. The game was different. The players were different. One can attempt to eyeball it but if you really want to get technical, Martin Brodeur has kind of played in three different eras.
We could touch on affairs and alleged 911 calls but that will not be touched with a 50 foot pole. However, adversity can mean something from time to time. Maybe that will be for another article perhaps.
Is Martin Brodeur The Most Overrated Goaltender Of All Time?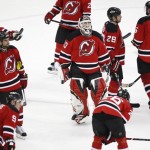 The answer is undeniably no! There are actually other goalies who are probably more overrated. My question to the readers is this. So many goaltenders sign these ridiculously long contracts that haven't even won a single thing. That's correct! It happens all the time. Yet somehow these players do not get the recognition for being so overrated. It seems only when we start talking the best of all time that such inflammatory titles magically pop up. In our search for traffic and views, maybe the real and noble goal for a journalist is to present all the facts and maybe to pose some questions of our own. What criteria would you consider for a goalie to be on a most overrated list? Never mind an all time list and let's start simple. Okay, maybe very very simple.
Before we jump for sensationalist titles, let's remember what a journalist is supposed to do. He or she is supposed to make you think, maybe leave some things to the imagination, etc. However, they should never throw blanket statements out there without presenting more pertinent facts. It is something I have been guilty of myself honestly. Consider this a lesson learned for all. Thanks for reading and who knows maybe there will be a part two. Stay tuned!