"Every goalie wants to be seen at their best, but unless you are mentally and physically prepared, more often than not, you will walk away disappointed."
– Justin Goldman
While one might look at the above quote and think it to be a rudimentary principle of goaltending, or any sport for that matter, there is certainly much more that goes into being a mental and physical warrior when it comes to being an ice hockey goaltender.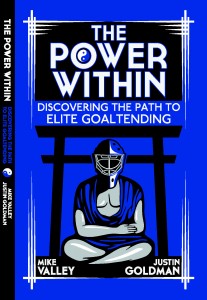 In their book, The Power Within: Discovering the Path to Elite Goaltending, Justin Goldman (Regional Goalie Scout and Mentor for USANTDP) and Mike Valley (Goalie Coach for the Dallas Stars) masterfully break down the inevitable mental, physical, and spiritual journey that any young netminder will likely have to travel when trying to become an elite goalie. Not only do Goldman and Valley document the core tenets of goaltending, they also manage to provide their readers with a road-map of sorts – one that can provide invaluable guidelines not only to a budding goalie, but to a wide array of individuals in various walks of life.
The Three Pillars
Mind. Body. Spirit. These are the three pillars that Valley and Goldman stress in the early stages of their book.
Although some readers might consider these pillars to be an abstract concept at first, the authors make it clear how one's mind, body, and spirit all interact with one another in order to create a harmonious flow that can elevate any goaltender's game to an elite level.
Of course, one could probably surmise what each of the three aforementioned pillars probably mean – and how they are important to a goalie's composition – but there is simply no substitute for the way that Valley and Goldman get the reader to understand how achieving harmony within oneself can be an arduous yet extremely fulfilling endeavor. While reading this book, it became plain to see how a coordinated balance between one's mind, body, and spirit can lead to an individual achieving their targeted goal(s) in extraordinary fashion.
Not only do Valley and Goldman describe what factors play into the mental, physical, and spiritual sides of goaltending, the authors succeed in illustrating how an elite goaltender is able to channel all of his external and internal energies in order to perform at an extremely high level. Conditioning, training, flexibility, and a slew of other attributes can certainly set goalies apart from each other, but as Valley and Goldman aptly show, that alone does not equal success. One can have all the talent in the world necessary to be an elite professional goalie yet still be hindered in their development when all three pillars are not properly balanced.
Confident Yet Humble, Patient Yet Persistent
While the three pillars of elite goaltending provided an essential and important introduction into Valley and Goldman's message, the authors were also able to identify a number of other lessons that netminders must take to heart while perfecting their craft.
Key amongst those lessons is the ever-important idea of ditching one's ego in a professional atmosphere. In the modern day, viewers are far too often exposed to athletes that are immodest in their accomplishments and prowess. However, Valley and Goldman thoroughly detail why it's prudent for budding goalies to drop their ego in order to further their development and gain the trust of their teammates. Rather than "believing that one is God's gift to the sport of hockey," the authors highlight the fact that being confident yet humble will allow the athlete to better handle the pressures associated with being a goalie under constant surveillance and scrutiny from a multitude of people and institutions.
Being patient and persistent at the same time might seem to be a bit contradictory, but it's an idea that the authors seemed to stress throughout their book. Even though a goalie's path to an NHL job might be a long and tedious one, both Valley and Goldman stick to the idea that if one accepts their role on a team while striving to better their play, then that individual has a better chance of improving their own situation.
Much like leaving behind one's ego, Valley and Goldman provide lengthy and thorough portrayals of the ways that goalies can use confidence, work ethic, and dedication to their advantage. Instead of getting down on themselves if a goalie finds him or herself in a situation that is less than optimal, the authors make it a point to show how goalies use these characteristics to rise above their perceived ceiling – even in instances when they were surrounded by more talented and skillful counterparts.
Finding One's Self
If there were three words that came close to summarizing Mike Valley and Justin Goldman's book, then I would be hard-pressed to not use the one's mentioned above. Not only do Valley and Goldman take the reader through a spiritual journey that forces one to open up their mind to various scenarios and possibilities, they force the individual to look within one's self for the answer to the questions or problems that might be plaguing them.
Despite the fact that the authors don't claim to have all of the answers to helping a goalie in their quest toward stability, they offer a unique approach to finding calmness while playing a position that is wracked with tumult. By utilizing self-reflective and introspective methods, Valley and Goldman illustrate how a goalie can overcome certain obstacles by being comfortable in one's own skin and knowing what is and isn't within their control as athletes and students of the game of hockey.
To further reinforce their messages, Valley and Goldman employ a plethora of interviews with NHL netminders (past and present) and professional goalie coaches. While one might take away a vast amount of knowledge when watching highlights of certain netminders, the interviews that Valley and Goldman conduct with individuals such as Richard Bachman, Tomas Vokoun, and Erik Granqvist speak to the struggles that prominent goalies have had to go through in order to have consistent success as professionals.
Having an unwavering belief in the development process as a budding goalie is something that Valley and Goldman try to reinforce throughout their work, and they certainly do a tremendous job of emphasizing that a goalie's maturation comes over gradual periods of time rather than overnight. Whether you're a young individual striving to make it to the NHL one day or someone that simply enjoys playing the goalie position, Justin Goldman and Mike Valley have managed to write a book that people of all ages can relate to. Anyone that wants to learn about the intricacies of goaltending that stretch far beyond basic technical and physical descriptions will thoroughly enjoy reading The Power Within.