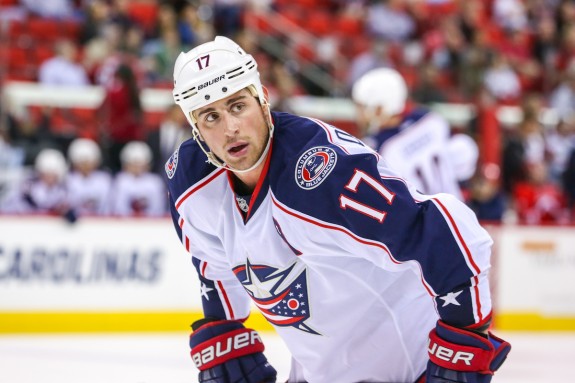 The Columbus Blue Jackets need to walk a fine line to defeat the Pittsburgh Penguins in the first round of this year's playoffs.
On one hand, they must continue to chip pucks deep, punish the Pittsburgh defense with hits, and force the Penguins to skate the full length of the ice to generate offensive opportunities.
On the other hand, they can't fall into the trap of overhitting (chasing players without the puck simply to finish hits) or allowing physical play to translate into penalties.
Pittsburgh was the top-ranked powerplay team in the regular season, clicking at 23.4 percent, and they've already scored three powerplay goals in two games against the Blue Jackets. (Of course, they've also allowed two shorthanded goals against…)
But the Penguins' reliance on the powerplay also makes them susceptible to an upset.
In Game 1, the Penguins scored twice in just 3:19 with the man advantage — and won the game.  Pittsburgh got far more powerplay time in Game 2 (14:59), yet only converted once — and lost.
Should this be a cause for concern?
History tells us yes.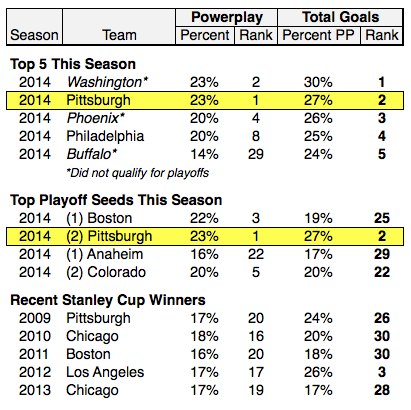 One way to analyze this is by looking at how much teams rely on powerplay scoring for offensive success.
27 percent of Pittsburgh's goals this season came on the powerplay, second only to the Washington Capitals, who missed the playoffs for the first time since 2006-07.
After analyzing the other top seeds in this year's playoffs, we see that while Boston and Colorado have strong powerplay units, they rank just 25th and 22nd respectively in percentage of total goals scored on the powerplay indicating a more balanced offensive attack.
And a quick look at recent Stanley Cup champions shows that Pittsburgh could be in for a quick postseason.
Every champ since 2009 has been in the bottom 5 of the league in this stat with the exception of the Los Angeles Kings in 2012.
The Kings, however, didn't have a strong powerplay unit.  They actually ranked last in the league in total goals that year, skewing the %PP stat.  Goaltender Jonathan Quick was simply unbeatable on his way to the Conn Smythe Trophy and playoff MVP.
One explanation for this trend is that heavy reliance on a hot powerplay makes it difficult to win four straight series in the playoffs.
An opponent with a stout penalty kill unit or even a brief streak of bad bounces with the man advantage can be enough to derail a series — and a season.
______________________________________________
The Penguins' powerplay personnel is also being criticized in light of the two shorthanded goals against.
Mark Madden of the Beaver County Times says two defensemen are a must at all times, not just with a lead like Pittsburgh had in Game 2:
Evgeni Malkin should not play up top. That should be the simplest position on the power play. It's a reset point. Simple distribution. Simple shots. Remember Sergei Gonchar? Malkin's style is too complicated, and he's a defensive liability every time the foe counterattacks. That's no knock on Malkin. He's in the wrong spot.

Paul Martin must play up top. Martin personifies what's required, and he's good at gaining the zone with control.

The Penguins' PP should be: Martin up top, Kris Letang or Matt Niskanen in the left circle, Malkin in the right circle, Sidney Crosby and Chris Kunitz down low. One right-handed shooter is a must.

That's probably not what some of those involved prefer. Tough luck.

James Neal should be omitted. He had 11 power-play goals this season, a league-best 18 in 2011-12. But Neal isn't playing well currently and isn't part of the best power-play fit. Neal should be next choice if a forward falters or gets hurt.
I agree completely with Madden's suggested setup.
With so many offensive weapons, Martin simply has to be a puck distributor.
Once in the offensive zone, I'd stick with Niskanen over Letang.  Martin and Letang are a good combo for breakout purposes, but Letang seems to be slipping back into his turnover-prone ways of the last few seasons.
Of course, that would mean limiting Letang and James Neal to minimal powerplay time on a second unit.  The two will combine to make $12.25 million against the cap next season, by the way.
Neal has gone through a very bumpy season, but his value to the Penguins at this point really comes down to scoring goals.  Removing him from the top powerplay limits his opportunities to contribute in a positive way.
______________________________________________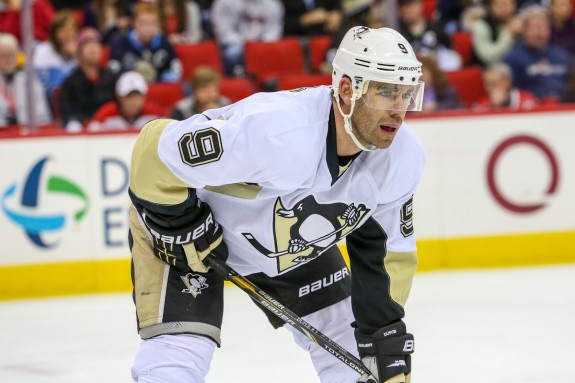 The absence of Pascal Dupuis (ACL/MCL surgery) has been a forgotten storyline in the playoffs.
Dupuis scored at a 65-point pace last year.  Sidney Crosby's right wing has been a revolving door since his injury.  The penalty kill is where the Penguins' have been hurt the most without Dupuis though.
Josh Yohe at the Pittsburgh Tribune-Review writes:
The loss of right wing Pascal Dupuis was a damaging blow to the penalty-killing unit. With Dupuis in the lineup, the Penguins killed 87.5 percent of their penalties, which was on pace to give the Penguins their second-best penalty-killing season in franchise history.

Without Dupuis, who sustained a season-ending knee injury Dec. 23, the Penguins have killed just 82.5 percent of their penalties.
No Dupuis has meant additional shorthanded time for players like Brian Gibbons and Brandon Sutter.
Gibbons doesn't win 1-on-1 battles in his own end on a regular basis, but his speed makes him a threat to score shorthanded every time he's on the ice.
Sutter plays a smarter defensive style, but doesn't have the necessary intensity or willingness to compete on a regular basis.
Success on the penalty kill comes down to scouting the opponent for tendencies and then outworking them for every loose puck.  It would be hard for Sutter (#16) to have put in less effort than he did on this first period penalty kill that resulted in a Mark Letestu goal in Game 1:
Through his own motivation — or perhaps at the urging of the coaching staff — Sutter awoke in the second half of Game 1.  He notched the game-winning goal in the third period.
Sutter's effort on this third period penalty kill in Game 2 was slightly better than the first example…just slightly.
The Penguins are going to have major problems with the relentless Blue Jackets if Sutter and other players aren't willing to match their intensity level.
If Sutter can't find a way to motivate himself, someone else deserves an opportunity.
Joe Vitale brings energy to every single shift.  Chris Kunitz is a very effective penalty killer and could be pulled off the top powerplay unit (and replaced with Neal) to manage his minutes.  Even a minor-leaguer like Zach Sill could be added to the lineup for his penalty killing skills.
The Penguins simply cannot afford to lose the special teams battle.
__________________________________
Email: MJColligan@gmail.com
Twitter: Follow @MikeColligan