Devan Dubnyk is getting another chance to establish himself as a starting goaltender in the NHL.
The Arizona Coyotes dealt Dubnyk to the Minnesota Wild on Wednesday in exchange for a third-round pick. What that means for current Wild netminders Darcy Kuemper and Niklas Backstrom remains to be seen, but both have been struggling, which opened the door to Dubnyk. Minnesota also has Josh Harding under contract, but his brief resurgence last season gave way to more injury woes and complications with his multiple sclerosis that took him out of the picture.
Devan Dubnyk being asked to do for Minnesota this year what Ilya Bryzgalov was asked to do last year: Bail them out of a goaltending jam.

— Eric Duhatschek (@eduhatschek) January 14, 2015
Enter Dubnyk
Minnesota is taking its chances with Dubnyk, who is joining his fifth team in a calendar year. He's never been a bona fide starter, and failed miserably in his only prior opportunity with the Edmonton Oilers to begin last season.
That stint lasted all of 32 games — with only 11 wins and a sub-.900 save percentage (.894) — before Dubnyk was sent packing on Jan. 15, 2014, to the Nashville Predators for another underachiever in need of a scenery change, Matt Hendricks.
While Hendricks found a role with the Oilers and has become a fourth-line fixture since that swap, Dubnyk didn't rebound in Nashville. The Predators insulted his ability before sending him to the minors, then shipping him to the Montreal Canadiens for future considerations on March 5. The Habs acquired Dubnyk solely for positional depth and he remained a fourth-stringer stuck in the AHL behind Carey Price, Peter Budaj and Dustin Tokarski.
The 28-year-old wasn't expected to garner much interest as an unrestricted free agent, but Arizona was surprisingly quick to sign Dubnyk on July 1. The Coyotes saw potential in him as a backup to Mike Smith, who had formed a tandem with Dubnyk while representing Canada at past world championship tournaments.
Minnesota will be Dubnyk's fifth team in two seasons. That has to be some sort of record for a goalie, doesn't it?

— Down Goes Brown (@DownGoesBrown) January 15, 2015
Bounce-Back Season
As it turned out, Dubnyk became the better of the two. Working with goaltending coach Sean Burke, he was able to find his game — and his confidence — in Arizona. Through 19 appearances, Dubnyk had a solid .916 save percentage and accounted for 9 of Arizona's 16 victories to date, including three- and four-game win streaks. He's had a few stinkers in there too, and consistency continues to be a battle for Dubnyk. But he has shown enough thus far to become a wanted commodity again.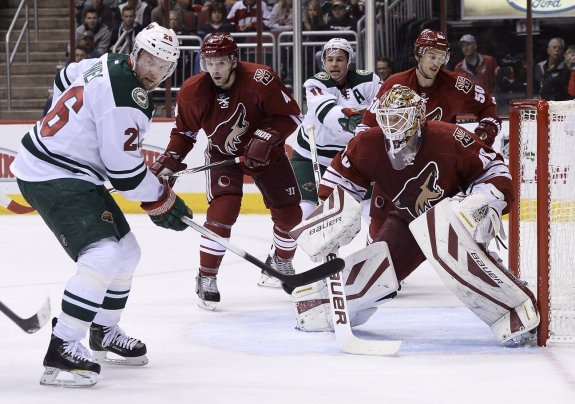 Minnesota Came Calling
The Wild needed to address their goaltending. The Kuemper-Backstrom pairing was floundering, having allowed 4 or more goals in 5 of 7 games to start 2015, including a touchdown against on two occasions. Those were converted touchdowns, as in 7 goals — twice.
Minnesota's options were limited at this point in the season. The Wild were sitting 8 points out of the final wild-card spot in the Western Conference entering Wednesday's action, so they couldn't afford to lose any more ground because of shoddy play between the pipes.
Desperate times were calling for desperate measures, and a third-rounder isn't that steep of a price to pay if Dubnyk can step in and provide stability. That is a big "IF" but something had to give.
So Suter is suspended & the Wild's new goalie is Devan Dubnyk? Can you say train wreck boys n girls?

— Mo⁷ (@moseyposey28) January 15, 2015
if Chuck Fletcher is going to extend Mike Yeo's impending death sentence at the hands of Devan Dubnyk, just fire the guy now and end it.

— Mike Darnay (@MikeDarnay) January 14, 2015
Coyotes Throwing In Towel
Arizona is essentially out of the playoff picture midway through the season. Smith has been atrocious — with an .885 save percentage in 27 appearances — and there really is no hope for the Coyotes. They are 13 points out of a playoff spot, 5 back of the Wild.
Smith is only in his second season of a six-year contract worth $34 million, so the Coyotes are in a precarious position with him. He obviously has no trade value playing the way he has been, and general manager Don Maloney admitted that Arizona is "married to" Smith for the foreseeable future. That statement can be interpreted as a reluctant vote of confidence.
Maloney said he moved Dubnyk for three reasons:
"First, we acquired a good asset that we can use in the future. Second, it allows us to take a look at a couple of our younger goaltenders in our system — Louis Domingue and Mike Lee — to see where they are in their development. And finally, it will put Mike Smith back in our net on a permanent basis to get him back to the level we know he can play at. We believe in Mike."
Moving Forward
Dubnyk is playing out a one-year deal and evidently wasn't in Arizona's future plans. That, or he'll serve as a true rental for the Wild and still re-sign with the Coyotes in the summer. It's a possibility, but wherever he ends up next season will depend on how he performs the rest of the way for Minnesota.
One thing is for certain: The ball is back in Dubnyk's hands and it's up to him to run with it.
Larry Fisher is a sports reporter for The Daily Courier in Kelowna, British Columbia, Canada. Follow him on Twitter: @LarryFisher_KDC.