Matej Tomek THW Close-Up:
Date of birth: 05/24/1997
Place of birth: Bratislava, Slovakia
Ht: 6'2.5″     Wt: 180 lbs
Catches: Left
Position: Goaltender
NHL Draft Eligibility: 2015
THW The Next Ones Rankings (February): not ranked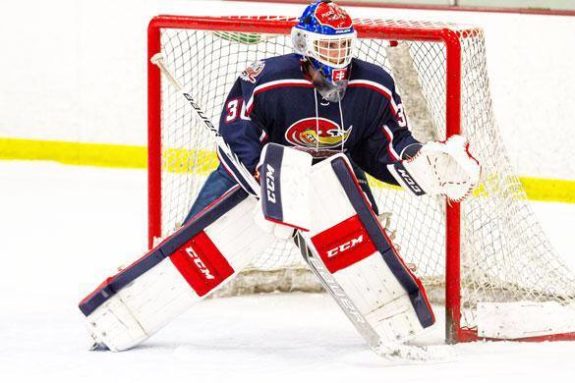 Other Rankings:
NHL CSS (North American Goalies) – 5th
The Hockey Writers (Chris Ralph/Eldon MacDonald) – 60th
Future Considerations (Midterm Draft Ranking) – 49th
Another Year, Another Standout NAHL Goalie
Coming to play in North America after spending the majority of your life in Slovakia would be a daunting task for any hockey player – let alone a goaltender. However, for Matej Tomek, the transition to the NAHL (North American Hockey League) went swimmingly as the netminder hasn't looked back since donning a Topeka Roadrunners uniform during the start of the '14-'15 NAHL season.
Playing a good chunk of his hockey in the Slovakian leagues, Tomek made a name for himself very quickly – something that was clearly evidenced by the fact that he was considered one of his country's best goaltending prospects. Starting out with HC Slovan Bratislava U18 during the '12-'13 hockey season, Tomek burst onto the scene by registering a 2.05 GAA and .926 Save Percentage in 19 games played in the Slovakia U18 league. Add in the fact that Tomek also played in four playoff games and put up a 2.03 GAA and .934 Save Percentage, and it's easy to see why the Slovakian goalie earned praise at such a young age.
Graduating to the Slovakia2 league during the '13-'14 hockey season – where he was the youngest goalie in the league – Tomek continued his development process as he split time between Team Slovakia U18, HK SKP Poprad U18, and HK SKP Poprad U20 during the regular season. Not only did Tomek display an ability to play at a consistent level on all three of the aforementioned teams, he also showcased his ability to play on the international stage as he appeared in seven games of international play as a member of the U17 and U18 Slovakian teams.
Despite the fact that Tomek registered some numbers (3 GP, 4.29 GAA, .870 Save Percentage) at the WJC-18 that would have left fans and scouts hoping for better showings, the Slovakian netminder more than made up for it by having a stellar first season in the NAHL. Much like Kasimir Kaskisuo – another European goalie that made his way over to the NAHL after playing overseas his whole career – Tomek put on an impressive showing in his first year in North America as he played to the tune of a 1.83 GAA and .926 Save Percentage in 33 games.
While Tomek's performance during the '14-'15 NAHL playoffs (7 GP, 3.20 GAA, .876 Save Percentage) didn't do the goaltender many favors in terms of helping his draft stock, there is still lots of upside to the Slovakian goalie.
Employing a butterfly style, Tomek is a goalie that makes calculated moves while efficiently utilizing all 6'2.5″ of his frame. Of course, at 180 lbs. Tomek could certainly fill out his frame a bit more, but that will come with age and maturation as the young goalie still hasn't finished growing.
Staying at more or less the same draft rank (4th & 5th respectively on CSS's midterm and final rankings) throughout 2015, Tomek has shown that he could play at a consistent level for the duration of a hockey season. Committing to the University of North Dakota for next season, Tomek will get a taste of NCAA play during the '15-'16 campaign, and it certainly shouldn't come as a surprise to anyone if the Slovakian netminder continues to tear his way through North America en route to the NHL.
Scouts Honour:
"The logical place to start is in Topeka, Kan. … wait, what?! That's right – Topeka. Because that's where stud Slovakian netminder Matej Tomek now resides. While we liked Tomek a lot as an underager for Slovakia on the international stage last year, he simply made a mockery of the North American Hockey League's season-opening showcase event. And while it might be bold, we've already moved him into our first round and feel as though he could challenge Barrie's Mackenzie Blackwood (our presumptive preseason favorite) for the top spot among all goalies."
– Kyle Woodlief, USAToday.com
"An athletic Slovakian import who has soundly placed himself in the conversation as possibly being the first goaltender drafted. He was clearly heads over tails better than any other prospect at the NAHL showcase event. Shows a good down low came with quick legs. Has good balance while in his stance, and terrific quickness and anticipation. Good at absorbing shots and limiting rebounds. Covers the top of the net and is flexible enough to recovery and re-position for the second shot he does give up."
– Bill Placzek, Draftsite.com
"After being a top prospect in the Slovak program for a few years, Tomek came to North America this season to play in the NAHL (a tier below the USHL in quality of competition), where he was dominant. He's very athletic for a man his size, and while he still has room to fill out in his frame, his athleticism and size are notable. He is gifted in his movements and stays composed. The issue with Tomek isn't one of a glaring hole as much as the quality of opponents; his puck-tracking and hockey sense haven't been truly tested at the NAHL level. He has committed to play at North Dakota in 2015-16."
– Corey Pronman, ESPN.com
"Long, lean, flexible netminder who is fluid in all his movements. Has the agility and balance of a cat. He's calm under pressure and very quiet in the net, with little wasted motion. Tomek tracks the puck well and reads/reacts to shots like a seasoned pro. Occasionally kicks out a big rebound, but is quick to recover for second shots. A real student of his craft with the desire and work ethic to continually improve. Has the chance to become one of the best goalies of the past five years."
– Via Red Line Report
Bio/Interview(s)/Links:
Where He'll End Up in June:
Tomek will likely be selected during the mid-to-late rounds of the 2015 NHL Entry Draft.
Statistics:
International Tournaments:
Played in the Five Nations Tournament and WJC-18 as a member of Team Slovakia during the '13-'14 hockey season.
NHL ETA:
Risk/Reward Analysis:
Risk: 1.5-2/5  Reward: 4.5/5
NHL potential:
Strengths:
Strong butterfly technique
Athleticism
Strong down-low coverage
Great leg quickness
Efficient movement
Utilizes size well
Good reflexes
Composed in net
Good flexibility
Strong competitive spirit
Flaws/Aspects He Needs to Work On:
Could use minor work on rebound control
Must fill out frame a bit more
Fantasy Potential:
NHL Comparable:
No definitive NHL-comparable goalie, but Tomek has Martin Brodeur listed as his favorite NHL goalie.
Video:
_________________________
THW's The Next Ones prospect profile template design architect: Chris Ralph