Yesterday, the Columbus Blue Jackets activated Matt Calvert off of the Injured Reserve list, a spot he has occupied for much of this season.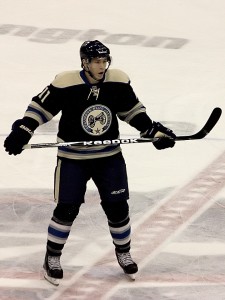 To start the year off Calvert played in 3 games and registered 4 shots, but did not record a point before sustaining an abdominal injury. While he has been out, Calvert missed 19 games in which the Blue Jackets went 6-10-3. Calvert missed a 3-game winning streak, a 5-game losing streak and one of the more embarrassing losses in recent memory, a 7-0 whipping by the Oilers on Tuesday night.
Last season in 42 games Calvert had 9 goals, including 1 shorthanded goal and 2 game-winners to go along with 7 assists and 32 penalty minutes. With all the shuffling Head Coach Todd Richards has done with his lines this season, expect to see Calvert on the 4th line with Derek MacKenzie and Jared Boll.
Calvert should slide back into action tonight and inject some energy to a slumping squad. The Blue Jackets are in Vancouver to face the Canucks, with puck drop scheduled for 10:00pm Eastern.
Doulas Cutler is a Lead Writer for The Hockey Writers covering the Chicago Blackhawks. Follow him on Twitter at @DougCutlerTHW. In addition, he also writes on The Blog of Brotherhood, dedicated to Miami RedHawks Hockey (www.blogofbrotherhood.com and @MiamiHockeyBlog). LET'S GO HAWKS!