Rankings:
Minnesota
North Dakota
Clarkson
Wisconsin
Cornell
Boston College
Harvard
Quinnipiac
Boston University
Mercyhurst
Game of the Week
#4 Wisconsin at #2 North Dakota, Fri. 11/22 @ 8:07 p.m. EST & Sat. 11/23 @ 8:07 p.m. EST
Wisconsin comes into this series on an eight-game winning streak, with their only two losses this year coming against Minnesota. They've certainly been playing well of late and will look to continue that here against UND. The Badgers have yet to give up more than two goals in a game this season, and that speaks to the strength of the defensive play of the entire team, not just their defensemen. They're winning battles and have been able to maintain a good amount of possession, but the one area of concern for them is their finishing. While North Dakota has plenty of talent up front to no doubt challenge Wisconsin, the Badgers will have to find ways to capitalize, especially against an opponent that's also been strong defensively.
Made it to Grand Forks! #Badgers pic.twitter.com/yr16ztSbYx

— Wisconsin Hockey (@BadgerWHockey) November 21, 2013
UND is coming off the high of ending Minnesota's 62-game winning streak, and they'll need to carry the momentum from their big victory into this series. North Dakota might have a bit more outright talent up front than Wisconsin but the Badgers still have a very competitive hockey team, and their top-six can definitely put the puck in the net. UND's defense should be prepared to make a difference this weekend, especially if Wisconsin goes back and forth with them and shuts them down offensively. As long as they can take away the middle of the ice from the Badgers and get moving quickly in transition, North Dakota will have a good chance to win.
Top-10 Teams in Action
#1 Minnesota at Yale, Sat. 11/23 @ 4 p.m. EST & Sun. 11/24 @ 12 p.m. EST
#3 Clarkson at Princeton, Fri. 11/22 @ 3 p.m. EST; #3 Clarkson at #8 Quinnipiac, Sat. 11/23 @ 3 p.m. EST
Connecticut at #6 Boston College, Sat. 11/23 @ 2 p.m. EST; #6 Boston College at Connecticut, Sun. 11/24 @ 2 p.m. EST
#9 Boston University at #7 Harvard, Fri. 11/23 @ 7 p.m. EST
St. Lawrence at #8 Quinnipiac, Fri. 11/22 @ 3 p.m. EST; #8 Quinnipiac at Princeton, Tues. 11/26 @ 7 p.m. EST
#9 Boston University at New Hampshire, Sun. 11/24 @ 2 p.m. EST
#10 Mercyhurst at Rochester Institute of Technology, Fri. 11/22 @ 2 p.m. EST & Sat. 11/23 @ 2 p.m. EST; St. Lawrence at #10 Mercyhurst, Tues. 11/26 @ 7 p.m. EST & Wed. 11/27 @ 3 p.m. EST
What to Watch For
The Gophers were in for a bit of a surprise in their very first game of the year when they visited Colgate and found themselves tied, 1-1, heading into the third period. They'll travel to Yale for another series against an ECAC team, and the Bulldogs might put up even more of a fight than the Raiders did. Yale goaltender Jaimie Leonoff has already shown she can stand on her head and keep it as close as possible, so Minnesota won't want to get frustrated against her. From the Gophers' perspective, they should come out hard after having their winning streak snapped by North Dakota; this is the perfect series for them to get things back in order and start another streak.
This is also a good time for Boston College to get back on track. Anything but a sweep here against Connecticut, or at least a sweep-worthy effort, will set the Eagles back even further. After not being able to get a win last weekend against either Quinnipiac or Princeton, they need to get some momentum back against a conference opponent. For the most part, they've had success producing against weaker teams, so there's no reason for Boston College to panic heading into this series. But they definitely need to come in focused and put in two complete games this weekend, and try and cut down on some of the bigger mistakes they've been making.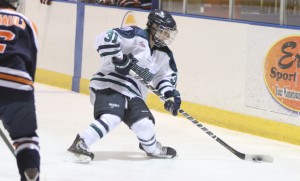 St. Lawrence will travel to Quinnipiac and Princeton over the weekend, and then visit Mercyhurst during the week. The Saints have really been pushing for an upset this year and they could make it happen at any point this week. The game against the Bobcats is especially intriguing, as Quinnipiac seems to have taken the next step from a second-tier ECAC team, but St. Lawrence still presents a challenge. They play a good brand of hockey that, when they get going, can make it hard for opposing teams to answer to as far as breaking up their attack. Coupled with having Carmen MacDonald in net, they've definitely got a good chance at knocking off either the Bobcats or Lakers.
Clarkson and Quinnipiac will square off in a big ECAC clash. Both teams are coming off of very good weekends, with the Golden Knights taking care of Providence in a sweep and Quinnipiac taking down Boston College. Both of these teams are pretty balanced in all areas, with stars at every position. This should be a really competitive series, though I would expect for each team to make defense a priority. These are the perfect games for Clarkson to show that they can execute at a winning level against a squad that's going to make it hard for them to score goals, and it's also the perfect series for Quinnipiac to prove that they are a team to beat in the ECAC.
Gabriella is now in her third season of covering NCAA and international women's hockey for The Hockey Writers. She is the founding editor of At Even Strength, a website dedicated to providing full-time coverage and analysis of women's hockey. She is currently working towards a degree in Communication at the University of North Dakota, and is also interning with UND Athletic Media Relations. She can be reached on Twitter (@gabfun) or via e-mail (gfundaro10 [at] gmail [dot] com).