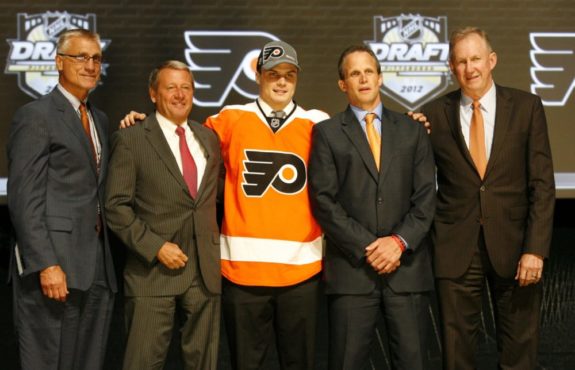 The Flyers' prospect pool has been a laughing stock for quite some time.  Although they've put winning teams on the ice, they always seemed to lack in developing prospects through their farm system.  From the years 1999 to 2011 the Flyers have had a grand total of four 2nd round picks (three of them were in the same year – 2006).  With so many young players showing promise in today's NHL, Paul Holmgren has finally come around on actually keeping his top picks.  Now the team is beginning to see some of their top young players flourishing in the CHL, NCAA, AHL, and Europe.
Scott Laughton – Center, Oshawa Generals, OHL
Many thought Scott Laughton was a bit of a stretch at 20th overall in the 2012 NHL Entry Draft (myself included), but he's slowly becoming one of the best two-way centers in the OHL.  He had an impressive training camp and showed tremendous potential coming into the season, but with very few spots available on the squad and him likely not receiving top-six minutes, it was a wise decision for Holmgren to send him down to Junior.  Now the Oshawa Generals are reaping the benefits.  Laughton has been lighting the lamp for the Generals with 17 goals and 18 assists in 20 games.  You can book he'll have a spot on next year's Flyers team if his play continues to progress.
Nick Cousins – Center, Adirondack Phantoms, AHL
For a 3rd round selection, Nick Cousins has all the tools to be a productive offensive forward in a few years time.  Much like Laughton, there wasn't much space for Cousins to play and be effective, so the developmental route of the American Hockey League would have to do for this season.  While his skill is rarely questioned, his defensive play is suspect.  The AHL is a great opportunity for Cousins to round out his overall game.  Although Adirondack is one of the worst teams in the league, Cousins leads the team in points and will be fighting with Laughton for a spot in the NHL come next year.
Samuel Morin – Defense, Rimouski Oceanic, QMJHL
The 1st round pick (11th overall) for the Flyers, Sam Morin was a riser at last year's draft.  His consistency issues seemed to resolve themselves as the season went on and the Flyers took a liking to his size, physical play, and overall ability.  Shades of Pronger were seen in Morin and he was their go-to guy at #11.  This season, Morin has gotten off to a fantastic start with 10 points in his first 18 games.  He's been a steady force on the blue line for Rimouski, who currently sit 2nd in the East Division of the QMJHL.  The Flyers haven't been known to develop defensemen all that well, so they'll be taking their time with Morin.  But at first glance, he seems to be developing just fine.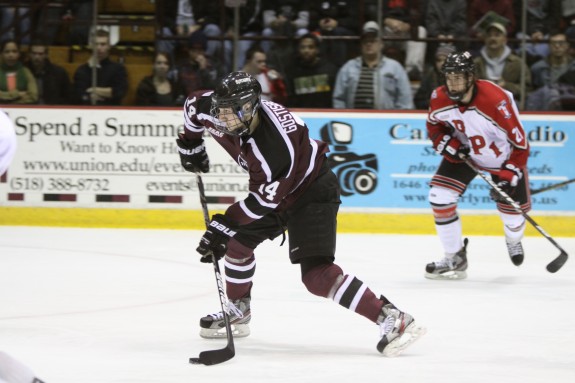 Shayne Gostisbehere – Defense, Union College, NCAA
I wrote about Gostisbehere a bit ago.  But here is what Jeff Cox said a week ago:
RPI coach Seth Appert just said Shayne Gostisbehere is the best player in the country and that includes BC forward Johnny Gaudreau.

— Jeff Cox (@JeffCoxSports) November 17, 2013
That's some very nice praise for a player who was a relative unknown.  In his tenure at Union, Gostisbehere has appeared in a Frozen Four tournament, won the Conference Tournament the past two years, and won a gold medal with Team USA at the last World Junior Championships.  Currently he leads all ECAC defensemen in points with 12 and is beginning to get some Hobey Baker talk, as well.
He's a smart defenseman who is quick on his skates and has a booming slap shot.  I think the Flyers might have found themselves a defenseman they can hang their hat on for a long while.
Anthony Stolarz – Goalie, London Knights, OHL
After the NCAA route didn't work out for Stolarz, he decided to cross the border and play for one of the top teams in the OHL, the London Knights.  That may have been the best move he's made in his short career.  After getting close to winning the Memorial Cup last season, Stolarz has picked up right where he left off.  Posting a 13-2-1 record in the early going, coupled with a 2.56 GAA and a .924 SV PCT, the New Jersey-native looks to be a great find for a team who has had goalie issues for the better part of 15 years.  Obviously it takes goalies the longest to develop, but if he continues down this path of honing his skills, management will be giving him a long look sooner rather than later.
Follow Shawn Reznik on Twitter: @ShawnTHW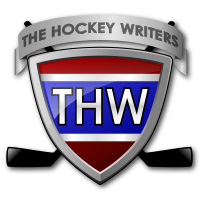 The archives of THW contain over 40,000 posts on all things hockey. We aim to share with you some of the gems we've published over the years.