Thursday evening's game in Boston was quite the spectacle for hockey fans. The St. Louis Blues pulled away with a 3-2 shootout victory after a back-and-forth matchup that saw an unusual 31 shots find their way to goaltender Jaroslav Halak. Alex Steen and Derek Roy added shootout tallies to thrust the Blues to second place in the Central Division with 33 points.
The Blues have pushed their franchise-best start to 15-3-3.
With this being the Blues' 21st game of the season, the second quarter of the season has officially began. The first quarter has seen some miraculous saves, exceptional goals and incredible defensive play.
Even though the team has played a solid team game, certain players have stepped up and provided the roster with spark. Although almost any player could be selected due to a major contribution, the list has been dwindled down to five players who have made a major impact to open the 2013-14 season.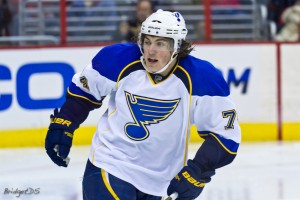 5. T.J. Oshie
In 30 games in 2012-13, Oshie accumulated just 13 assists and 20 points. Through 21 games this season, Oshie has raked in 15 assists and 18 points. Finding himself on the Blues' top line yet again, Oshie has become the prime setup man on one of the NHL's hottest lines. He recorded his best multi-assist game this season, accumulating four helpers in the Blues' 7-3 drubbing of the Colorado Avalanche on Nov. 14.
Oshie has been more than just an offensive force this season, though. The 26-year-old currently ranks fourth among forwards in shorthanded time on ice per game, appearing in 1 minute, 37 seconds on average.
Oshie, along with his five-on-five linemates, have been the face of versatility. If the Blues need offense, Oshie's line is on the ice. But if the team needs to shut down the opposing team to end the game, chances are you'll see the same forward group getting the job done.
4. Alex Pietrangelo and Jay Bouwmeester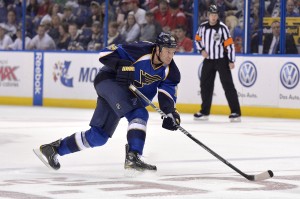 Yes, it is cheating to include two players for one spot, but the Blues' top defensive pairing has been that good. Bouwmeester is tied with Oshie and David Backes for second on the team with a plus-10, while Pietrangelo and four others are tied for fifth on the team with a plus-5.
Pietrangelo, who signed a seven-year contract extension this summer, has lived up to his name with solid defense and a return to form after a mediocre 2012-13 campaign. His 16 points are just eight scores away from his total in 47 games last season. His 49 blocked shots currently rank 16th in the NHL.
Bouwmeester, acquired from Calgary late last season, has turned out to be a key addition for the St. Louis team. He ranks first among Blues defensemen in shots (46), and finds himself in a tie with Pietrangelo for the lead in points by a defenseman (16). His 15 assists place him in a tie with Oshie for the team lead.
Pietrangelo and Bouwmeester are paired against the top forward line of the opposing team on a nightly basis. Yet, they have been one of the most dominating pairings that the NHL has seen this season, whether it is on special teams or even-strength play.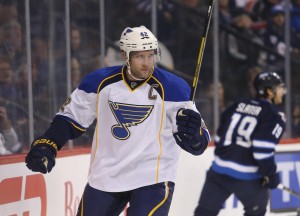 3. David Backes
What good would this list be without the captain? Although Steen is benefiting the most from the production of the first line, Backes is not far off. After posting just six goals in 48 games last season, Backes got off to a roaring start to open 2013-14, amassing that total in the first seven games. He has added three more and ranks second on the team.
Although Backes' offensive game was in question last season, his play in his own zone has always been a valuable asset to the team. He's up to his old tricks in 2013-14, ranking first among Blues forwards in blocked shots (16) and shorthanded time on ice (2 minutes, 2 seconds). He has been a threat up the middle of the ice in all three zones.
Backes has been the front runner when defending his teammates. The best example came on Nov. 7 in a 3-2 win over the Calgary Flames.
2. Jaroslav Halak
Halak deserves to be the MVP … on any other roster. Only one other player has bettered the play of the Slovakian goaltender.
Has Halak been the best goaltender in the league? No, but he hasn't had to be. The Blues' defense is allowing a stingy 25.3 shots against per game, but Halak has been there to stop the ones that get through. His 2.34 GAA and .906 save percentage don't jump off the page, but he's been solid enough to register 12 wins in 17 starts.
His performance has been nothing short of clutch. Take Thursday night – he made two saves late in the game to give his teammates a chance to win the game. These are highlighted below:
Blues fans who didn't think they saw the Halak that former President John Davidson acquired in 2010 are seeing him now.
1. Alex Steen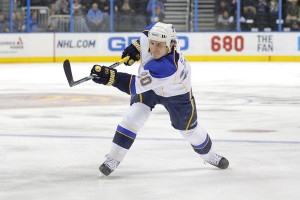 If it weren't for Halak, Steen would be the runaway winner. The former Maple Leaf posted a 13-game point streak between Oct. 17 – Nov. 17. Earlier this week, Steen was the league leader in points (26), and is currently tied for the league lead in goals (17). He has truly been one of the best surprise stories of the NHL in recent memory.
[See related: Introducing the New Alex Steen]
Steen has been shooting often and its been paying off. Despite not scoring a goal for the past three games (with the exception of the shootout), Steen has been Mr. Reliable for the Blues.
He is not just limited by goal scoring, though. The left winger has added nine assists this season, including some memorable setups to his teammates. He was instrumental in Roman Polak's second goal of the season on Nov. 12.
Still, the much-needed goal support cements him as Team MVP. His game-winning goal on Oct. 29 against Winnipeg  displays what Steen has done to open the season.
Other contributors Vladimir Sobotka, Derek Roy and Vladimir Tarasenko could make a case for this list, but the usual suspects have been front and center for the streaking Blues.
I am a former NHL media member and reporter for the St. Louis Blues, working for various media outlets. Currently, I am an NHL News Writer and Editor for The Hockey Writers. I live in St. Louis and work as a freelance copywriter in numerous industries.