It was shocking to see the New York Islanders let grizzly forward Matt Martin walk into unrestricted-free-agency, but that's the nature of hockey, good teams loose players they like because the organization has to move in a different direction. Barring something wild, Martin will wear another jersey next year, and just recently reports have surfaced that he could end up just a train ride away with the New York Rangers. There are reasons this move makes sense, but for the most part, I don't think this would be a fit. So let us have a look at some reasons why this doesn't make sense for New York, at least not right now.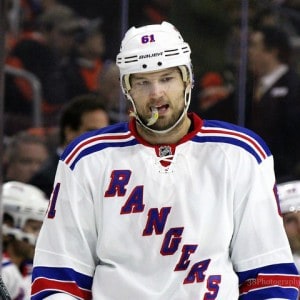 Bigger Holes
When the Rangers were obliterated in the first round last postseason against the Pittsburgh Penguins, the last upgrade that the team seemed to need was some grit on the fourth line. They did, however, need help on defense, on forward and even in goal, so it's difficult to see the Rangers going out and getting into a bidding war for a guy to sure up the fourth-line when the team is looking for high-end skill through both trade and free-agency.
The Rangers have been rumored to be shopping Rick Nash, not so much because of his play but because he carries a $7.8 million dollar cap-hit. The dominant thought has been that the team would move Nash even for less than he's worth so they could spread money into areas where they're deficient. With high skilled players getting paid hefty sums the Rangers know that they will need some bankroll to compete, and if the club feels like they need a bruiser, well that might be the area to go cheap, or even find someone from within. Which brings us to the second point.
The Rangers Already Have Matt Martin
That's right folks the Rangers already pay Matt Martin, and his name is Tanner Glass. Now before you dive through the computer screen after me just think about it. Large quantities of Rangers' fans criticize Glass for absolutely everything he does but the fact is that he's only a slight downgrade from Martin. Now Martin did lead the NHL in hits last season with 365 which averages out to 4.6 per game; Glass on the other hand laid 224 hits on opponents which averaged out to 3.9.  Martin played in 80 games last season, which is 23 more games than Glass played, logging about 10:33 per game, while Glass pulled in 10:17 on average.
Now I'll give Martin this; he did have 19 points last year compared to seven points for his counterpart, but the question you need to ask yourself is, whether or not the Rangers should be tying up even more cap space on a player who won't crack 11 minutes every night. Even if they were to bury Glass in the minors and sign Martin, they'd likely be paying close to $3 million for a grinder, and that's being generous because I think Martin will get real money.
On a side note, I'd say they are about even when it comes down to dropping the gloves.

My Take
If the Rangers are anything right now, they are a team in a bit of an identity crisis. Last season they tried to be a fast puck moving team, but instead, they were a slow, disoriented team. This speaks to a disconnect between personnel and management. I don't think anyone's to blame; sometimes organizations need to recalibrate on the fly. When teams do this, they need to address the central problems and build the team from the stars down to the grinders, not the other way around. I'm not saying that Martin is a poor player, or that he's not worth the money, I just don't think he's the right investment for this team right now.
I graduated from Brooklyn College with a B.S. in Broadcast Journalism. Shortly after, I began writing for the Full Tilt Hockey Network, where I still contribute, covering a broad range of topics across the NHL.
I have been contributing to The Hockey Writers since February of this year focusing on the New York Rangers. My articles tend to focus on analysis of players, and possible directions that the organization could go.