We know what Matt Read can do. We've seen what he's capable of. Entering the current season, the right winger's 111 points in his previous 196 games is the body of work everyone anticipated to continue. But since recording points in three of Philly's first five games, Read's offensive production hasn't been the only area of his game that's led to concern.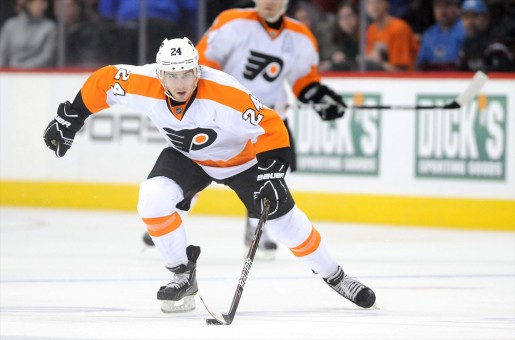 Matt Read: Then & Now
With two goals and six assists through 23 games, Matt Read has been downright unrecognizable. As the Flyers inch closer and closer to the league's basement, Read's absence from the scoresheet would be enough to land the 28-year-old on the side of a milk carton in a different era.
Scoreless in his last four, and seven of Philadelphia's last nine, the 5-10, 185 pound forward finds himself in a slump that matches none of his previous three seasons in orange and black. Unfortunately for the Flyers, who find themselves at 8-12-3 as they head out west, Read's MIA status is contributing to the team's epidemic in secondary scoring, or lack thereof.
Secondary scoring. Where is it? They have too many players who have either no goals or one goal over their last 16 games. Sean Couturier has four goals this season. Matt Read has two. R.J. Umberger has one. Vinny Lecavalier has two. Zac Rinaldo has none. It's embarrassing when defenseman Nicklas Grossmann, that offensive dynamo from Sweden, has more goals (two) than some of the forwards. — Tim Panaccio, CSN Philly
With Jakub Voracek and Claude Giroux combining for 59 of the Flyers' 172 points, and five skaters with points in double-digits, scoring has been scarce from the three lines south of the top. And even with the mixing and matching of lines throughout the lineup in the early going, much of Read's scarce scoring has been attributed to being weighed down by linemates, such as R.J. Umberger.
That by itself is hardly a viable excuse. After all, Read was able to muster up 40 points on the nose last season while he and Couturier skated alongside last year's castoffs in Max Talbot, Steve Downie, Tye McGinn, and Jason Akeson. And with Couturier himself matching Read's eight points through the first two months, there's certainly more to it than merely passing the buck.
Nicklas Grossmann has the same number of goals as Vinny Lecavalier and Matt Read and one more than R.J. Umberger. #FlyersTalk

— Tim Riday (@TimRiday) November 29, 2014
Read's basic numbers through 23 games are disappointing, even with no past work to compare them to. In contrast to last season, however, Read's two goals and four assists up the ante.
While the team sputtered out of the gate to a franchise worst 1-7-0 record last season, Read was held scoreless with a minus-six rating through the first eight games.
With Talbot shipped to Colorado, Read would go onto finish his next 15 games with 10 points and a plus-five rating, while remaining on the team's shutdown line. Read's 10 points through 23 games last season were not only better than his eight points through the same time span this year, it was done while spotting the current season eight games of scoreless hockey.
The 2012-13 season would only require nine games for Read to match his current eight points, all while beginning his second season in the league with three straight scoreless tilts. In his rookie year, the threshold to reach eight points was 13 games. That was, of course, after reaching six points in his first seven games, thanks to a four point performance against Ottawa.
The silver lining, offensively speaking, can be found in the fact that Read was able to locate his scoring touch last season after the already mentioned eight-game scoreless drought. To date, his longest drought is five games. And despite last scoring a goal on Nov. 15th against Montreal, GM Ron Hextall says he's yet to give up on Read and his teammates.
"I haven't lost any faith in this team, but with saying that, we are not happy," said Hextall.
"Offensive" Defense?
Despite offering two 40 point seasons in three previous marathons, scoring is hardly the component that drives Matt Read's game. Sure, the offense he's flashed in the past is part of the whole. But his time spent with Sean Couturier on Philadelphia's shutdown line, along with his six career shorthanded points, spotlights the two-way skill that made him such a find as an undrafted free agent out of Bemidji State University.
It was Read and Couturier who played such a key role in Philadelphia's seventh ranked penalty kill last season. And it was Read and Couturier who combined for nine shorthanded points. Read's contributions also helped enable the Flyers to kill off 268 of their opponents' power plays out of 316 shorthanded deployments.
The Flyers' PK unit to this point, on the other hand, has been the polar opposite – even with Read and Couturier present. Philadelphia's 73.8 percent penalty kill through 23 games is not only dead last in the league, it's enough to gain the glaring attention from an array of analysts alike.
https://twitter.com/BarstoolJordie/status/538400694836162560
In a discussion on which Flyers forward needs to elevate his play entering December – on CSN Philly – producer/reporter Sarah Baicker nominated Read. And while the Flyers have plenty of issues to have multiple correct answers, Baicker's validation comes from both his vanished scoring, and his uncharacteristic defense – seen on the team's disastrous PK unit.
… I'll go with Matt Read. Why? Because not only have his numbers been disappointing (two goals, six assists, minus-6), but unlike in past seasons, his defense hasn't been a bright spot. Read has been all but invisible on the ice much of this season, and he's been guilty of a few costly uncharacteristic mistakes. It's critical for the Flyers' offensive depth to extend beyond the first line, and for much of this season, that hasn't been the case. Last season, Read was one of seven Flyers with at least 20 goals. At this rate, he won't be among the 20-goal club in 2014-15. Not even close. — Sarah Baicker, CSN Philly
In 23 games, the Flyers have allowed 21 power play goals, while ranking 11th in the league in PIM per game. In 82 games last season, the PK unit allowed 48 power play goals as the NHL's most penalized team. Not only are the Flyers well on their way to eclipsing last year's mark of power play goals allowed, they're on pace to do so while being significantly penalized less.
Does that fall solely on Read's shoulders? Hardly. But as a part of that unit, he certainly isn't exempt from any of the responsibility either.
From an overall defensive perspective, Read's minus-six rating is anything but an accurate depiction of poor defense. After all, a negative plus-minus from a member of a team's shutdown line isn't surprising whatsoever. And while Read finished the season last year with a minus-four rating, the possession numbers between this year and last, give a clearer picture.
With everything considered, Read is on pace for career-low's in just about every five-on-five possession category. But with the number of defensive zone starts jumping through the roof, Read's performance to this point may just be the result of the domino effect caused by the team's all-around deficiencies.
Matt Read's Impact
As illustrated above, Matt Read's current struggles may be indicative of the team's performance out of the shoot. Last season, Read was held completely scoreless through the team's abysmal 1-7-0 start. And while Read started this go-round with four points in Philadelphia's first seven games, he's been held to just one point in his last seven games.
Big deal, right? Think again. The Flyers are 5-3-0 in games Read gets his name in the newspaper, aside from sitting in the penalty box. And since Oct. 18th's overtime victory in Dallas, Philly is 5-1-0 when Read collects a point.
If there's one guy I've been disappointed with most this year, it's Matt Read. He's a guy who can step up, and the Flyers need it big time.

— Charlie O'Connor (@charlieo_conn) November 27, 2014
Last season was no different. While the Flyers climbed out of the gutter, the Flyers were 20-6-2 when Read notched a goal and/or an assist. Equally as telling perhaps, the orange and black went 2-1 in last season's quarterfinal round against the Rangers when – you guessed it – Matt Read recorded a point.
While nobody will mistake Read for either Claude Giroux, or Jakub Voracek, the Flyers desperately need to get the Middlesex Centre native going – and for more than one reason.
"It's really evident that we're not skating like we can and not making plays like we can, with speed," Flyers head coach Craig Berube said upon the team's upcoming trip out west. "It's confidence, a lot of it, but they have to find it. It's my job to help them get it. … You've got to man up and win hockey games."
Confidence can go a long way. Possibly even further than expected. Unfortunately, that well has run dry for the Flyers. But for a team that's falling apart at the seams, a good bounce for Matt Read could potentially be the match in the rain forrest for a team that's only three points better than the league's lowest point total.