Every player's journey to the NHL is always unique and for a large majority of them once they are in the league their careers are filled with ups and downs. Steve Bernier is no different but the 29-year-old has shown a lot of perseverance to stick around in the NHL after many had written him off. With the New Jersey Devils, the Quebec City native feels he has found a franchise that is a perfect match for his style of play and his personality as well.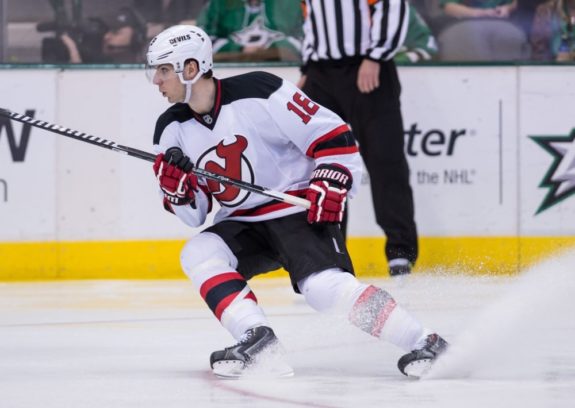 Bernier was a first round pick by the San Jose Sharks in the 2003 NHL Draft (16th overall) and played three seasons with them before he was traded to the Buffalo Sabres for Brian Campbell in a pre trade deadline deal in 2008. At the end of that season the Sabres traded him to Vancouver who traded him to Florida two seasons after that. The Panthers never re-signed him after one year and he came to New Jersey on a tryout in 2011; he's been there ever since.
The Hockey Writers spoke with Steve Bernier prior to the Devils game vs. the Detroit Red Wings and we found out what it was like to play hockey in Cleveland, what it's like to be traded and why he only scored 49 goals one year in Junior hockey with Moncton among other things.
The Hockey Writers: This season has been quite the journey for you so far, hasn't it?
Steve Bernier: Sometimes things don't go the way you actually want them to; but everything happens for a reason. Once I went to Albany, I played (I think) the way I should have played and improved in a lot of areas. Since I've been called up (to New Jersey) I try to play every game like it's going to be my last one, because you never know in this league what will happen next. That's just the way I am thinking.
Steve Bernier beats one of his former teams in overtime for a 1-0 Devils win:
THW: You're no stranger to playing in the AHL, we did our homework and saw that you played 49 games in Cleveland in 2005-06; what was that experience like?
SB: It was a really fun experience; we had a blast there. We didn't win enough games there but I met some great guys. They have a great rink there, great practice facilities; it's a great city.
THW: You were a first round pick in 2003, what do you remember about that day?
SB: For sure the draft I will always remember, it was in Nashville; as a kid that's all that matters is you get drafted. It doesn't matter where you get drafted (position wise) you just want to be drafted and be part of a great organization.
THW: What do you remember about your first NHL goal? Do you have the puck?
SB: My first goal was against Dallas, at home, in San Jose; I'll always remember that one (smiles). I have the puck at home. In San Jose when you get your first goal, first assist, etc. they have a guy that does trophies — so you get a trophy with the puck mounted on it. It's very nice. I still have those for sure.
"I double welcome you to Buffalo, Steve Bernier!"
THW: You have been traded a few times in your career; do any of them stick out more than other? What was the first one like?
SB: It was hard. We had a great team in San Jose, we were in first or second place, had a chance to go win the Stanley Cup; and I got traded to Buffalo — fighting for a playoff spot, on the bubble and probably not going to make it. So that was a shock for sure. That was my first time in my career, my entire career — even Juniors — that I got traded. It was difficult but at the same time Buffalo is a great city for hockey so I adjusted fairly fast.
THW: We assume it doesn't get easier right as the trades go on, right?
SB: Ahhh (laughs) it's a feeling that you cannot explain…one part of you is disappointed because you met so many good people and stuff like that; and the other part of you is happy because one team wants you and it's a new beginning that's starting. So you kind of always have that mixed feelings all the time.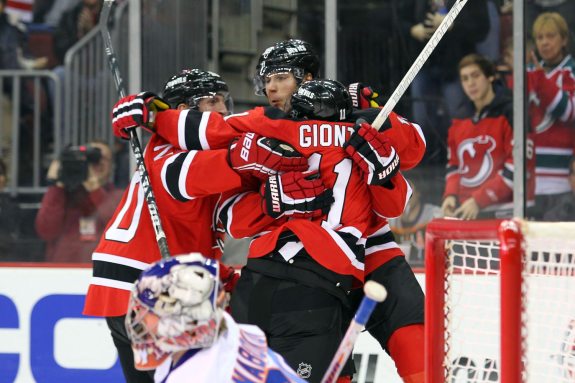 THW: You've been with this franchise for over three years now; do you feel like you've found a home, despite being sent to Albany in the AHL right before the season started?
SB: Yeah I like the way our organization does things. I know for a fact that I have a role here, and I have to do that role. Even if I get sent down there again, the most important thing is to keep working hard and you might get another opportunity.
THW: When you were sent down did you ever thing maybe it would be better if another team claimed me on waivers?
SB: I would have been surprised if I had gotten claimed because at the time I got sent down, there were a lot of other players going through waivers also. It was the last day before the teams had to set their lineups, so I knew I was going to go down (to Albany); the other teams already had all of their players. In my mind there was no doubt that I was going to do everything I can to be back here (in New Jersey) because that's where I want to be; not anywhere else.
THW: We did some more research on you Steve: in 2002-03 with Moncton of the QMJHL you scored 49 goals; what happened man? You couldn't get 50??
SB: (Smiles and laughs) I know! It was close, I had a breakaway and a penalty shot and I couldn't get there. It was a great year that year; we had a good team and everything was going in. Every teammate that I was playing with the puck was going in for them as well. So when you have all those things together, that was a good year for stats; let's put it that way. I did get to 101 points though, that was a very good year – that was my draft year as well so it may have helped (my draft status) as well.
Dan Rice can be reached via Twitter: @DRdiabloTHW or via Email: drdiablo321@yahoo.com