When Claude Giroux professed his playoff guarantee back in October, the Flyers were 1-7-0, while being out-scored 24-11 throughout their first eight games. The Flyers were out-of-sync, sloppy, and often looked discombobulated against Phoenix, Detroit, Vancouver and Pittsburgh. But as we've seen before, when Giroux says it's so, it must be so.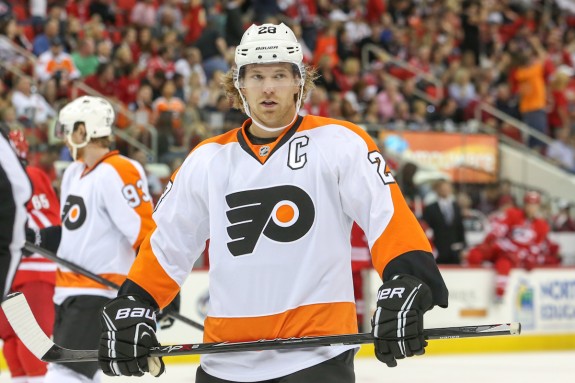 The Playoff Guarantee – Leadership 101
As Claude Giroux goes, so goes the Philadelphia Flyers. The correlation between Philly's worst start in franchise history and Giroux's slowest career start to a season is no coincidence. The Flyers were 1-4-0 before the captain notched his first point of the season, and were 4-10-1 before he scored his first goal of the season against Edmonton. But despite a less than pedestrian start from both he and the team, the face of the franchise stood tall when Philadelphia had more faith in the 76ers.
"We will make the playoffs. We're not far off at all. How many points are we out, six?" asked Giroux. "To think of the start that we had and we're that close . . . we never thought about not making the playoffs. We've got to go game by game and we will make the playoffs."
The rest, as you know, is history. So how exactly did Giroux make good on his playoff guarantee? Leadership.
"We definitely struggled as a team the first 10, but he's been confident," said teammate Scott Hartnell. "He's been leading us on and off the ice and just been fun to play with. Every game he's excited to play and he's got that fire in his eye. It's great to be a linemate of him and teammate of him."
#Flyers are now 20-2-1 when Claude Giroux scores a goal and 33-14-3 when he registers a point.

— Whiz Wit Sports (@WhizWitSports) April 9, 2014
Flyers win 5-2, clinch a playoff spot, just like Claude Giroux said they would back in October.

— Dave Isaac (@davegisaac) April 9, 2014
So how is Giroux exactly leading his team? Consider the staggering numbers. The Flyers are 20-2-1 when their captain dents the twine, and 33-14-3 when he registers a point. When Giroux flipped the scoring switch, the Flyers started winning hockey games. The same Giroux that went 15 games without a goal now sits fourth in the NHL scoring race through 79 games with 81 points.
"Since Giroux made his promise, the Flyers are 40-22-9. With the Columbus Blue Jackets nipping at their heels and each game becoming more important down the stretch, Giroux played some of the best hockey of his career. In the past 12 games, he has 12 points, including two goals in Tuesday's win." — nj.com
"He's one of the best players in this League and I think he's shown that time after time," said fellow forward Wayne Simmonds."… I think people were doubting him earlier this year and I think he has definitely proved himself. He's been awesome. He's a great leader and he works really, really hard. He's a great example for all of us to follow."
The Playoff Guarantee, Not The Final Goal
Although Giroux made good on his playoff guarantee, the final goal remains to be earned. And while Giroux knows what it's like to rise to the occasion in big games, demanding the first shift in 2012's quarterfinal against Pittsburgh, he also knows what it's like to come up short. After planting Sidney Crosby on his wallet and scoring within the first 32 seconds of game-six against Pittsburgh, Giroux and the Flyers ended up falling to the New Jersey Devils in five games in the very next round.
Although Giroux was not healthy for the semifinals that year, losing to the Devils still turned out to be a low point for "G." Giroux, who did not play in Philadelphia's elimination game due to a suspension for his hit to the head of Dainius Zubrus, was left with few words.
"It should have been a tighter series," said a disappointed Giroux.
After missing the playoffs in last year's lockout-shortened season, the Flyers are back in the race for the Cup, finding little satisfaction in just being invited to the dance. If the message wasn't clearly delivered before, it certainly was at a recent practice when Giroux personally extended the session to work on a power play that has become inept.
"The team's scheduled afternoon practice was coming to an end when Giroux joined his usual power play unit mates in gathering around Hall of Fame assistant coach Joey Mullen, who seemed to be diagramming something on a dry erase board hanging on the glass straight from his wealth of knowledge. When Mullen finished making his point, Giroux insisted practice wasn't over. He called everyone back onto the ice and insisted Mullen's thoughts needed to be put into action for a few minutes more." — Daily Local News
Giroux, Timonen, Voracek, Hartnell, Vinny and Streit having a meeting with PP coach Joe Mullen at the white board during practice.

— Frank Seravalli (@frank_seravalli) April 9, 2014
Post-Playoff Guarantee
The Flyers will use their remaining three games of the regular season to jockey for seeding position. Two of their final three opponents also happen to be against Eastern Conference playoff teams in Tampa Bay and Pittsburgh. With the Columbus Blue Jackets equalling their 91 points, the Flyers will need to find a way to pull out points with their game at hand they hold over the Jackets.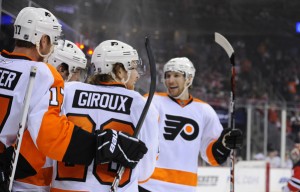 This task won't be easy, however, since the Flyers are a combined 3-5-1 against the three. But despite their struggles against the teams that remain on the schedule, it's also a chance to not only enter the playoffs with momentum, but a much-needed reminder to a team that that has already proven that they can beat anyone. Philadelphia will want to finish as high as possible in the standings, especially since they're a combined 10-12-1 against all Eastern Conference playoff teams.
The Flyers, of course, will want home ice advantage since they're considerably better at the Wells Fargo Center than on the road. At home, Philly boasts a 24-14-2 record; on the road, they're less impressive, showing a 17-15-7 mark.
"Anytime you get home-ice advantage, especially when you're the Flyers, when you play at home the fans are pretty nuts," said Giroux. "It gives us a little more motivation."
Motivation is one thing, but results are another. But then again, maybe the man who gave us the playoff guarantee knows more than we do.
"I just believed in this team," declared Giroux. "Last year, not making the playoffs was unacceptable."