The Hershey Bears (37-25-4-4) are feeling pretty good about their play of late. They've won five straight games and their defense has substantially improved, up to 11th in the league, allowing 2.79 goals per game. However, Hershey's last three victories all came against teams that are currently out of the playoffs. What's concerning is all of their wins were one goal games, while not bad, they came against inferior teams, including the AHL worst Portland Pirates.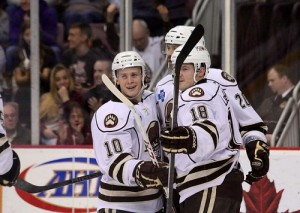 It's unknown who is the Bears' starting goalie come postseason time, but Hershey must wait to make that decision until they get into the playoffs, if they do at all. The Bears have a one point edge on the Norfolk Admirals for the eighth and final postseason seed in the Eastern Conference, while both teams have six games left on their respective schedules.
Hershey embarks on their toughest week this season, playing Binghamton twice in a home and home series and visiting Springfield to take on the Falcons, AHL affiliate of the playoff bound Columbus Blue Jackets. The two clubs have a combined record of 85-44-2-10.
One big time concern for Hershey right now is their diminishing power play. They were once entering the top third in the AHL on the man advantage, but have fallen to 22nd in the league, at a 15.9% conversion rate. They've allowed the third most shorthanded goals this season, with their 12 only better than St. John's and Adirondack.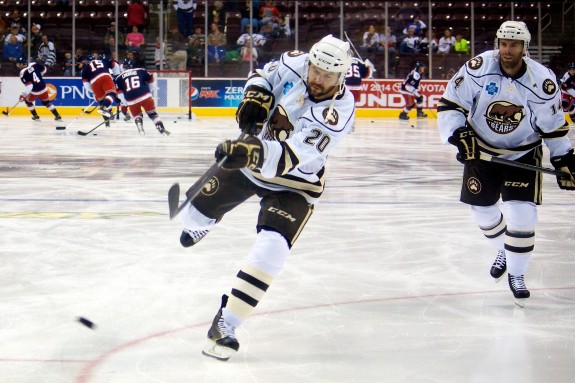 This week is a test of where the Bears have come in recent weeks, although a 1-2 finish in this three games in three nights stretch would equal doomsday. Their struggles at the beginning of the season could came back to crucify them. Hershey would surely have to sweep their two game road set in Norfolk and beat the Phantoms in their season finale next Saturday if they can't earn four out of a possible six points come Sunday evening.
Below is a weekend preview for Washington's AHL affiliate, along with some  interesting notes on the Bears' defense and an update on a few players recovering from injury.
April 11th and 13th vs. Binghamton (Home and Home)
Record: 41-23-1-5, 88 points, 3rd in Eastern Conference
Power Play: 21.5% (5th)
Penalty Kill: 80.4% (23rd)
Goals per Game: 3.67 (1st)
Goals Against per Game: 3.06 (24th)
Goalies: Andrew Hammond (23-16-3, 2.82 GAA, .909 SV %), Nathan Lawson (15-8-1, 2.99 GAA, .908 SV %) and Scott Greenham (3-0-1, 2.92 GAA, .901 SV %)
Offensive Leaders: Stephane Da Costa (58 points), Cole Schneider (52), Chris Wideman (49) and Matt Puempel (46)
April 12th at Springfield
Record: 44-21-1-5, 94 points, 2nd in Eastern Conference
Power Play: 18.3% (12th)
Penalty Kill: 86.9% (2nd)
Goals per Game: 3.28 (4th)
Goals Against per Game: 2.80 (11th)
Goalies: Jeremy Smith (21-14-3, 2.78 GAA, .898 SV %) and Mike McKenna (21-8-1, 2.45 GAA, .915 SV %)
Offensive Leaders: Carter Camper (46), Michael Chaput (40), Sean Collins (36) and Patrick McNeill (35)
Bears Links
Hershey assistant coach Ryan Mougenel breaks down the Bears' defense [Lebanon Daily News]
Both Nate Schmidt and Brandon Segal have been cleared to return from injury [Patriot News]
Winger Garrett Mitchell continues to work on recovering from shoulder surgery [Patriot News]
You can follow Matthew on twitter @m_speck and email him at mspeck21@yahoo.com with any questions or comments.