With the 2013-14 winding down, much of the focus for the Edmonton Oilers is turning to the offseason and where the team can improve for next year. It's also a perfect time to see what's in the system and which Edmonton Oilers prospects are coming through the pipeline.
Much of their elite young talent is already on the NHL roster with top draft picks like Taylor Hall, Ryan Nugent-Hopkins and Nail Yakupov having multiple seasons under their belt.
Some, like Martin Marincin, are on the verge of shedding the prospect tag and becoming an NHL regular.
The criteria for this list was essentially prospects retaining their NHL rookie status going into next season, hence why Marincin is considered a graduate and Oscar Klefbom is still on it.
1. Darnell Nurse, D, Sault Ste. Marie Greyhounds (OHL)
An exceptional skater that has great size and plays with a mean streak. Has future NHL shutdown defender written all over him and brings exactly the skill set the Oilers need on their blueline.
Has also improved his offensive game this season as the Greyhounds captain with 50 points in 64 OHL games. With the team recently being eliminated by Erie in the OHL playoffs, Nurse has been assigned to OKC to help their playoff push and further his development.
7th overall pick in 2013 NHL Draft, Darnell Nurse, will join @okcbarons for AHL playoff push immediately, as his OHL season has ended.

— Jack Michaels (@EdmontonJack) April 10, 2014
2. Oscar Klefbom, D, Edmonton Oilers (NHL)
Getting his first taste of NHL action over the last month, Klefbom has seen sheltered ice time early on but has seen climb recently, and has shown flashes of why he is one of the Oilers top prospects.
Also a defensive defenseman by trade, he plays a positionally sound, poised game and makes an excellent first pass out of the zone.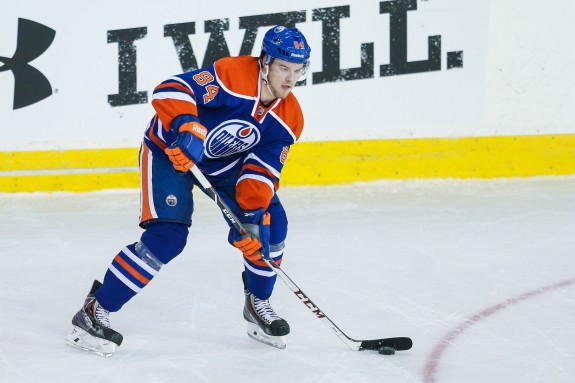 3. Laurent Brossoit, G, Bakersfield Condors (ECHL)
Brought over in the Ladislav Smid deal from Calgary, the Oilers have lacked a legitmate goaltending prospect until now. Brossoit has had a good first season as a pro in the ECHL, but has struggled in limited AHL duty in Oklahoma City.
Just one year removed from junior, Brossoit enjoyed a lot of success in three years as the Edmonton Oil Kings starter, and has the potential to have similar success at the pro level.


4. Jujhar Khaira, LW, Everett Silvertips (WHL)
A winger in the power forward model, Khaira has a nice combination of size, skill and speed. Plays a physical game and is hard to knock off the puck.
Had a successful transition from NCAA to the WHL and will finish the year with the Oklahoma City Barons in the AHL in an audition for next season.

5. Tyler Pitlick, RW, Oklahoma City Barons (AHL)
 Pitlick has battled injury and inconsistency in his first few years as a pro. This year was no different in terms of not being able to avoid the injury bug, however when he was in the lineup his play was much improved from last season and has resulted in him getting 8 games with the Oilers.
He has the skill set to be an NHL third liner. He has good size, skates well and has an excellent shot. Protects the puck well and doesn't shy away from physical play.


6. Martin Gernat, D, Oklahoma City Barons (AHL)
Often compared to Martin Marincin, due to their tall, lanky stature and the fact they are both from the same Slovakian town, Gernat is a little behind where Marincin was in terms of development.
Gernat has excellent offensive instincts and a big shot from the point. He is still a work in progress defensively and needs to improve his consistency, however he has continued to progress and impress at each level he's stopped at.

7. David Musil, D, Oklahoma City Barons (AHL)
A defense first blueliner, he is a consistent, low maintenance defender who takes care of his own end first. Won't light up the scoreboard but makes a good first pass out of the zone.
Main concern is around his skating and if he'll be a step behind at the pro level. Before Klefbom's callup the two had formed an effective shutdown pairing in OKC.


8. Mitch Moroz, LW, Edmonton Oil Kings (WHL)
A 6'3″ 215lbs power forward, the Oilers knew they were getting a raw talent and work in progress when they drafted him in the second round in 2012. His first few years with the Oil Kings on a deep and veteran team he saw limited ice time and opportunity. This year has been different and he has played a more prominent role and has thrived in it.
He has 35 goals which is second only on the team to Canada WJC star Curtis Lazar. He is also tied with Lazar for the team's playoff scoring lead through two rounds. Still developing, he can be a dominant physical presence on the forecheck and in the offensive zone.

9. Marc-Olivier Roy, C/W, Blainville-Boisbriand Armada
An excellent skater and a tireless worker, Roy is an effective two way forward. Not the biggest player on the ice, but is fearless and not afraid to go into high traffic areas.
Injuries limited him to 39 games this season, but he has been a point per game player in the QMJHL when healthy. 

10. Greg Chase, C/W, Calgary Hitmen (WHL)
A 7th round pick last year, Chase has the potential to be a steal for the Oilers. He plays a solid two way game with a competitive edge. He's a gritty player who also loves to get under opponent's skin. He also broke out offensively this season with 85 points in 70 games for the Hitmen.
He was recently added to the OKC Barons lineup for their playoff push and scored in his first game.
{See related: Greg Chase a Hidden Gem for Edmonton Oilers }
 ___________________________________________________
Follow Carl on twitter @carlTHW and Google+ for more articles