Sometimes we have to remind ourselves that Stefan Matteau is only 21-years-old, given the fact that he has played in parts of three seasons with the New Jersey Devils already. Those three seasons have only equaled a total of 36 NHL games and five points (3g-2a) and the first round pick from the 2012 NHL Draft has often found himself on the outside looking in, but he is still finding his way and like the rest of the team he has gotten a fresh start under the guidance of head coach John Hynes.
This season (in 12 games) he has only put up one goal to date, but his recent stretch of games has given him a little more confidence and it showed as the coaching staff gave him his most ice-time in back-to-back games against Carolina and Philadelphia.
"I think that Stef in back-to-back games, that was another situation that you wanted to see; I thought he had one of his best games (against Carolina) and he found a way to back that up tonight," Hynes told The Hockey Writers following the game vs. the Flyers. "He had an impact, obviously he scored a goal, but not just in points, he impacted the game — he had the puck, he played big, he was physical. It's good to see. It's nice to see him now start to get more impactful in the games and giving himself a chance to continue to stay in the lineup."
The game against Carolina was exactly what the Devils need from Matteau on a nightly basis — he had four shots on goal and saw a decent about of time on the second power play unit. For a kid that is usually on the third or fourth lines, getting power play time means playing alongside players of a higher caliber.
"Yeah, you touch the puck a little bit more, play with some good players. I'm just trying to keep it simple, but also make some plays and take some shots; just play hockey," Matteau told THW when asked how that extra time is good for his game and confidence.
The first goal of the season for Stefan Matteau came in a losing effort:
"You get the puck a lot more on the power play, you always trying to and have a better chance to score. Trying to add more of that offensive game to my game is a good thing," he said.
A player obviously feels more involved and part of the team the more ice-time he gets, and he also feels more involved when he is playing with the puck at a greater rate.
"You get into a rhythm; you get more ice time and you feel more in the game," he added. "I'm just trying to keep things simple: finish hits, make little plays and try to not turn the puck over."
The time he has spent not on the ice, when he has been the odd-man out in the rotation of bottom-six forwards hasn't been wasted time though, as Matteau has had his eyes trained on a good role model or two.
"Little plays; you look at the top guys like Mike Cammalleri – who is such a threat offensively, all year really," he said when THW asked what are some things he looks for when he has been a healthy scratch. "You try to learn what they do, how they get pucks out; how patient and poised they are. I need to move my feet and follow their lead."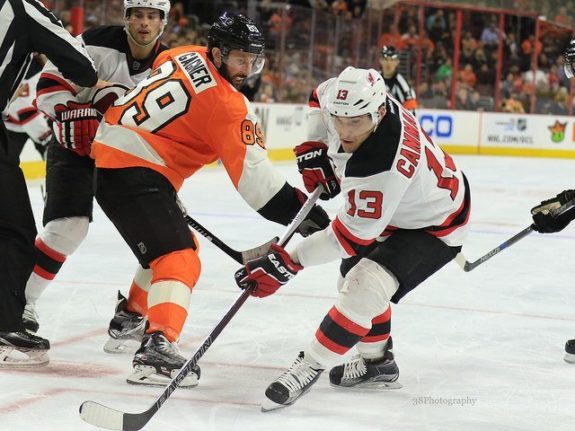 Another player he watched and watches was/is his teammate last season – Scott Gomez, who is now with the St. Louis Blues. Following the Blues' trip to New Jersey we saw Matteau outside the visiting locker room following the game catching up with Gomez.
"He was such a great leader, last year when I was up (in the NHL) a little bit," Matteau said of his former teammate smiling. "In training camp we had played together and also last year at the end (of the season) a little bit there. He's such a great person and he's been around (this league) awhile; he's just a really great person to talk to."
With 128 AHL games under his belt the last two seasons the last thing Matteau wants is to go back there, and whether he plays or not, it may be a good thing for him to stay with the big club all season for the first time in his career; complicating matters is the fact that he would have to go through waivers if he is sent to Albany and GM Ray Shero likely wouldn't want to risk losing him to another team without getting anything in return.
Another support source that the 21-year-old can lean on besides his buddy Gomez is his dad — former NHLer Stephane Matteau — who he talks to on a daily basis. "A lot," replied the younger Matteau when THW asked how often they speak.
"After every game. He's always there, just like he was there when I was growing up — he gives me little tips here and there. He's been through everything that I'm about to go through or that I've been through, so I just try to really listen to his tips. Sometimes it's not that easy because he is my father, but we have a good relationship and he helps a lot."
Again, fans have to remember that he is still a very young player, who maybe wasn't handled the right way his first few seasons, but there is no reason to think that he can not eventually become a solid, everyday NHLer (with New Jersey or another team) when he continues to grow and mature as a player. Not every player can come into the NHL and be a superstar in 1-3 seasons, everyone has a different path they take. Being on a team that is (overachieving at the moment and) almost starting from scratch again as they reboot/refresh/rebuild, etc. could be a great thing for his development as he could possibly grow into a nice player in a year or two for the Devils.
Dan Rice can be reached via Twitter: @DRdiabloTHW or via Email: drdiablo321@yahoo.com. 
Dan Rice is in his 9th year of reporting for THW & has covered NJ Devils home games for 15+ years at various websites. He began his journey working for legendary broadcaster/writer Stan Fischler from 2002-04 & completed an internship at the ECHL; he also has been writing features for the NWHL (nwhl.zone) website since 2016.