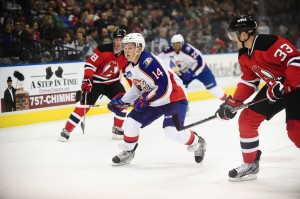 Max Friberg is having a rookie year to remember with Anaheim's top development club the Norfolk Admirals. In 41 games, his solid 23 points has him tied for third among team member Devante Smith-Pelly. There are plenty of reasons why he's been so successful in the American League this year.
One of those factors that gives him an edge over his fellow rookies is that Friberg has experience playing against men in Sweden's Elite League with the Timra Red Eagles.
During his 103 game stint in the SEL, he netted 26 points. Max may not have racked up jaw dropping numbers, but he gained experience that proved valuable when Anaheim assigned the Skövde native to Norfolk this fall.
The right-handed shot explained how his SEL experience is proving to be valuable during his rookie campaign, "My style of play fits the North American style of play better than back home. I had two rough seasons with my team in Sweden. You learn a lot from rough times and I think it makes you stronger moving over here."
Friberg's 23 points over 41 games needs no words for why his style of play is a better fit for North America. The 5'11" left-wing shared why his rookie season is becoming a season to remember, "My teammates are great. I've enjoyed playing on the fourth line or first line. They help me a lot and I work hard in the gym and on the ice too. It's always nice when you have a good game and when you get results."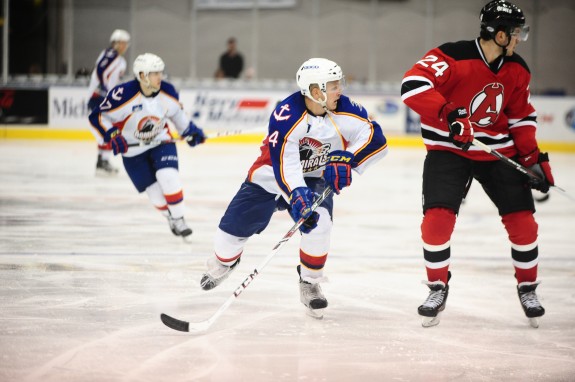 Part of his offensive on-ice flair is due to great team  chemistry as Max explains it, "We have a good group of older players here even sophomore's like Chris Wagner and younger guys that have been in the league for a few years now like John Kurtz. They help me with the small things and maybe correct you a little bit and that helps a lot."
According to Friberg he spends a lot of time working on becoming a better communicator and being a normal 21-year-old. "We always go for lunch, try to catch a movie, and go grab a coffee somewhere. Lately I've been reading some books," noted Max
Max struck gold with team Sweden in 2012 at the World Junior Championships; however; this year Sweden was defeated by Finland. While the 195-pound winger was ineligible to play because of his age this didn't stop him from talking about the defeat, "I thought they were going to win. They had a great team and they played at home in Sweden as well. It would've been great if they had won. We won when I played," chuckled Max.
Along with many other players in the AHL, Max strives to improve his game to reach the NHL in the future. Friberg talked about his development, "I think I have the work ethic and I always do my best out there. I try and find scoring chances, try to create scoring opportunities, put the puck in the net, and try to get some offensive development as well."
With a stellar rookie season transforming for  Friberg it's possible for him to surpass the 30 to 40 point plateau before April 19th the day that the Admirals end their regular season against the Binghamton Senators.
Follow Ted on Twitter- @bauerhockeydude