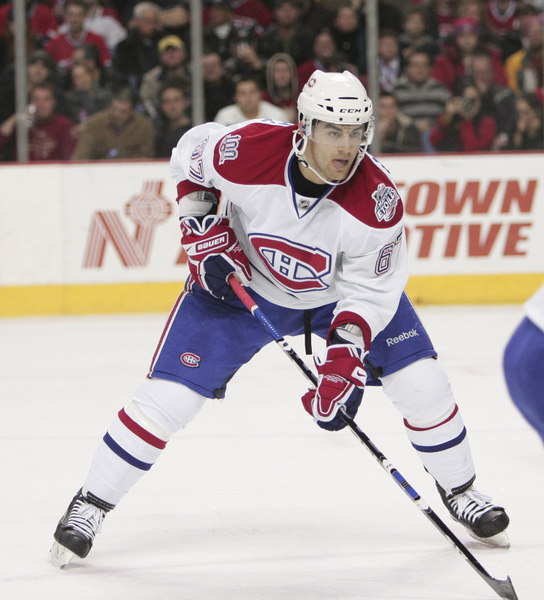 Depending on whom you speak with on the street, Montreal Canadiens' forward Max Pacioretty
A) Has super human healing powers earning him the nickname Wolverine, and/or
B) Is hurt quite frequently and normally plays hurt, and/or
C) Just hasn't found his game and consistency yet this season due to injury, and/or
D) Is still early in his career (he's 24) and has had unrealistic expectations placed on him so far, and/or
E) May not evolve into what the Montreal Canadiens expected he would.
While I'd argue for any of the above, what I'd argue for most is option E. Pacioretty won't evolve into what the Montreal Canadiens expected he would. He'll be greater than the expectations placed on him coming into the league, and in my opinion, in a different role.
What exactly were those expectations? Take a look. Pacioretty molded his game after Keith Tkachuk, one of his favorite players growing up.

Who is Max Pacioretty and What Will He Become?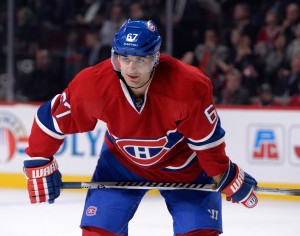 Let's get some of the minor details out of the way. Max Pacioretty is a good hockey player. At 24 years of age he's just entering the prime window of his forward career. A time when most will be looking for increased production from him. His career numbers aren't horrible in any way, but they likely don't match the expectations of most.
At 6'2″ and 217 pounds he is considered a power forward on paper, and has been touted as such since his AHL years. However, I'll argue that's not his game. He's fast, and big, yet I'd argue the much smaller Brendan Gallagher plays more of a power forward style than Max.
I find Pacioretty has an increasing tendency to test defenseman to the outside, along the boards, using his speed to his advantage. Less frequently than earlier in his career does he make an inside move or drive to the net. Don't get me wrong; when he drives the net, he goes there with gumption. It just doesn't happen as frequently than in the past.
His last hard drive into the center of the ice in a game against Winnipeg resulted in an 8 game layover on the injured reserve list. A strained hamstring. He has been held pointless in his 4 games since returning.
Video of Max Pacioretty Injury Against Winnipeg Oct. 15, 2013
More Power Forward or More Sniper?
What if Max Pacioretty evolved into the sniper role that the Canadiens have been missing for quite some time. How about a hybrid "power sniper"? I'm not trying to create a new category of player, but I'm suggesting that this is the future of MaxPac.
Instead of debating at length, I'll point you to some excellent video work compiled on all 15 of Pacioretty's goals last season. Reviewing his 2012-2013 goals I count 9 of his 15 as being sniper-like. The 9 goals are pretty much at the faceoff dots or higher in the offensive zone, and Pacioretty didn't face much traffic getting to his scoring position.
I count only 3 as being what I would characterize as being from a power-forward. 3 goals fit into neither category in my view. Here is the first set of videos for your review (8 of his goals). Here is the second set of videos (the remaining 7 goals).
MaxPac Game and Scoring. Is This a Career Year?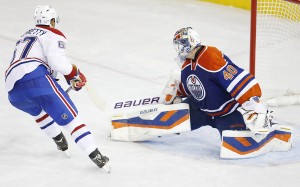 Pacioretty has a powerful skating stride and an excellent wrist shot. The speed of his release (down tempo) doesn't match the speed of his shot (up tempo) resulting in a surprise for most goaltenders. The puck is on them faster than they would have expected.
His declining Shot % over the past 4 seasons 12.5%, 11.5%, 9.2%, and 6.3% so far this year, demonstrates that accuracy may be an ongoing concern. Or choice of shooting position in the offensive zone. Both things he can easily improve in my view.
So, what of his scoring numbers? This season Max has 2G-1A for 3 points with 32 shots in 9 games of the 18 played by his team so far. Those aren't yet star power forward numbers, or star sniper numbers. Let's look to seasons past.
Pacioretty scored 15G-24A in 44 regular season games last year. He also battled a prolonged opening goalless slump until a fluke bounce allowed him to throw the monkey off of his back.
Video of Max Pacioretty Breaking an 11-Game Goalless Drought for First Goal of Season
Consider that that goal was his first of the season, in the team's 11th game. He ended the season with 14 more goals in the remaining 33 games. Almost a 0.5 goals-per-game pace.
He had a 33G-32A in 79 games of the 2011-2012 campaign. 14G-10A in 37 games the year before that, while also spending 27 games in Hamilton playing for the Bulldogs.
Pacioretty's 65 point performance in 2011-2012 stands out as his career pinnacle to this point. Can he top that in the 73 games he has the potential to play this year? He'll need to stay healthy and produce at more than a point per game rate to do so.
Take Notice of How Pacioretty Really Plays
Pacioretty is young and his game is still evolving. He is confident and powerful. He has a great release and shot. Therrien has also started using him on the PK. An attempt in my view to keep the 24 year old active throughout a game, rather than only during the PP or 5-on-5.
What I think we'll notice throughout the year is how Max scores the majority of his goals. I'm personally going to stop referring to him as a power forward. If the past provides any indications, when his shot goes in the net it's likely he's not standing in the blue paint or driving to it. That's Gallagher's office.
Lead Writer for the Montreal Canadiens at TheHockeyWriters.com. Also, tracking man games lost data for pro sports at ManGamesLost.com. PhD in cell biology from McGill University. Lifelong Habs fan.