For the first time since his injury, Dave Bolland spoke about what happened and how he's doing.
It's a scary thing to have your ankle cut open. There's another NHL player who has a bit of a clue how Bolland is feeling right now.
Hope you doing okay man. I feel for you. Wish you all the best. @DaveBolland

— Erik Karlsson (@ErikKarlsson65) November 4, 2013
In case you missed it, take a look at the injury from two weeks ago:
Something even more scary about this incident is the fact that Bolland was wearing Kevlar socks during the game. Had he not been…well, it's hard to imagine how bad the injury would have been.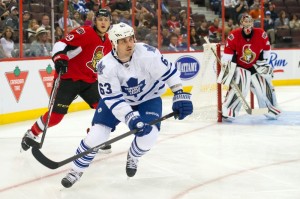 The pivot's return date is not yet clear. "I will be on crutches for a month," Bolland said. For now, it's probably safe to say that Bolland won't be able to return to the lineup for a few months, but is likely to be back when it matters – the playoffs.
Bolland put no blame on Canucks winger Zach Kassian, whose skate caused the injury. It's a sign that Bolland has developed into a more mature player since his Chicago days, especially since his rocky relationship with the Canucks. Bolland is infamous for his "Sedin sisters" comment back when he was still a Blackhawk.
The play was fast, and as you can probably tell from the video above, it's difficult even to really even see the injury. In fact, Kassian didn't even know that his skate had sliced Bolland's leg until he was told after the game that Bolland was sent to the hospital.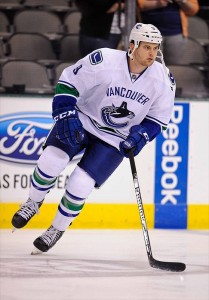 One story that has popped up is the fact that Kassian has not made any efforts to contact Bolland personally to apologize. It seems commonplace these days for players who cause injuries to reach out to those they hurt. Matt Cooke apologized to Erik Karlsson after a very similar incident last year. Jesse Winchester contacted and apologized to Chris Kelly after an elbowing incident earlier this year.
I know that it seems like I'm nitpicking, and it's not like an apology to Bolland would change what happened. But I believe Kassian does need to be careful of his image to the hockey world at large. What general managers, coaches and fellow players think of someone like Kassian can make a huge difference off the ice. 22  points (15G) prorated over a full season from a fourth liner? Yes, please.
One example of reputation harming a player is when Buffalo waived Pat Kaleta earlier this year. Many people give Kaleta flak for being a dangerous player who has no place in the game. Lost in all the hatred for Kaleta is the fact that he's actually a decent NHL bottom-6 player. His best season was when he scored 10 goals and 5 assists in 55 games back in '09-'10. He does have a place in this league, if he can reform his image.
Back to Kassian – a young player who plays with an edge. Nothing wrong with that, but let's face facts – very few players play their entire careers with one team. For his own sake, Kassian should at least make an effort to try and not follow the footsteps of players like Matt Cooke or Raffi Torres. Both Cooke and Torres are in fact very good hockey players, but history will remember likely remember Cooke for the Savard and McDonagh incidents, and Torres will forever have the Stoll and Hossa incidents hanging over his head. And let's forget how many people loved Todd Bertuzzi before the Steve Moore altercation.
Kassian has all the tools to be a great NHL player, but let's hope he doesn't fall into the same hole that so many power forwards fall into.
Alex is a Lead Writer for the Toronto Maple Leafs. Since joining the Hockey Writers, he has also briefly covered the Carolina Hurricanes. He also currently works as an assistant for the Western Mustangs at the University of Western Ontario. Follow him on Twitter @alexmai11.