The team that was once synonymous for handing Rick DiPietro an egregious 15-year, $67.5 million contract is no longer the punch line to the common hockey joke. The New York Islanders swung for the fences early in this year's free agency period, as they now take their lap around the bases. But can the Isles reverse their destiny in just a single offseason? Or will the stagnant Flyers continue to taste success against an Islanders team that hasn't been past the first round of the playoffs since 1993?
Part VII of a seven-part series gauges the Flyers against their Metropolitan Division opposition, the New York Islanders.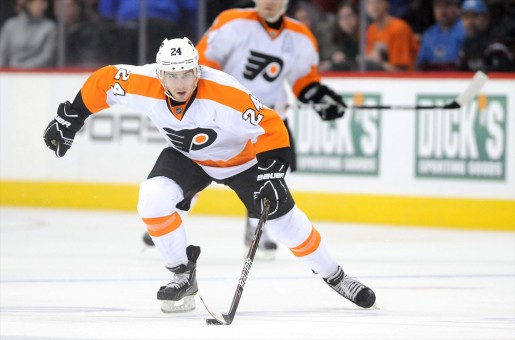 More 2013-14, Please
Coming off of a 34-37-11 record last season, it comes as no revelation that the Flyers handily dealt with the Metropolitan Division's doormat, going 3-0-1. After all, only the Buffalo Sabres, Edmonton Oilers, Calgary Flames, and Florida Panthers had fewer points than New York's 79. And even though the Flyers embarked on their worst start in franchise history, the orange and black were able to outscore their foes from Long Island by a 19-12 margin.
All three of Philadelphia's three wins against the Isles were decided by a margin of two or more goals, as Matt Read plagued Jack Capuano's team by scoring six goals.
"I didn't know that, but I guess that's pretty cool," said Read after being informed of his season series performance back in January. "But it doesn't matter who you play. You try to do the same ritual or same routine every game, and prepare yourself the best you can to help your team. I just got a couple of lucky bounces against these guys, I guess. Who knows?"
Matt Read has 48 career NHL regular season goals in 164 games. 10 goals have come in 14 career games against Islanders.

— Bill Meltzer (@billmeltzer) January 20, 2014
Read's brilliance against the Islanders was capped off with a multi-goal showing on Jan. 20th, which included one of his four shorthanded goals scored on the season.
Philadelphia's lone blemish against the Isles last season spoiled Read's multi-goal game, as New York overcame a two-goal deficit in the third period to force an overtime and shootout stanza. While the shootout loss marred the Flyers' chances of a clean sweep, it didn't stop them from earning points in all four contests.
Despite the series outcome, the Islanders still got contributions from the lineup with five skaters registering three or more points. The bad news for the Isles is that one of these players, Thomas Vanek, is no longer with them. The good news, though, is that John Tavares and Kyle Okposo are still in Long Island. The two forwards each notched four points against the Flyers, including Okposo's third period equalizer on Jan. 20th.
With a plethora of changes in Long Island, however, what can the Flyers expect when they next do battle against the Isles next season?
Who's In?
The transformation from sellers to buyers was not a transition eased into by Isles GM Garth Snow. In one of the league's most active free agent splurging, Snow didn't just give the Islanders an injection of Botox, he gave the organization a facelift.
While other teams added and subtracted in various areas, Snow added a handful of free agents, which include a trio of forwards, a defenseman, and a goalie. The additions of Mikhail Grabovski, Nikolai Kulemin, Cory Conacher, T.J. Brennan, and Chad Johnson will combine for a little over a $10.2 million cap hit for an Islanders team that currently sits 12th in the league in available cap space.
"We want players who can help us get to the playoffs," said Snow, "but we know we have good young players in a lot of spots. We're not going to add someone that doesn't make sense for us."
That was after already trading for Jaroslav Halak, and signing the veteran to a four-year, $18 million deal. With Halak and Johnson now in place as New York's one-two punch in net, the Isles will head into the new season with a goalie tandem that was a combined 46-17-10 last season. A significant upgrade from their 34-37-11 combined record among Evgeni Nabokov, Kevin Poulin, and Anders Nilsson.
"While the Islanders signed 29-year-old Halak to be their horse, he's never appeared in more than 57 games in a season. Johnson, if healthy, should easily be good for 20-25 starts, or more should something happen to Halak." — CBS New York
Snow added to an offensive unit that combined for 193 goals (among forwards) by outbidding the Washington Capitals for center Mikhail Grabovski. The 30-year-old German is a two-time 50-point scorer, but has yet to hit the 20 goal threshold since the 2011-12 season as a member of the Toronto Maple Leafs.
Grabovski's deal in Long Island shocked many, including NBCSN analyst, Jeremy Roenick. The former Flyer tweeted his shock to the deal Grabovski fetched, which was a four-year, $20 million deal.
Way to go islanders!!!! Making a 40pt guy a 5 million dollar player!!! Grabovski?? 5 million??? I'm going back to the gym!! Good god

— Jeremy Roenick (@Jeremy_Roenick) July 2, 2014
In a shot back to the 500 goal member, Grabovski posted a picture of himself with his trainer on Instagram.
Well played.. well played MT @BarDown: Grabovski responds to Roenick's comments via Instagram http://t.co/znA8CllgEm http://t.co/bVF87CIIuJ

— Isaac Berky (@IsaacBerky) July 12, 2014
With Grabovski in the gym and $20 million richer, Snow refused to take his foot off the gas pedal. Added to the mix was 28-year-old left winger, Nikolai Kulimen. And despite the former Leaf posting a career low in points last season (20), Kulimen will now cash his checks in the amount of $4.1875 for the next four years. Let's not forget, Kulimen and Grabovski were teammates in Toronto for four seasons.
"All this adds up — at forward at least, because New York's blue line is mediocre at best — to be a pretty impressive group. John Tavares, Grabovski and Frans Nielsen down the middle is upper-echelon stuff. Kyle Okposo had a breakout season on the wing. Michael Grabner and Josh Bailey have been productive — and Bailey could be trade bait, regardless. It's a good look for the Islanders." — Sean Gentille, The Sporting News
To supplement the offensive talent already in place, such as John Tavares, Kyle Okposo, and Josh Bailey, Snow beefed up New York's offensive depth by grabbing a few potential steals. Cory Conacher, Jack Skille, and Harry Zolnierczyk were all signed to one-year deals under $1 million. And while it isn't a forgone conclusion that Conacher will stay up with the big club, his addition appears to be a fit on paper.
"Still, this could also be a remarkably good match. For all the criticisms Islanders GM Garth Snow receives, he's developed quite a knack for identifying undervalued talent other teams give up on. Matt Moulson is probably the best example of his fine touch with "scrap heap" options, yet the list is fairly impressive.

"Much of Conacher's success might depend upon where he lands in the Islanders' lineup. If nothing else, he gets a chance to show that he can stick with a team as an under-sized player." — James O'Brien, Pro Hockey Talk
Just got off the phone with new #isles Cory Conacher. Very driven kid, has tons of confidence in his ability to be a regular NHL'er.

— Andy Graziano (@AndyGraz_WFAN) July 2, 2014
While Snow and Isles fans revel in their offensive outlook, the Islander's blue line failed to make the necessary adjustments to keep pace with the offense. After acquiring the rights of Dan Boyle from the San Jose Sharks for a later round conditional draft pick, the Isles were unable to convince the aging defenseman to stay in Long Island, despite his desire to play in New York.
"Dan has always wanted to play for the Rangers," said Boyle's agent, George Bazos, after his client signed with the New York Rangers. "We told teams that if the Rangers made an offer, the decision wasn't going to be about money.
"He's excited about playing in New York and with Marty [St. Louis] again. He thinks he's a perfect fit for the way they play."
With Boyle in Manhattan, the Islanders opted to sign 25-year-old T.J. Brennan, who last played in the NHL when he appeared in 19 games for the Florida Panthers in the 2012-13 season. In 76 games with the Toronto Marlies of the AHL, however, Brennan scored a stunning 25 goals, while adding 47 assists.
"Brennan is an intriguing case, as he was considered Toronto's top defenseman for their AHL affiliate, yet the Leafs never recalled him despite his 72 points in 76 games. His strength is the power play, which is likely what the Islanders have in mind with this signing." — Lighthouse Hockey
Garth Snow's successful offseason may not be over just yet either. With a little over $10 million of cap space, the Isles have the choice between manufacturing a trade for a defenseman, or rolling on the dice on younger prospects, like Ryan Pulock. But with free agents such as, Michael Del Zotto and Raphael Diaz still available, New York's defense is anything but etched in stone.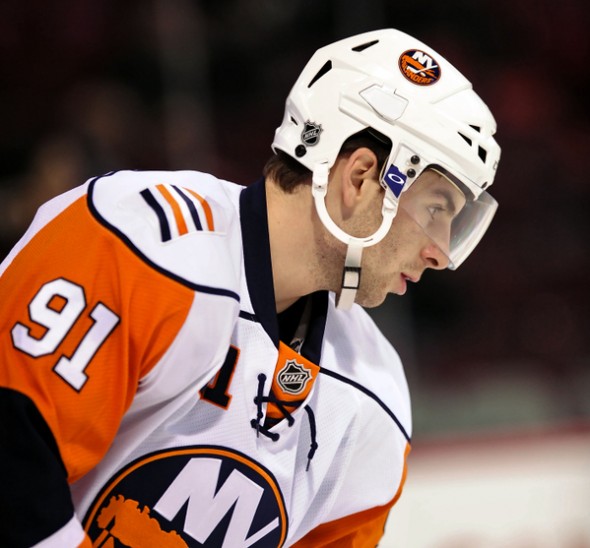 Isles Turning Up Heat On Stagnant Flyers?
When the Flyers hit the Nassau Coliseum ice on Nov. 24th, both teams will be somewhat conversant of each other, despite the number of new faces on the Islanders' bench. Mark Streit, a former Islander captain, will be in his second year in orange and black; and Andrew MacDonald, another former Islander defenseman, will visit the team he spent five and a half years with for the very first time.
"Since I've been traded, I've been committed to this team, been very happy here . . . I'm looking forward to spending the next six years here," said MacDonald in April.
While Streit contributed four assists in four games against his former team, MacDonald added only a single assist against the Flyers. His minus-five rating in the season series was hardly a deterrent in the Flyers trading for the 6-1, 191-pound defenseman – and ultimately re-signing him to a six-year, $30 million extension.
MacDonald won't be called on to log the workhorse-like minutes he was relegated to near the end of his tenure on Long Island, although his shot blocking and overall defensive play must be up to par against New York's talented forwards.
The Islanders' upgrade in net will make the task of lighting lamps a bit more difficult for Craig Berube's squad. But Travis Hamonic alone won't be able to slow down Philadelphia's now quicker skating team. Even if the Isles are pleasantly surprised by their younger defensemen, will their progress be enough to slow down Matt Read, Wayne Simmonds, Jakub Voracek, and Vincent Lecavalier? All had two or more goals against New York last season.
And then there's the returning duo of Steve Mason and Ray Emery. While the Flyers were terrorizing New York's threesome in goal, Mason and Emery performed radiantly, combining for 127 saves on 138 shots on net.
Yes, the Islanders are very much improved. And yes, they're building with a sustained plan in mind. Unfortunately for them, though, it won't be enough to change the 15-2-3 bullying treatment the Broad Street Bullies have treated them to since the 2010-11 season.
Other Metropolitan Rivals
Metropolitan Rivals: Part I (Pittsburgh Penguins)
Metropolitan Rivals: Part II (New York Rangers)
Metropolitan Rivals: Part III (Columbus Blue Jackets)
Metropolitan Rivals: Part IV (Washington Capitals)
Metropolitan Rivals: Part V (New Jersey Devils)