Throughout the Metropolitan Riveters 11-1-0 start, there are many different storylines to be told and one of them is the story of third-year NWHLer Tatiana Rafter. It's not just her production on the ice where she is one point away from last season's total with four games remaining on the schedule, but it's also what she has been able to accomplish off the ice as well as an ambassador for the third-year league.
As one of the league's most active personalities, Rafter has been able to inspire, reach and connect with a number of fans, while at the same time showing a steady progression in her game since entering the NWHL. Following her team's home games she is often one of the last players out signing autographs or taking selfies with Riveters' fans.
Rafter's Role
Playing the majority of the time this season as the third line center, Rafter has skated with just about every one of her teammates at some point this season. When we asked her if she could name all of her linemates this season she exclaimed, "The Metropolitan Riveters! Haha, I've had a couple of defenders (as linemates) too like Moose (Rebecca Morse). It's a fun role honestly because every game you're trying to be cohesive, play as a line, and keep it simple – which is things that I like to do in hockey anyway. It's been really great."
At 4 in the #RivsTop5 for January, Rebecca Morse's first career goal on January 20 against Boston! 🚨@moose_X_ing 🚨 #RepTheRivs💪 pic.twitter.com/brma1Dv2DY

— Metropolitan Riveters (@Riveters) January 31, 2018
That cohesiveness shows when your teammates score and you are almost more excited about it than they are, as was the case in Boston on January 20 when Morse scored her first career NWHL goal (shorthanded) when she came out of the penalty box. "She's had a fantastic season, when she scored I jumped up in the air and Bray (Ketchum) was beside me like whoa, did you score?!," Rafter said, recalling the moment on the bench. "I was so excited for her. That's such a tough spot to be playing forward and D; she never knows when she comes to practice where she is going to be on the board and she just rolls with it. She rocks it, wherever she is. I'm really proud of her."
The task of playing with Morse, or Lauren Wash, or Kelly Nash, or Lindsey Hylwa, or Madison Packer, or Harrison Browne on any given weekend seems to have allowed Rafter's game to grow and evolve from her progression last season as she has been able to adapt to any situation the coaching staff has put her in. "Our team is great when we all play to our system so I just really try to stick to that as my framework and I think if I get outside of that, that's where it might get complicated if I try to change it with these moving parts all the time. I just really try to reinforce the basics and communicate a lot during that Tuesday/Thursday ice-time and practices so that we're on the same page," the 25-year-old told The Hockey Writers.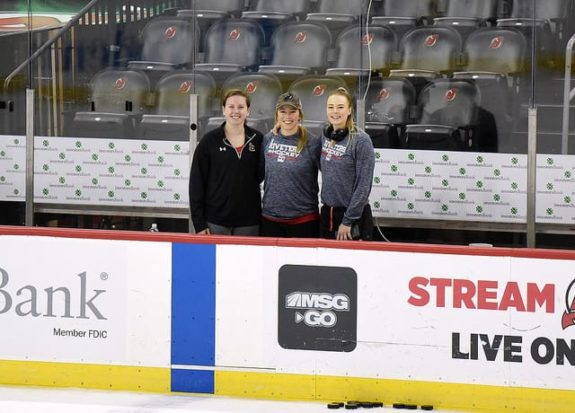 "I think that's probably the biggest challenge, just being on the same page. But I've never had an issue going into a weekend, I always feel like I have a lot of trust in the people I'm playing with and everyone has really bought into what we are trying to do. It makes it easy." The Riveters have rolled their way to a lot of wins this season and often they look so in sync all over the ice like they have been playing and practicing together five times a week.
Tat's Travels
But that's not the case as we all know, as the majority of the NWHL's players either work a full-time day job or are going to school for an undergrad program, or interning somewhere in hopes of it leading to a full-time job. Rafter, who is originally from Winnipeg has split living this season between New York City and New Jersey, where she now resides with a billet family.
"I've moved in with a host family in New Jersey and as crazy as that might seem, I actually prefer it to where I was living in the first half of the season (New York City). I was having a really hard time while living with a couple of roommates, but your teammates are your family and friends when you are an international player coming in," said Rafter. "My teammates are all working during the day so I was trying to find a balance of how do I get myself into media a little bit and produce some content that I have going forward to use and hopefully go into broadcasting or media or an analyst position, something like that."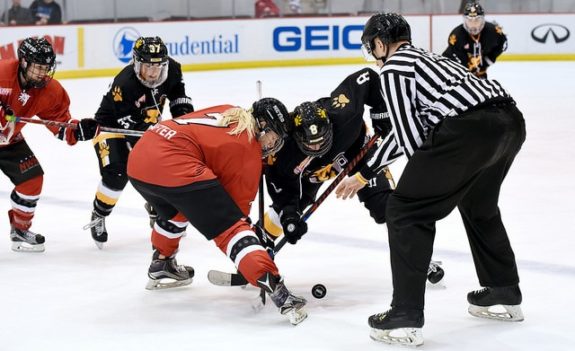 "Now I feel like I'm living a super-balanced life, living with this family that has four kids: 2 1/2, 9, 11, and 13-years-old – so there is a lot going on there. The family has been great and I have a really good setup there with them, a good balance. I'm doing some coaching with the kids, and for me, I can really just focus on hockey."
She's also changed her diet and is taking care of her body better than she ever has. "Yeah, I think the biggest difference has been I found out that I can't process wheat very well so, I've completely cut that out of my life about a year and a half ago – the middle of last season," she explained. "From a nutrition standpoint I just started to implement more and more changes and I've never been healthier off the ice in terms of my body fat percentage and things like that. From that standpoint, I've been on point for the past year and a half."
Expanding Her Reach
Oh, by the way, she's also doing some undergrad work as well. "I'm going to finish my undergrad program this summer which is also exciting," Rafter said smiling. "I'm an online student, I'm coaching, with a family, and I just started doing a podcast each week. As much as it seems like a lot I think I have it under wraps because it's a set schedule and a routine each week than it is craziness all the time."
Getting to coach hockey under a clear blue sky.. No complaints here! #NoBadDays pic.twitter.com/tnD6tNLACG

— Tatiana Rafter (@tatianarafter) January 26, 2018
Rafter now has a podcast once a week (From The Rafter) and longtime readers of THW or followers of her might recall the entries she posted here during the end of the inaugural NWHL season. "My education is in psychology and maybe communications would have been a better fit," she told us with a laugh.
Related: My Life As a Pro, Behind the Scenes
"I've just been so open to learning and I've become friends with Sarah Orlesky who does the rinkside reporting for the Winnipeg Jets; she's had me on (broadcasts) with her a couple of times. Just seeing how she prepares, how any questions that I have I can ask her, and to see the process behind it, what kind of content she might pull up, how she structures her interviews."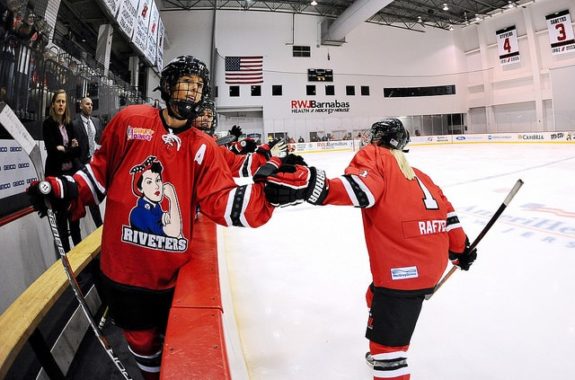 But her interest hasn't stopped there, it continued back on the East Coast. "I did a similar thing with the New York Islanders during the first half of the season, I went to about six games or so and it was cool to see their dynamic because Shannon Hogan is the host and Arron Asham (who is from Brandon, Manitoba) is the analyst with her. When I met him he actually invited me to this golf tournament that they do in the summertime – so it was cool to make that connection because we're originally from Manitoba, albeit a few hours away. She's got things prepared for to a tee and she has this resource of a player who's been in those game situations; they bounce ideas off of each other and that was really interesting dynamic (to see)."
And it's helped her as she expands her horizons by talking about what she knows well (hockey) with people she knows well (her teammates). "Really cool experiences for me and I'm able to pull different things," added Rafter, "learning from both of those experiences I can apply all of it into how I structure my podcast."
The sky is the limit for Tatiana Rafter and with her enthusiasm, she has the potential to do some even more really good things on and off the ice as this season winds down.
Dan Rice is in his 9th year of reporting for THW & has covered NJ Devils home games for 15+ years at various websites. He began his journey working for legendary broadcaster/writer Stan Fischler from 2002-04 & completed an internship at the ECHL; he also has been writing features for the NWHL (nwhl.zone) website since 2016.