Montreal Canadiens goaltending prospect Michael McNiven had an eventful 2016-17 season. I'll start by saying if you're not already familiar with him, you should be. He plays for the Owen Sound Attack and he's one of the best players in the Ontario Hockey League.
He was signed by the Canadiens after their 2015-16 training camp to a three-year entry-level contract. Since then, he's elevated and developed his game to be considered one of the best goalie prospects throughout the league. For Habs fans, this is a rarity. The Canadiens have been without high-end prospects for too long. Now with players like Mikhail Sergachev and McNiven, they're slowly starting to fill up the cabinet again.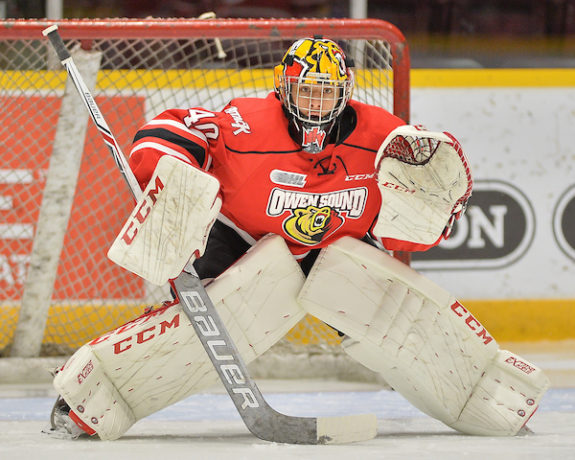 The story of McNiven is particularly interesting because of the state of the Canadiens franchise. Goaltender Carey Price is nearing the end of his contract and the team seems to be at a crossroads. Although I assume Price will return for several more years, it's encouraging to see the organizational depth at the position, starting with McNiven.
So further to that point, let's learn a little more about one of the best players in the Canadiens' system.
Prospect Background
As I touched on above, the Canadiens invited the undrafted goaltender to their 2015-16 training camp for a tryout. They were so impressed that they signed him to a three-year entry-level contract by the time it was over. With his newly signed deal in his back pocket, McNiven could now focus on developing his game.
#BREAKING: Michael McNiven named the 2016-17 #OHL Goalie of the year.#RoarWithUs https://t.co/3WnO3UK6vS pic.twitter.com/mNSJitsBbt

— Owen Sound Attack (@AttackOHL) May 3, 2017
So let's fast forward to the 2016-17 season. It was his third season as the keeper for the Attack and he was on a mission. He finished the year with 2.30 goals-against average and .915 save percentage along with a record of 41-9-2-2, including six shutouts. What if I told you after reading that he was the odd man out on Canada's World Junior team? Well, that's exactly how it shook out. The good news is, he seemed to use it as motivation.
McNiven finished the season with Goaltender of the Year honors and was second in voting behind sniper Alex Debrincat of the Erie Otters for Most Outstanding Player of the Year. A pretty incredible run for a player who wasn't drafted. I'd say the Canadiens are pretty happy with the way this season unfolded for the young player.
The most encouraging part is that McNiven has shown constant signs of growth not only this season but through his entire career. He's proven he can overcome adversity and still achieve his goals.
Planning Ahead
The Canadiens are spoiled with what is considered a deep goaltending pool. They have top-end goalies competing at every level. All-world goalie Price is backstopping in the National Hockey League, and in the American Hockey League, they have Charlie Lindgren. Zach Fucale is in the East Coast Hockey League and McNiven is in the OHL.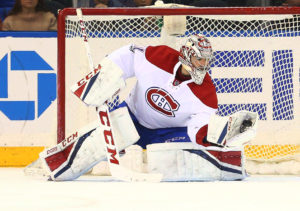 If we look to the future of the Habs' crease, I would say McNiven has the best chance to eventually take the starting job in Montreal. Other than his undeniable talent, it comes down to one simple thing: age. Lindgren has been fantastic in the AHL but he falls into an awkward position. Fucale is stuck in the ECHL for playing time purposes and his window doesn't align with the big club either.
I would assume the Habs want Price back long-term. If that's the case (it should be), then Lindgren won't have the opportunity to start for a while. I'm not sure the 23-year-old will want to stick around to be a backup for most of his career. He's going to want a chance to compete for a starting position.
This benefits McNiven strictly based on age. McNiven (19) is four years younger than Lindgren and falls into an area where he's young enough to both learn from Price and take the reins from him once he drives off into the sunset.
So Far, So Good for Michael McNiven
Both the Canadiens organization and their fans should be excited and encouraged with what McNiven has accomplished in his young career. His awards and recognition are nothing to take lightly. He's earned everything that he's received when many prospects in his situation would fold up and accept the circumstances. To not be drafted or selected to represent your country and then work all the way to an NHL contract and Goaltender of the Year honors is something special.
The Habs should consider themselves fortunate with all the goaltending depth they have accumulated. Having a goaltending prospect like Michael McNiven is organizational gold. Although there is still a long way to go before this materializes and becomes reality, he looks well on his way to becoming an NHL goaltender.
Nick Guido is a Montreal Canadiens Contributor for The Hockey Writers. You can Follow him on Twitter @nickguidoTHW for his articles, opinions and general Habs talk.