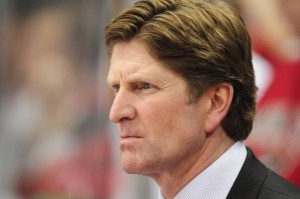 On Jan. 12, the Detroit Red Wings beat the Phoenix Coyotes 3-2 in a shootout. To most, it would appear as just another win for the Red Wings and another game in the grand scheme of things in the NHL.
In fact, it meant a lot more than that. Not only did it allow the Red Wings to maintain pace with the Blackhawks and Blues at but it allowed their head coach, Mike Babcock, to get his 400th career win. The only thing missing was a player being traded mid-game!
There are a lot of people out there who will attribute Babcock's success to being a coach that's simply in the right place at the right time. That couldn't be farther from the truth. His coaching career started in the Western League with the Moose Jaw Warriors, for two years, then he moved to the Spokane Chiefs, for six seasons, then up to the American League with the Cincinnati Mighty Ducks, then to the big show with the Anaheim Mighty Ducks, then over to the Red Wings, where he is currently in his seventh season behind the bench.
His stat line is pretty incredible over his career. Only five of his 18 seasons, coaching in either junior or pros, were below .500 and he's made the playoffs in seven of his eight seasons behind an NHL bench. His first four seasons with the Wings were 50-win seasons, including a Stanley Cup win in 2007-08.
Before he even came to the Red Wings, he coached the Ducks. In his rookie season, he beat the very same Red Wings, riding a wave all the way to the Stanley Cup Finals, where he and the Ducks lost in seven games to the New Jersey Devils. He took a team that, outside of Paul Kariya, Petr Sykora and Adam Oates, was a relative gang of nobodies and led them as close as you can come to the Cup without winning it.
Here's some of the titles he's won:
2007-08 Stanley Cup
2010 Olympics (with Canada)
2004 World Hockey Championships (with Canada)
1997 World Junior Hockey Championships (with Canada)
1994 CIS Championships (with University of Lethbridge)
There are people out there that will trash Babcock but I look at these titles and think to myself "This guy is a very likely candidate to enter the Hall of Fame as a coach when he retires." As of right now, he's the only coach that's a member of the Triple Gold Club, which is a hockey player who's won the Cup, World Championships and the Olympics. Go down a list of the Hall of Fame coaches and NONE of them have that on their resumes.
For a coach who's only 49, that's a pretty staggering group to be alone in.