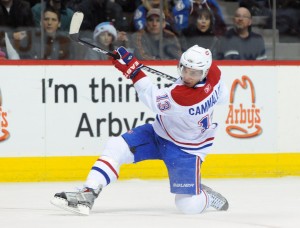 The Calgary Flames and Montreal Canadiens made a swap on Thursday evening, a move that may solve a few problems for both clubs.
The Flames shipped winger Rene Bourque, the rights to WHL prospect Patrick Holland and their second round draft pick in 2013 to Montreal in exchange for Michael Cammalleri, the rights to KHL goalie Karri Ramo and Montreal's fifth round choice in 2012.
Bourque, 30, has a $3.33 million cap hit and is signed through the 2015-16 season. A skilled power forward, Bourque played a physical style that occasionally blew up in his face – evident in a pair of suspensions the rugged winger has been levied this season. (He's actually suspended for one more game once he arrives in Montreal.) He's also been criticized by some observers of the club for his so-called "disappearing acts" during the season. Bourque is notoriously streaky, but he's great when he's dialed into the game.
Holland, 20, has yet to be signed. He was the Flames' seventh round pick in 2010 and has really emerged as a strong contributor at the WHL level with the Tri-City Americans. He's currently 9th in the WHL in points. He'll need to be signed by June 1 or else he'll go back into the draft.
Cammalleri, 29, has a $6 million cap hit and is signed through the 2013-14 season. He previously played with the Flames back in 2008-09 and scored 39 goals on a line with Jarome Iginla. He's got speed, good hands and proven chemistry with Iginla. Those traits didn't exactly translate well in Montreal, so perhaps a return to Cowtown is welcome from his perspective.
Ramo, 25, is technically a restricted free agent. He's playing with Avangard Omsk in the KHL (and putting up great numbers), and gives the Flames another goaltending option for the future (along with Leland Irving, Henrik Karlsson and Joni Ortio). Ramo played parts of three seasons with the Tampa Bay Lightning (going 11-21-10 with a 3.35 goals against) but departed for the KHL. It's unclear where he fits into Calgary's long-term plans, but his acquisition may signify more moves to come regarding goaltenders.
Overall, the trade solves a few problems for both clubs. The Habs get rid of Cammalleri (who had become a bit of a distraction) and gain Bourque, who is a strong physical forward when he wants to be. Holland is an unknown quantity at the pro level, and Ramo is a couple years removed from fairly average numbers with Tampa, so that part of the swap is a bit murky.
Shipping out yet another second round pick will probably have Flames fans scratching their heads. General manager Jay Feaster criticized the old regime for what he termed "deficit spending" in giving up future assets in trades, so his inclusion of a pick and a prospect in this trade is a bit surprising. That said, the Flames probably got the best player in the transaction, so perhaps that's the price they had to pay to get their man.
Calgary currently has the following draft picks for the next two drafts:
2012: their own 1st, 3rd, 4th, 6th; Montreal's 5th, Toronto's 7th
2013: their own 1st, 3rd, 4th, 5th, 6th
Mike Cammalleri will play his first game in a Calgary Flames jersey since April 2009 on Saturday night, when the Flames host Darryl Sutter and the Los Angeles Kings on Hockey Night in Canada.